New on DVD and Blu-ray Week of October 20-October 26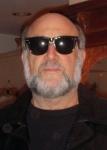 By Harley Lond - 10/20/15 at 01:16 AM CT
THIS WEEK'S THEATRICAL RELEASES:

Good filmmaking, like all good storytelling, revolves around a set of themes as old as time: Among them the loss of innocence, revenge, triumph over adversity, love conquers all, good wins out over evil and humans vs. nature. If you add to the latter entry "dinosaurs eating humans," you've got the reason that "Jurassic World" crushed opening-weekend boxoffice records, scoring the highest domestic, international and worldwide openings of all time. The film has taken in more than $1.6 billion globally to become the third-highest grossing U.S.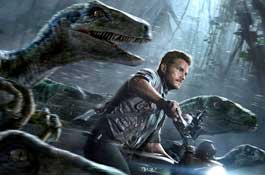 and fourth-highest grossing worldwide film in history. The story is simple and predictable: 22 years after the abortive opening of Jurassic Park, an even bigger and enormously popular attraction has taken its place: Jurassic World. But there's trouble afoot. To keep attendance high, a new dinosaur --a genetically modified hybrid, the Indominus Rex -- is introduced to the park. Little do the operators know that the military has a hand in the new species, and soon Indominus Rex gets out of its paddock to wreck havoc on the island. There's the regular cast of stereotypes to move the plot along -- a pair of oblivious kids on vacation (Ty Simpkins and Nick Robinson); the park's ethical ex-military expert in animal behavior, Owen Grady (Chris Pratt); Jurassic World's driven careerist, Claire Dearing (Bryce Dallas Howard), who famously runs from the leapin' lizards in high heel shoes; the nasty ex-military head of security, Hoskins (Vincent D'Onofrio), who has an ulterior motive for hunting down Indominus Rex; and Dr. Henry Wu (BD Wong), an evil scientist who created the monster. And there's all the usual set pieces: dinos chasing cars, dinos on human killing sprees, dinos killing dinos, dinos eating the military, etc, etc. But it works. "Jurassic World
" is a great fun thrill ride that -- despite the fact you know who's gonna live and who's gonna die -- keeps you on the edge of your seat. My heart was pumping. Enjoy.


THIS WEEK'S BEST BETS:
"Z for Zachariah
" (2015) is a post-apocalyptic tale set in a rural valley in West Virginia untouched by an un-named nuclear war that has destroyed virtually the entire world. A young woman (Margot Robbie) survives on her own in a surprisingly clean and pristine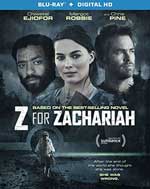 environment (without electricity), fearing she may actually be the proverbial last woman on Earth -- until a middle-aged, distraught scientist (Chiwetel Ejiofor), who's nearly been driven mad by radiation exposure and his desperate search for others, enters the valley. Together they build a tenuous relationship, almost ready to be a new Adam and Eve, until another, younger man enters their paradise, causing things to slowly go awry. Director Craig Zobel (2012's "Compliance") slowly but surely builds up this moody character study that ends, not surprisingly, as muted as the rest of the film. It's compelling and moving and gives its three talented stars plenty of room to fill out their characters. The source material for the film -- Robert C. O'Brien's posthumous 1974 novel -- had only two characters, and Zobel's addition of a third brought to mind 1959's "The World, the Flesh and the Devil," which starred Harry Belafonte, Inger Stevens and Mel Ferrer, and which "Zachariah" resembles in too many ways -- if this was a song, you'd call it a remix. Still, if you're in a contemplative mood and want good storytelling and acting, check it out. On DVD and Blu-ray Disc from Lionsgate.

"The Wolfpack
" is a fascinating documentary about a family who -- out of fear -- homeschooled and raised their seven children in the confinement of their apartment in the Lower East Side of New York City. The film, directed by Crystal Moselle, premiered on January 25, 2015 at the Sundance Film Festival, where it won the U.S. Documentary Grand Jury Prize. Locked away from society for 14 years -- with only infrequent outings outside -- the Angulo brothers learn about the world through movies on TV and DVD. To escape their isolation and loneliness, the brothers act out their favorite films by creating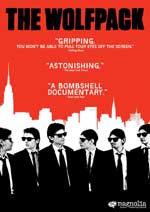 word-for-word and scene-for scene scripts, using elaborate homemade props and costumes. The movies give meaning to their lives -- and prepare them for the eventual day when they leave their isolation. Director Crystal Moselle -- who encountered the boys, known as The Wolfpack on the streets of the Lower East Side -- was allowed unprecedented access into their world and their vast archive of home movies. She's created a fascinating -- if flawed -- portrait of an extraordinary family, capturing the thrill of the Wolfpack's discoveries without skirting the darker questions of emotional abuse and confinement. The film is a wonder because it shows how movies saved these boys' lives -- and flawed because of its repetition and disorganization. And, at times, we weren't quite sure whether Moselle was using her camera as verite -- or if the boys were playing to her camera. Still, an amazing journey. On DVD and Blu-ray from Magnolia Home Entertainment.

It's hard to believe that it's been 30 years since Robert Zemeckis unleashed Marty McFly, Doc Brown and a time-traveling DeLorean on an unsuspecting movie-going public -- but the folks at Universal haven't lost track of time. To celebrate the anniversary, the studio has released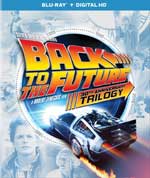 the "Back to the Future 30th Anniversary Trilogy
" that includes all three movies ("Back to the Future," the innovative "Back to the Future Part II" and the humdrum "Back to the Future Part III") plus a new bonus disc with more than two hours of content, on both DVD and Blu-ray. There's plenty of great extras: New original shorts including "Doc Brown Saves the World!" starring Christopher Lloyd; "OUTATIME: Restoring the DeLorean," an inside look at the 2012 restoration of one of the most iconic cars in film history; "Looking Back to the Future," a nine-part retrospective documentary from 2009 on the trilogy's legacy; "Back to the Future: The Animated Series," two episodes ("Brothers" and "Mac the Black") from the 1991 series featuring live action segments with Christopher Lloyd as Doc Brown' "Tales from the Future" six-part documentary; "The Physics of Back to the Future"; deleted scenes; Michael J. Fox Q&A; eight archival featurettes; behind the scenes footage; music videos; audio commentaries; "Back to the Future: The Ride." By the way, Wednesday is the famed October 21, 2015 from "Back to the Future Part II."

From The Criterion Collection comes DVD and Blu-ray editions of "Kwaidan
" (1965), director Masaki Kobayashi's rapturously stylized quartet of ghost stories. Featuring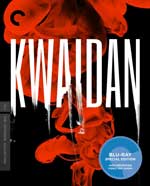 colorfully surreal sets and luminous cinematography, these haunting tales of demonic comeuppance and spiritual trials, adapted from writer Lafcadio Hearn's collections of Japanese folklore, are existentially frightening and meticulously crafted. Kobayashi, known for his political dramas, earned a Best Foreign-Language Film Oscar nomination. This version of "Kwaidan" is the original three-hour cut, never before released in the United States, in a new 2K digital restoration, with uncompressed monaural soundtrack on the Blu-ray. Extras include an interview from 1993 with Kobayashi, conducted by filmmaker Masahiro Shinoda; a new piece about author Lafcadio Hearn; an essay by critic Geoffrey O'Brien, and more.

More classics: "A Bucket of Blood
," Roger Corman's 1959 hip tour-de-force, makes its Blu-ray debut this week. "Like wow, Man," Corman's "Bucket of Blood" is a darkly comic satire with a beatnik culture backdrop. The film -- produced on a $50,000 budget, shot in five days and sharing many of the low-budget filmmaking aesthetics for which Corman's work is known - stars Corman staple Dick Miller as a dimwitted, impressionable young busboy at a Bohemian café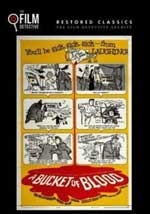 in southern California who is inspired by a beatnik artist's performance to try his hand at sculpture. While working, he accidentally kills his landlady's cat and, in desperation, covers its body in clay to hide the evidence. When the suspiciously life-like figure earns him a reputation as a brilliant sculptor, he is pressured to create similar works … and his muse becomes murder. An under-rated classic. From The Film Detective ... also from (The Film Detective is the Blu-ray debut of "The Bat" (1959), starring Agnes Moorehead, Vincent Price, John Sutton, Lenita Lane. Mystery writer Cornelia van Gorder (Moorehead) resides in a town terrorized by a mysterious murderer known only as "The Bat," said to be a man with no face who kills women at night by ripping out their throats with steel claws. Breaking into Cornelia's countryside home one night, he releases an actual bat, which bites her maid Lizzy, sending her into a panic that she has caught "the rabies." Cornelia calls her doctor, Malcolm Wells (Price), who happens to be conducting research on bats. Little does Cornelia know that the good doctor has an ulterior motive for coming to her assistance -- a thief who has stolen $1 million in bank securities has confided in Wells, leading him to believe the stash is hidden within Cornelia's home. After dispatching with the thief, Wells plots to claim the missing treasure. But then "The Bat" returns to terrorize the household. Digitally restored from original 35mm film elements.

Film Movement has two Eric Rohmer films on tap this week. "Full Moon in Paris
" (1984 -- France) stars Pascale Ogier, Tcheky Karyo, Fabrice Luchini and Virginia Thevenet. It's the story of Louise (Ogier), a young interior designer bored with her existence in the sleepy suburbs with her architect boyfriend Remi (Tcheky Karyo). Eager to lead the life of an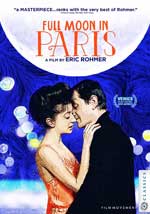 independent socialite in the city, Louise arranges to move back to her Paris apartment during the week. Further complicating matters are her best friend, Octave (Fabrice Luchini), who makes plain his interest in her, and a bad boy musician who catches her eye at a party. Eventually, even the sophisticated and aloof Louise cannot untangle herself from the emotional realities of her romantic encounters. In a high definition digital restoration, on DVD and Blu-ray ... "The Marquise of O...
" (1976 -- Germany/France) stars Edith Clever, Bruno Ganz, Edda Seippel and Peter Luhr in an epic tale of virtue and mistaken identity. Set in 1799 during the Russian invasion of Italy, a young widow, The Marquise (Clever), lives with her parents in the fort her father commands. In the midst of battle, the Marquise is abducted by a group of rowdy soldiers and is nearly raped before the Russian commander Count F (Ganz) rescues her. Later, after she realizes she is pregnant, the Marquise pens a letter to the newspaper announcing she will marry the father, if only he presents himself. In a high definition digital restoration, on DVD and Blu-ray.

Leave it to Scream Factory to bring out the Halloween chills early: The studio has Blu-ray debuts this week of "Tales From the Crypt Presents: Bordello of Blood
Collector's Edition" (1996), in which wisecracking private eye Rafe Guttman (Dennis Miller) investigates some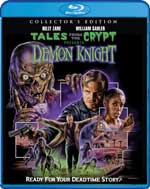 strange happenings at a titillating bordello on the edge of town where, it seems, owner Madam Lilith (Angie Everhart) and her luscious cohorts want more than money --- they want blood! ... and "Tales From the Crypt Presents: Demon Knight
Collector's Edition" (1995), in which a mysterious drifter known as Brayker (William Sadler) possesses the last of seven ancient keys that hold the power to stop the forces of darkness and protect all humanity from ultimate evil. But the human race is safe only so long as Brayker can evade the demonic Collector (Billy Zane) who has gathered the other six keys. In his obsessive quest for the key, the Collector rallies an army of ghastly cadavers against Brayker and the inhabitants of a run-down hotel. Armed with automatic weapons, sacred blood and sadistic humor, Brayker and the strong-willed Jeryline (Jada Pinkett-Smith) must lead the other guests in a gruesome battle against the Collector and his evil horde of ghouls.

And, finally, there's "The Benoit Jacquot Collection
," three newly remastered films by the director of "Farewell, My Queen" (2012): "The Disenchanted," "A Single Girl" and "Keep It Quiet." "The Disenchanted" (1990): In her breakthrough role, Judith Godreche plays Beth, a disaffected 17 year old living in Paris with her bedridden mother and forced to hold her family together by degrading herself. "A Single Girl" (1995): Shot in real time, Virginie Ledoyen delivers a tour de force performance in a film that is a clear descendant of the great early New Wave films. The largely hand-held camera follows 19 year old Valerie on her first day on the job at a luxury hotel, a day in which she must reveal to her aimless boyfriend that she is pregnant and decide whether she wants to have a child with him. "Keep It Quiet" (1999): In this low key satirical farce, a CEO is released from prison and rejoins his family, who have a difficult time with his complete change in character, moving from a captain of industry to an eccentric innocent. On DVD and Blu-ray from Cohen Media.


BUZZIN' THE 'B'S:
"Testament of Youth
" (2015), starring Kit Harington, Alicia Vikander, Dominic West, Emily Watson and Miranda Richardson, is based on the best-selling World War I memoir by Vera Brittain. The story is told through the eyes of Vera (Vikander), a youthful feminist, free-minded and irrepressible, whose intense romance with Roland Leighton (Harington) is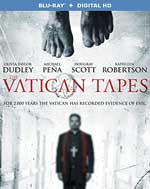 interrupted by the war. The film follows her wartime experiences, which moved her to write one of the most defining memoirs of her time. On DVD, Blu-ray from Sony ... "Paper Towns
" (2015), adapted from the bestselling novel by author John Green ("The Fault in Our Stars"), is a coming-of-age story centering on Quentin and his enigmatic neighbor Margo, who loved mysteries and disappears, leaving him a trail of clues to follow. Stars Nat Wolff, Cara Delevingne, Justice Smith, Austin Abrams, Halston Sage, Jaz Sinclair. From Fox ... "The Vatican Tapes
" (2015) stars Olivia Taylor Dudley, Michael Pena, Dougray Scott and Djimon Hounsou in a horror-triller of demonic possession. Angela Holmes is an ordinary 27-year-old until she begins to have a devastating effect on anyone close, causing serious injury and death. Holmes is examined and possession is suspected, but when the Vatican is called upon to exorcise the demon, the possession proves to be an ancient satanic force more powerful than ever imagined. It's all up to Father Lozano to wage war for more than just Angela's soul, but for the world as we know it. On DVD, Blu-ray from Lionsgate.


ON THE INDIE FRONT:
"Rotor DR1
" (2015) is a post-apocalyptic sci-fi feature film developed and produced by a community of drone enthusiasts. After a viral epidemic eliminates 90% of the world's population, survivors struggle to rebuild and reconnect with the world they've lost. Autonomous drones, originally meant to deliver vaccinations for the deadly disease, now wander aimlessly through the sky and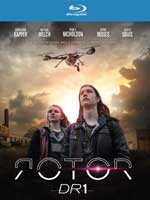 are hunted for their parts and power sources. But when a 16-year-old boy named Kitch stumbles on a peculiar drone named DR1, clues about his lost father begin to surface and lead him on an incredible journey. The project was started by drone enthusiast Chad Kapper, who wanted to show drones in a good light ("rather than antagonistic militarized drones that have been popularized lately"), and he posted his idea to online forums for drone enthusiasts; soon he had input from thousands of engaged community members about creating a community-collaborated web series and feature film. Using forums, GoogleDocs, Facebook and Youtube -- and without a script -- the group embarked on developing a 10 episode online series over 12 weeks in late 2014, with each episode shared with the Rotor DR1 community for feedback and further development. Decisions on casting, wardrobe, props, dialogue, action scenes, episodic arcs, general storyline, and the backstory were made in collaboration. Community members, including top drone racers (RC Explorer), were even able to participate in the film's innovative drone race, where real drones and no CGI were used. Cinema Libre has released the episodes as a feature film. On DVD, Blu-ray.


FOREIGN:
"Northern Limit Line
" (2015 -- South Korea) is based on the real-life events of the Second Battle of Yeonpyeong, when the North Korean navy deployed two of their patrol boats toward the Northern Limit Line in order to launch a surprise attack on South Korean Battleship 357 while her crew was engrossed watching the 2002 FIFA World Cup Soccer. The debut film from director Kim Hak-soon and the No. 1 box office hit of the year in South Korea. On DVD, Blu-ray from Well Go USA.


FOR THE FAMILY:

In "Transformers: Robots in Disguise -- A New Autobot Mission" (2015), the lure of the Transformers saga begins a new chapter as Bumblebee and a team of Autobot action heroes embark on a new mission to protect and save Earth from a new faction of Decepticons. The new mission begins as Bumblebee must step up to be leader after he's Summoned by Optimus Prime to save Earth from a new Decepticon threat. Bumblebee puts his light-hearted mettle to the test after assembling a rouge team of Autobots action heroes, and he must balance his job fighting off evil with being equal parts squad leader and coach to a rascally team that needs constant coaxing to learn how to work together. Five episodes of the Cartoon Network series. From Shout! Factory Kids.


SPECIAL INTEREST:

"The Making of the Mob: New York" (2015) Two-disc set with all eight episodes of the limited series that tells the true story of the rise of the American Mafia in New York City. Narrated by Ray Liotta, the AMC series takes an unflinching look at the rough and tough rise of the most successful and brutal organized crime syndicate ever, beginning in 1905 and
spanning over 50 years to trace the rise of Charles Lucky Luciano, Meyer Lansky, Benjamin Bugsy Siegel and other notorious gangsters from their beginnings as a neighborhood gang of teenagers to murderous entrepreneurs and bootleggers who organized the criminal underworld, turning the Mafia into an American institution.On DVD, Blu-ray from Anchor Bay ... The documentary "Dumb It Down
" (2014) takes an intriguing look into hip hop and how it has changed over the years. The film takes as its premise that hip hop has a negative influence on the African American community due to the lack of meaningful lyrical content being created today. According to the film, in today's society, "being cool" is actually the opposite of being intelligent, and essentially certain entertainers "dumb down" their intelligence for ratings and record sales; "Dumb It Down" exposes the entertainment industry for forcing prominent African American celebrities to tone down their intelligence in order to maintain relevance. Features interviews with MC Lyte, T-Pain, Hot 97's Ebro, Trinidad James, Big Gipp of Goodie Mobb and the legendary DJ Clark Kent. From Cinedigm ... "The Forgotten Space
" (2014) of Allan Sekula and Noel Burch's investigative essay film is the sea, the oceans through which 90 percent of the world's cargo now passes. At the heart of this space is the container box, which, since its invention in the 1950s, has become one of the most important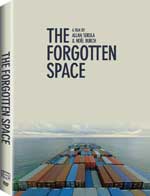 mechanisms for the global spread of capitalism. The film follows the container box along the international supply chain, from ships to barges, trains, and trucks, mapping the byzantine networks that connect producers to consumers (and more and more frequently, producing nations to consuming ones). Visiting the major ports of Rotterdam, Los Angeles, Hong Kong, Guangdong province, and many places between, it connects the economic puzzle pieces that corporations and governments would prefer remain scattered. We meet people who have been reduced to cogs in this increasingly automated machine -- the invisible laborers who staff the cargo ships, steer the barges, drive the trucks, and migrate to the factories, and whose low wages form the base of the entire enterprise. Allan Sekula (1951-2013) was a renowned photographer, writer, filmmaker, theorist and critic whose work focused on capitalism and large economic systems. Noel Burch is a filmmaker and film theorist whose book "The Theory of Film Practice" has remained a classic of the genre. On DVD from Icarus Films.


FROM TV TO DVD:

In HISTORY's adventure series "The Curse of Oak Island: Season 2" (2014-15), brothers Rick and Marty continue their quest for buried treasure. Encouraged by their discovery of a Spanish coin in Season 1, the brothers continue to look deep into the island's secrets in hopes of uncovering the answers that will lead them to a legendary find. Two-disc set with 19 episodes, $14.98 from Lionsgate ...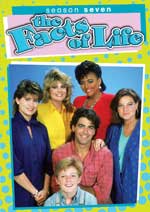 "The Facts of Life: Season Seven" (1985-86) is a three-disc set with all 24 episodes, $29.93. Spinning off from "Diff'rent Strokes," "The Facts of Life" debuted in August 1979 and aired on NBC for nine seasons. Originally following the adventures of a group of young ladies at a girl's school, the series morphed as the kids aged. Housemother Mrs. Garrett opens her own business and the girls join her. In Season Seven, the girls return home from summer vacation to find that their home and business have been destroyed by a fire. Employing the services of hunky contractor George Burnett (George Clooney in an early role), they set out on a bold new business model, and from the ashes of Edna's Edibles rises the gift shop, Over Our Heads! From Shout! Factory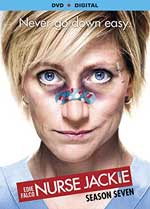 ... "My Favorite Martian: The Complete Collection" (1963-66) arrives on DVD for the first time, in a 15-disc set with all 107 complete, unedited, digitally remastered episodes, along with hours of special features. The series starred Bill Bixby as newspaper reporter Tim O'Hara and Ray Walston as the perfectly human-looking Martian whom Tim discovers and passes off as his Uncle Martin. Pamela Britton plays their snoopy landlady, Lorelei Brown. From MPI Media Group ... "Nurse Jackie: Season 7" (2015) is a three-disc DVD and two-disc Blu-ray with all 12 episodes. Edie Falco shines in the final season of the hit series as Jackie fights to reclaim her sobriety, her job, her friends, her children, and her identity. The twisted and darkly funny "Nurse Jackie" returns for its final season with Edie Falco as Jackie Peyton, a role that has earned Falco six consecutive Primetime Emmy nominations. Nurse Jackie faces her biggest challenge yet, as the whole truth about her addiction is exposed to everyone. The stakes have never been higher, and the question is, can the world's toughest nurse save herself? From Lionsgate ..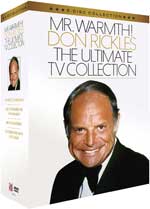 "Mr. Warmth! Don Rickles: The Ultimate TV Collection" is an eight-disc DVD set featuring nearly 20 hours of some of Don Rickles' finest on-screen moments. Contains four one-hour network television specials ("The Many Sides of Don Rickles," "Don Rickles: Alive and Kicking," "Mr. Warmth" and "Rickles") from the 1970s featuring Mr. Warmth with an impressive list of guest stars as well as the complete series of "CPO Sharkey." The set features icons such as Frank Sinatra, Dean Martin, Jack Klugman, Bob Newhart, John Wayne, Helen Reddy, Loretta Swift, Rip Taylor, Don Adams, James Caan, Michael Caine, Jose Ferrer, Arthur Godfrey, Elliott Gould, Michele Lee, Larry Linville, Jack Palance, Otto Preminger, Bobby Riggs and Loretta Swit.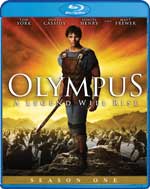 $69.95 from Time Life ... "Olympus: Season One" (2015) is a three-disc set with all 13 episodes of the mythological action adventure series that centers on how a few brave men and women banished the gods to the realm of the unconscious: a place they called the Underworld, or the Kingdom of Hades. The epic journey of Hero (Tom York) leads him through the darkest realms of ancient Greece accompanied by the beautiful, but twisted Oracle of Gaia (Sonya Cassidy), the powerful sorceress Medea (Sonita Henry) and genius inventor Daedalus (Matt Frewer). Hero battles trickster gods, vicious monsters, seductive nymphs, kings and despots, as he transforms from a fresh-faced youth into a ruthless, cold-hearted killer, and a match for the gods themselves. On DVD, Blu-ray from Shout! Factor.

Check out other October 20-October 26 DVD releases and reviews at OnVideo.