By Harley Lond - 10/13/15 at 03:59 AM CT
THIS WEEK'S THEATRICAL RELEASES:

The Big One finally hits California in "San Andreas" and there's only one hero who can save the day: Dwayne Johnson. Johnson plays an LAFD rescue helicopter pilot who's estranged from his wife Emma (Carla Gugino) and despondent because his daughter (Alexandra Daddario) is on her way to San Francisco courtesy of Emma's wealthy new boyfriend. When a series of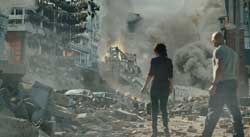 magnitude 9 earthquakes hit first Los Angeles and then SF, Johnson single-handedly rescues Emma; together they go north to save their daughter. On the sidelines is a crew of Cal Tech scientists and newscasters, headed up by Paul Giamatti, who act as a Greek Chorus to the devastation. The special effects are fantastic and the surround sound is so realistic my Pit Bull ran around in circles and then left the room. Only drawback: some of the dumbest dialogue in an American film in years. Still a lot of fun -- especially with the ever-delightful-to-watch Gugino. Extras include commentary by director Brad Peyton, deleted scenes, a gag reel, a stunt reel and a couple of featurettes: "San Andreas
: The Real Fault Line," "Dwayne Johnson to the Rescue" and "Scoring the Quake." From New Line Cinema/Warner.

"Tomorrowland
" is a big, bold clunker of a film that squanders a potentially good story by concentrating on a lot of silly exposition and explanations and stealing visual memes from virtually every sci-fi film released in the past 30 years, from "RoboCop" through "Men in Black" through "Elysium." The concept: a Utopian "Tomorrowland" created in another dimension by four of the greatest minds of the 19th century -- Edison, Eiffel, Verne and Tesla -- ends up going sour and only a bright, optimistic teen bursting with scientific curiosity (Britt Robertson) and a former boy-genius inventor jaded by disillusionment (George Clooney) can save our world from destruction. There's some nice visual effects but the movie runs out of steam by the halfway mark, just when it should get atomic powered. From Disney.

Also available this week: "Dope
" and "The Gallows
."


THIS WEEK'S BEST BETS:
Fans of gore, horror and David Cronenberg will appreciate The Criterion Collection's release of the director's
"The Brood
"
(1979), starring Oliver Reed, Samantha Eggar and Art Hindle. As in most of Cronenberg's early and middle films, his scenario revolves around body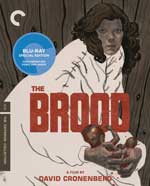 horror (bodily transformation and infection, generally created by the efforts of scientists to modify the body for either evil or misguided reasons) and the failings of psychologists to heal fragile minds. In "The Brood," a disturbed woman (Eggar) is receiving a radical form of psychotherapy by an egotistical psychiatrist (Reed) at a remote, mysterious institute: his method is to force patients to let go of their suppressed anger through physiological changes to their bodies. When her mother, father and 5-year-old daughter -- under the care of her estranged husband -- are attacked by a group of demonic beings, all the evidence points to the doctor and his strange practice. "The Brood" and Cronenberg's previous two outings ("Shivers," 1975 and "Rabid," 1977) laid the strong foundation for a skein of horror films that play upon the mind/body connection: "Scanners" (1981), "Videodrome" (1983), "The Fly" (1986), "Dead Ringers" (1988), "Naked Lunch" (1991), "Crash" (1996) and "eXistenZ" (1999). On DVD and Blu-ray in a new, restored 2K digital transfer, supervised by Cronenberg, with uncompressed monaural soundtrack on the Blu-ray. Extras include a new documentary about the making of the film and Cronenberg's early work, featuring actor Samantha Eggar, producer Pierre David, cinematographer Mark Irwin, assistant director John Board, and special makeup effects artists Rick Baker ("Videodrome") and Joe Blasco ("Shivers" and "Rabid"); a new, restored 2K digital transfer of" Crimes of the Future," a 1970 feature by Cronenberg, supervised by the director, plus a 2011 interview in which the director discusses his early films with Fangoria editor Chris Alexander; and an essay by critic Carrie Rickey.
Ken Burns' "The Civil War" attracted an audience of 38.9 million during its premiere in September 1990, setting a record for the highest rated PBS series broadcast, which stands today. The series has been honored with more than 40 major film and television awards, including two Emmy Awards, two Grammy Awards, Producer of the Year Award from the Producers Guild, People's Choice Award, Peabody Award, duPont-Columbia Award, D.W. Griffith Award and the Lincoln Prize,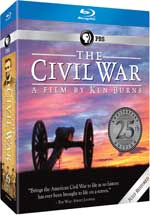 among dozens of others. While Burns had directed and produced other award-winning films on PBS prior to "The Civil War," including his first feature film, the Academy Award-nominated "The Brooklyn Bridge" (1981), "The Civil War" quickly became the standard for historic documentaries. For
"The Civil War 25th Anniversary Commemorative Edition,"
50,000 feet of the original 16mm film negative, which is preserved at the George Eastman House, was scanned frame by frame at 4K (4096 x 2160 pixels, the resolution used for Ultra High Definition)over the course of a two months period. The standard definition 1990 broadcast was taken from a duplicate of the original negative, resulting in a loss of quality. This is the first time the film will be seen with the exact same fidelity and framing as the negative that Burns and his co-cinematographers Allen Moore and Buddy Squires shot over 25 years ago. "The Civil War" is narrated by David McCullough and includes the voices of Sam Waterston (Abraham Lincoln), Julie Harris (Mary Chesnut), Jason Robards (Ulysses S. Grant), Morgan Freeman (Frederick Douglass), Paul Roebling (Joshua L. Chamberlain, etc.), Garrison Keillor (Walt Whitman, etc), George Black (Robert E. Lee), Arthur Miller (William T. Sherman), Chris Murney, (Pvt. Elisha Hunt Rhodes), Charley McDowell (Pvt. Sam Watkins), Horton Foote (Jefferson Davis), George Plimpton (George Templeton Strong), Philip Bosco (Horace Greeley, etc. ), Terry Courier (George McClellan), Jody Powell (Stonewall Jackson, etc.) and Studs Terkel (Benjamin F. Butler). Others who provided voices include Derek Jacobi, Pamela Reed, Jeremy Irons, Ronnie Gilbert, Kurt Vonnegut, Colleen Dewhurst, Hoyt Axton and Shelby Foote. In a six-disc set; DVD: $99.99, Blu-ray: $129.99. From PBS Distribution.
One of our favorite TV series from the 1960s (along with "Danger Man" and "The Avengers") was "The Saint" -- aka Simon Templar -- a debonair rogue and wealthy man of mystery who was a kind of a combination modern day Robin Hood and Equalizer, who could outwit both the police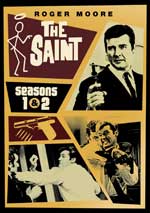 and the villains while winning the heart of every pretty woman who crossed his path. Since his creation by Leslie Charteris in 1928, The Saint has thrilled adventure aficionados with his exploits in a variety of media, including novels, movies, and radio: but nowhere was the dashing Templar more indelibly realized than in his 1960s television series, starring the perfectly cast Roger Moore in the title role.
"The Saint: Seasons 1 & 2"
(1962-64) set the stage for what would become a six season run on television, and paved the way for the dashing Roger Moore to take on the role of an even more famous man of action later in his career. With guest starring appearances by such notables as Oliver Reed, Academy Award-winning actress Julie Christie and a pair of beauties from the spy classic "Goldfinger" (Honor Blackman and Shirley Eaton), these B&W episodes of "The Saint" have a freshness that latter color episodes, when the series took itself a bit too seriously, lack. In a 10-disc set with all 39 heavenly episodes. From Shout! Factory/Timeless Media.
Disney has pulled another one of its modern classic animated features from the vault and it's one that has truly weathered the test of time:
"Aladdin
."
The film joins "Beauty and the Beast," "The Little Mermaid" and "The Lion King" from the Disney Renaissance in getting the Diamond treatment, meaning Blu-ray release. The last home theater release of the long-out-of-print "Aladdin" was a Platinum DVD way back on Oct. 5 2004, so this one has been a long-time coming. The release is configured as a DVD + Digital Copy + Blu-Ray + Disney Movies Anywhere edition.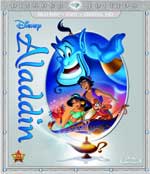 According to the Disney Wiki, "Aladdin" is the 31st animated feature in the Disney Animated Canon, and the fourth entry in the Disney Renaissance, made and produced by Walt Disney Feature Animation, and released on November 11, 1992 by Walt Disney Pictures and distributed by Buena Vista Pictures Distribution. It was released at the peak stretch of the Disney renaissance era beginning with "The Little Mermaid" and was the most successful film of 1992, with more than $217 million in domestic revenue and over $534 million worldwide. It was produced and directed by Ron Clements and John Musker. The original songs were written by Alan Menken and Howard Ashman and Menken & Tim Rice after Ashman's death. Menken received the 1992 Academy Award for Original Music Score and Rice and Menken got an Oscar for the now-classic song "A Whole New World." Watching the film today was even more enjoyable than we remember back in 1992 -- it's a fun ride that reminds me of "The Thief of Bagdad" (1924) in its joyfulness and playfulness; the Blu-ray has crisper color and a more immersive soundtrack than the Platinum DVD. Get this now since one never knows when the Disney animations will go out of print -- as have "Beauty and the Beast" and "The Lion King."
BUZZIN' THE 'B'S:
When the overlord of the damned rises again to prowl the shadows, who will stand against the
"The Return of Count Yorga
"
(1971) when he makes his Blu-ray debut? Robert Quarry is back as one of the most dapper vampires to ever set up shop in California in this sequel to the 1970 film that really raises the stakes. Revived by the well-known supernatural properties of the Santa Ana winds, the undead Count takes to the streets with an unquenchable thirst. In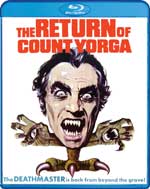 search of new blood, Yorga moves next door to an orphanage. But when he crosses paths with a beautiful young woman, the Count's thoughts turn to love. Has the ruler of the night finally found the girl with whom he can share eternity? Co-stars Mariette Hartley, Roger Perry and George Macready. From Scream Factory ... In
"The Sand
"
(2015), starring Mitchel Musso, Jamie Kennedy and Brooke Butler, a group of hung-over twentysomethings coming off an all-night graduation beach party awake to a beating sun and a seemingly carnivorous beach that devours anything with a heartbeat that touches the sand. From Monarch Home Entertainment ... In
"Red Vs Blue: Season 13"
(2014), the sim-troopers of Blood Gulch have seen their fair share of insanity over the years, but they've never faced anything quite like this. Stranded on the planet Chorus, the Reds and Blues must convince two enemy armies to join forces or suffer complete annihilation at the hands of a bloodthirsty war lord. The final installment in the "Chorus Trilogy." Between deadly mercenaries, alien artifacts and old rivalries, our hapless heroes are in for the fight of their lives in this long-running TV sci-fi/comedy series, based on the Halo Xbox video game. On DVD, Blu-ray/DVD Combo from Cinedigm ...
"The Voyeur
"
(1994 -- Italy), directed by Tinto Brass and based on the famous erotic novel ("Luomo che Guarda") by Alberto Moravia,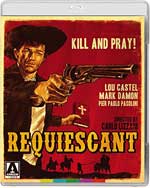 tells the story of Eduardo Dodo, who in public is a professor of French literature but in private a desperately lovesick cuckold, married to the ever-more-elusive Sylvia. His life is shattered when he becomes an onlooker rather than a participant in life. Those around him, though, seem to be living life to the fullest. His bedridden father has a scantily clad nurse, his students have unending sexual fun, sometimes in his presence, and even the public beach has become an orgy ground. In a new restored high-definition transfer from Cult Epics ...
"Requiescant
"
(1967), directed by Carlo Lizzani ("Wake Up and Kill," "The Hills Run Red"), ranks among the list of finest Spaghetti Westerns. Lou Castel plays a young man who was raised to be a pacifist by a travelling preacher after Confederates massacred his family. But when his step-sister runs away, the pursuit reveals he has a natural talent as a sharpshooter -- leading him to a bloody and unexpected confrontation with his past. Joining Castel are Mark Damon as the sadistic aristocratic villain, Franco Citti as his henchman, and the great Italian filmmaker Pier Paolo Pasolini in a rare acting role as a revolutionary priest. In a new 2K restoration of the film from the original camera negative, with optional English and Italian soundtracks in uncompressed PCM mono audio. From Arrow Video/MVD Entertainment.
ON THE INDIE FRONT:
"The Little Death
"
(2015 -- Australia), whose title is the English translation of the French phrase "La Petit Mort" -- an idiom and euphemism for an orgasm -- explores the themes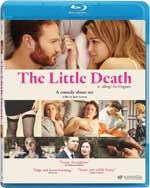 of morality, normality, monogamy, relationships, love and deceit, all tied together with a sexy red bow. The edgy comedy follows five couples in Sydney struggling to cope with their sexual kinks, while realizing it takes a lot more effort and determination to be sexually satisfied in the modern age. The couples learn the hard-way that sharing sexual secrets may have unintended consequences. On DVD, Blu-ray Disc from Magnolia Home Entertainment ...
"La ciudad
"
(1999) is the feature film debut of writer-director David Riker. A dramatically photographed collection of stories of love, hope, and loss, and an affecting portrait of disenfranchised Latin American immigrants living in New York. Filmed over the course of six years in the 1990s, this film takes us inside this community of newcomers, creating a powerful and incisive drama about the loneliness, displacement, and economic hardship they face in the new and unfamiliar world of the city. Striving for authenticity both in the stories he tells and in the characters he portrays, Riker spent five years developing the film within the Latin American community and chose to cast non-actors in almost every role. From Oscilloscope.
FOR THE FAMILY:
"Chuggington: The Big Freeze"
(2015) is a cool super-sized collection of five Chuggington adventures in which the chuggers perform one winter rescue after another: Fletch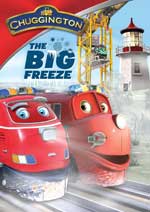 tries to repair the much-needed lighthouse all by himself, Calley tests to become a first responder, Brewster gets closer to being a Chuggineer, and more. $14.98 from Anchor Bay ...
"Regular Show: The Movie"
(2015) follows our two favorite slackers -- Mordecai and Rigby -- who have discovered that a botched science project they did in High School created a "Timenado," and they realize they must go back in time in order to save the universe -- and their friendship. From Warner ... Everyone remembers their first day of school or their first lost tooth. Now kids can share these fabulous first memories with the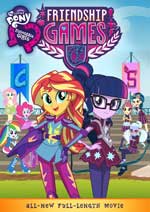 Sesame Street characters in
"Sesame Street: Elmo Can Do It!"
(2015), a new video compilation full of stories and songs. From haircuts to sleepovers, preschoolers will enjoy learning life lessons, while addressing milestones and transitions in a fun way. $14.98 from Warner ...
"My Little Pony: Equestria Girls: Friendship Games"
(2015) is a new full-length film from the My Little Pony canon. Canterlot High meets its rival school, Crystal Prep Academy, in a competition that's a long-standing tradition: The Friendship Games, a series of exciting events that includes archery, motocross, and rollerskating. Sunset Shimmer is tasked with keeping magic out of the games to keep things fair while she and her friends compete against Crystal Prep's top students led by someone with an equal amount of interest in Equestrian magic: this world's Twilight Sparkle. On DVD, Blu-ray Disc from Shout! Factory Kids.
SPECIAL INTEREST:


"Ballet Boys" (2014): "Billy Elliot" meets "First Position" in this documentary that follows, over four years, the struggles, set-backs and accomplishments of three friends and hopeful future dance stars: Lukas, Syvert, and Torgeir. The boys sacrifice a normal high school experience (including parties and dating) for the sake of ambition and a love of dance. Facing pressure from their parents, school teachers and ballet mentors, they prepare for potentially life-altering and career-making auditions at some of Europe's most prestigious ballet schools. From First Run Features.



"Baseball Legends" (2014-15): The stories of four baseball heroes come to life from Major League Baseball and A+E Networks. Babe Ruth, Ted Williams, Hank Aaron and Lou Gehrig turned baseball into the National Pastime that it is today. This two-disc set, four-film collection brings a fresh historical and psychological perspective to the lives of these American icons. Using rare and enhanced archival material and state-of-the-art production techniques, the films follow the life stories and the careers of Babe Ruth, whose bat turned him into a household name; Ted Williams, the last player to hit .400; Lou Gehrig, who won six World Series before illness ended his career; and Hank Aaron, who rose from adversity to break the record of a king. Narrated by Martin Sheen. From Lionsgate.



"Danny Kaye: Legends" (1967): During four top-rated television seasons, "The Danny Kaye Show" welcomed some of the great icons of the entertainment industry. At the time, Kaye was at the height of his popularity, having starred in a string of successful films in the 1940s and 50s and made numerous successful TV appearances. This two-disc set collects six classic episodes of the show featuring Louis Armstrong, Lucille Ball, Tony Bennett, George Burns, Shirley Jones and Liberace. The collection also features performances by the Righteous Brothers (singing their number one hit "You've Lost That Loving Feeling"), French songstress Mireille Mathieu, Vikki Carr, John Gary and Imogene Coca. Also featured are series regulars Harvey Korman, Joyce Van Patten and orchestra leader Paul Weston. All of Danny Kaye's considerable talents are on display here: he was a radio, TV and record star who could do comedy, sing, dance and perform classical music (he regularly conducted world-famous orchestras). Kaye was the first ambassador-at-large of UNICEF in 1954 and received the French Legion of Honor in 1986 for his years of work with the organization. And he's one of OnVideo's all-time favorites. $24.95 from MVD Visual; due October 16.



"James Bond Gadgets" (2002-2004): Take an up-close and personal look at the most sophisticated and intelligently designed devices used by the world's most renowned spy in these two episodes of the HISTORY series Modern Marvels that showcases the most high-tech cars, guns and gadgets ever to grace the silver screen. $14.98 from Lionsgate.



"Lynyrd Skynyrd -- Gone With the Wind" (2015): When Lynyrd Skynyrd emerged onto the world stage in 1973, it was the result of a collective determination; the group had struggled and fought to gain real recognition ever since their formation eight years before. And although they were initially identified, both in the music industry and in the media, as just another act in the then booming Southern-Rock >movement, it became quickly apparent that not only were Skynyrd a distinctly individual collective, but also they had the potential to become one of the finest rock bands in history. Led by the headstrong and domineering Ronnie Van Zant, a tough, blue collar brawler with his powerful stage presence, distinctive vocals and gritty, honest lyrics, his energy and vision propelled the group until its tragic end in 1977. This documentary revisits the story of Lynyrd Skynyrd with a mixture of seldom seen film, new and archive interviews, contributions from an esteemed panel of members past and present and those closest to the group, plus location shoots, rare photographs and news reports. Due October 16 from Sexy Intellectual/MVD.



"PS Dance!" (2015): Documentary steps inside the halls of five NYC public schools to celebrate dance. Hosted by veteran TV journalist Paula Zahn, "PS Dance!"! captures what happens when students have dance in their curriculum. The journey is one of imagination, curiosity, hard work and discipline. In these studios, dance is for every child. Packaged in certified Green Forestry eco pack. From First Run Features.
FROM TV TO DVD:
"Ascension: A Miniseries Event"
(2014) is a three-part, six hour SyFy series inspired by the real-life Project Orion space mission that thrived under President John F. Kennedy. In 1963, the U.S. government launched a covert space mission sending hundreds of men, women and children on a century-long voyage aboard the starship Ascension to populate a new world. Nearly 50 years into the journey, as they approach the point of no return, a mysterious murder of a young woman causes the ship's population to question the true nature of their mission. From Lionsgate ...
"Bates Motel: Season Three"
(2015) features all 10 episodes in a three-disc DVD: $44.98, two-disc Blu-ray: $49.98; from Universal ...
"The Bionic Woman: The Complete Series"
(1976-78) is a 14-disc set with all 58 episodes, $74.98 from Universal ...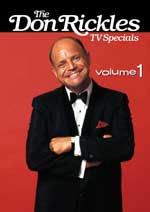 "The Don Rickles TV Specials: Volume 1"
feature two 70s-era TV specials headed up by the "Prince of Put-downs" in which "Mr. Warmth" jokes, sings, dances, acts and expands the comedy horizons of the typical variety show. An incredible line-up of Hollywood royalty took Don's jabs with aplomb -- and dished it out, as well. Guest stars included Don Adams, Anne Meara, Johnny Carson, Harvey Korman, Bob Newhart, Carroll O'Connor, Juliet Prowse and Robert Goulet. From Time Life ...
"The Following: The Third and Final Season"
(2015) features all 15 episodes on DVD: $39.98 and Blu-ray: $44.96; from Warner ...
"Girlfriends' Guide to Divorce: Season One"
(2014-15) is a three-disc set with 13 episodes of Bravo's first scripted series. From Universal ...
"Heroes: The Complete Series"
(2006-10) includes all 78 episodes in a 21-disc DVD: $84.98, 18-disc Blu-ray: $99.98; from Universal ...
"Justified: The Complete Series"
(2010-15) is a 19-disc set with all 78 episodes; from Sony ...
"Mad Men: The Final Season, Part 2"
(2015) is a three-disc DVD, two-disc Blu-ray with seven episodes that marks the end of an era for iconic ad man Don Draper, leaving viewers with the final look at the legacy of Madison Avenue's finest advertising professionals. From Lionsgate ...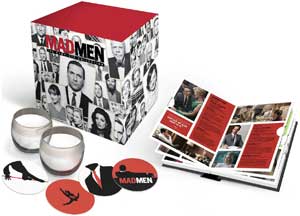 "Mad Men: The Complete Collection"
(2007-2015) is offered as a limited-edition gift set that features the complete seven seasons and all special features ever released plus four hours of brand-new bonus material (including a look at the casting and design of the show), a one-on-one sit-down with Matthew Weiner and two hand-made silver-rimmed lowball tumblers and four cork coasters. On DVD: $209.98, Blu-ray: $209.97. From Lionsgate ...
"The 100: The Complete Second Season"
(2014-15) is a four-disc set with all 16 episodes, $39.98 from Warner ...
"The Six Million Dollar Man: The Complete Series"
(1974-78) is a 33-disc set with all 100 episodes, $129.98. from Universal ...
"When Calls The Heart: Follow Your Heart"
(2015) is the fifth and final installment of the Season Two television movies.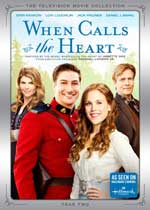 While Jack and Elizabeth's relationship has cooled following their arguments in Hamilton, Jack is hot on the trail of a counterfeiter right in Hope Valley. When he finds the culprit, a two-fisted brawl ensues as Jack apprehends the man. Seeing Jack in danger prompts Elizabeth to confront her feelings and seek him out ... but she inadvertently sets Rip, Jack's dog, loose at the same time. As a violent storm bears down on Hope Valley, Jack and Elizabeth search for Rip and take shelter in an old mineshaft together. But the storm won't be escaped so easily, and the unstable shaft begins to collapse. From Shout! Factory ...
"When Calls The Heart: Year Two [The Television Movie Collection]"
(2015) is a five-disc set with all five movies from the second year, $29.93. From Shout! Factory.
Check out other October 13-October 19 DVD releases and reviews at OnVideo.
Comments