By Harley Lond - 10/06/15 at 03:34 AM CT
THIS WEEK'S BEST BETS:

"Bram Stoker's Dracula Supreme Cinema Series" (1992), directed by Francis Ford Coppola and starring Gary Oldman, Winona Ryder, Anthony Hopkins, Keanu Reeves, Richard E. Grant, Cary Elwes, Billy Campbell, Sadie Fros, Tom Waits and Monica Bellucci, is the first release under the new Sony Supreme Cinema Series banner. According to the studio, "The Supreme Cinema Series is a premium, limited edition collection befitting beloved cinematic favorites and modern classics. Each film is presented with pristine high definition picture, enhanced sound and a collection of new and/or archival special features, creating an ultimate edition for first-time viewers and fans alike. Complete with unique Clear Case packaging, the Supreme Cinema Series is the optimal way to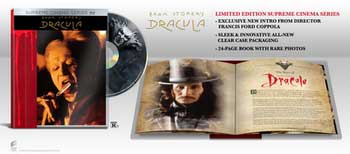 celebrate these unforgettable cinematic experiences." The film is presented with an all-new 4K restoration and exclusive Dolby Atmos sound, remixed specifically for the home theater environment, that is said to deliver "captivating sound that places and moves audio anywhere in the room, including overhead." The film is available both as a standalone Blu-ray and in the limited edition Blu-ray Supreme Cinema Series
which also includes 24-pages of rare photos, behind-the-scenes detail and an all-new personalized written introduction from Coppola. Extras include "Reflections in Blood: Francis Ford Coppola and Bram Stoker's Dracula": (Coppola, along with his son, second unit/visual effects director, Roman Coppola, participated in a new, on-camera retrospective, reflecting on how the film has impacted their lives and careers); "Practical Magicians: A Collaboration Between Father and Son"; rare 1993 commentary with Coppola, Roman Coppola and Greg Cannom; deleted scenes; audio commentary and film introduction by Coppola; and four legacy featurettes. Originally released in 1992, the film follows the devastatingly seductive Transylvanian prince, Dracula (Gary Oldman), who travels from Eastern Europe to 19th century London in search of human love. After centuries alone, the charismatic Dracula meets Mina (Winona Ryder), a young woman who appears as the reincarnation of his lost love, and the two embark on a journey of romantic passion and horror. It's a weird, bizarre and luscious trip down the Dracula rabbit hole with more blood and sex than most of the campy vampire epics that preceded it. Plus it's got Monica Bellucci as one of Dracula's brides and Tom Waits as bug-eating Renfield. Great viewing.

"Alleluia
" (2014 -- Belgium) is a modern-day take on "The Lonely Hearts Killers" -- Raymond Fernandez and Martha Beck -- forever immortalized in the gruesome and quirky 1969 "The Honeymoon Killers." It's a smart and gory shocker that sucks you into the story with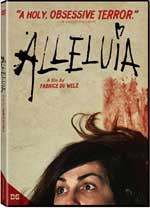 claustrophobic close ups of the good-looking but not beautiful leads (Laurent Lucas, Lola Duenas), a pair who could be your easygoing next door neighbors until their bloodlust is unleashed. Michel is a born womanizer and professional hustler who woos lonely, vulnerable widows and divorcees and takes their money. He meets up with introverted single mom Gloria and fleeces her -- but she fixates on him, tracking him down and vowing to help his scam while masquerading as his sister. Despite his suave powers, Michel needs to be controlled, and the two team as toxically co-dependent lovers on an odyssey of wild sex, unbridled jealousy, and horrific murders heightened by the black arts and white-hot anger. It's nasty and mean and lyrical all at once, with washed out, almost impressionistic colors that contrast with the gore and violence. Winner of four Fantastic Features awards at Fantastic Fest, including Best Picture, Best Director, Best Actress and Best Actor. On DVD, Blu-ray Disc from Doppelganger Releasing.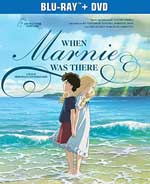 The latest from from Japan's acclaimed Studio Ghibli is "When Marnie Was There
" (2014), featuring the voices of Hailee Steinfeld, Kiernan Shipka, John C. Reilly, Ellen Burstyn, Kathy Bates and Geena Davis. When shy, artistic Anna travels to the seaside to stay with relatives, she stumbles upon an old mansion surrounded by marshes and the mysterious young girl, Marnie, who lives there. The two girls instantly form a unique connection and a friendship that blurs the lines between fantasy and reality. As the days go by, a nearly magnetic pull draws Anna back to the Marsh House again and again, and she begins to piece together the truth surrounding her strange new friend. Directed by Hiromasa Yonebayashi ("The Secret World of Arrietty"). On DVD and Blu-ray/DVD Combo from Universal.


THIS WEEK'S THEATRICAL RELEASES:
"Magic Mike XXL
,"
the sequel to 2012's surpise hit. Picking up the story three years after Mike (Channing Tatum) bowed out of the stripper life at the top of his game, "Magic Mike XXL" finds the remaining Kings of Tampa likewise ready to throw in the towel. But they want to do it their way: burning down the house in one last blow-out performance in Myrtle Beach, and with legendary headliner Magic Mike sharing the spotlight with them. On the road to their final show, with whistle stops in Jacksonville and Savannah to renew old acquaintances and make new friends, Mike and the guys learn some new moves and shake off the past in surprising ways. From Warner.
BUZZIN' THE 'B'S:


"Air" (2015): Norman Reedus, Djimon Hounsou. In the near future, breathable air is nonexistent. Virtually all of humanity has disappeared, and those chosen to reestablish society reside in a controlled state of suspended animation. Two engineers tasked with guarding the last hope for mankind struggle to preserve their own sanity and lives while administering to the vital task at hand. On DVD, Blu-ray Disc from Sony.



"Amnesiac" (2015): Kate Bosworth, Wes Bentley. Psychological thriller about a man who wakes up in bed suffering from memory loss after being in an accident, only to begin to suspect that his wife may not be his real wife and that a web of lies and deceit inhabits the house where he soon finds himself a prisoner. On DVD, Blu-ray Disc from XLrator Media.



"The Anomaly" (2014): Ian Somerhalder, Alexis Knapp, Art Parkinson, Luke Hemsworth, Brian Cox. An ex-soldier, kidnapped by a futuristic group called the "Anomaly," must figure out how to survive while he's pitched back and forth between parallel universes every 9 minutes and 47 seconds. On DVD, Blu-ray Disc from Anchor Bay.



"The Avenging Fist" (2001 -- Hong Kong): Sammo Hung, Wang Lee Hom, Steven Fung, Gigi Leung, Kristy Yang. A futuristic research compound develops a new police tool called the Power Glove which gives the wearer incredible powers by letting him tap into the "unused 80 percent" of his mental potential. Naturally, the experiment goes awry and one unbalanced cop turns to evil. From Well Go USA.



"Curve" (2015): Julianne Hough, Teddy Sears. Horror-thriller about a young bride-to-be who deliberately crashes her car off a deserted highway in an attempt to escape a charming, predatory hitchhiker. When the plan backfires, trapping her in an overturned vehicle, she defends herself against a terrorizing psychopath -- only to uncover a shocking truth that fuels her fight for survival. From Universal.



"Dark Places" (2015): Charlize Theron, Tye Sheridan, Nicholas Hoult, Chloe Grace Moretz, Sterling Jerins, Corey Stoll, Christina Hendricks. Libby Day (Theron) was only seven years old when her mother and two sisters were murdered and her brother Ben (Sheridan) was jailed for the crime. Now, 25 years later, Libby discovers shocking evidence that Ben may be innocent -- and the real killer is still at large. Based on Gillian Flynn's best-seller. On DVD, Blu-ray Disc from Lionsgate.



"Dead Rising: Watchtower" (2014): Jesse Metcalfe, Meghan Ory, Virginia Madsen, Dennis Haysbert, Rob Riggle. Based on the Dead Rising video game, the film follows reporter Chase Carter and a group of survivors who become trapped in a walled-in quarantine area after the government fails to contain a viral zombie outbreak. Creatively building weapons with anything they can find, the team must evade infection and battle their way out of the quarantined zone before it gets firebombed. From Sony.



"Earthfall" (2015): Pressly Coker, Joe Lando, Raffaello Degruttola, Diana Hopper. As a rogue planet roars through our solar system, it acts as an intergalactic magnet that pulls Earth in its wake. Meteors destroy major cities, fire and ice storms engulf the land. And as the situation grows even worse, Steve Lannon is determined to reunite with his wife and teenage daughter. But when they stumble into a secret government installation, they uncover a nuclear mission that will either blast our planet back into orbit or guarantee front row seats to the end of the world. From Anchor Bay.



"Eaters" (2012): Marcelle Bowman, Robert Dean, Jonathan Haltiwanger, Hannah Risinger. Five friends embark on an epic road trip, but when one friend disappears at a rest stop, their search brings them face to face with a violent biker gang. After a narrow escape from death, their nightmare goes from bad to spine-chilling when they find themselves being stalked in an abandoned town. From Lionsgate.



"Escobar: Paradise Lost" (2015) Benicio Del Toro, Josh Hutcherson, Claudia Traisac. Young surfer Nick (Hutcherson) thinks all his dreams have come true when he goes to visit his brother in Colombia. Against an idyllic backdrop of blue lagoons and white beaches, he falls madly in love with Maria (Traisac). It all seems perfect until he meets her uncle, the famous drug kingpin Pablo Escobar (Del Toro) and he finds his life is on the line when he's pulled into the dangerous world of the family business. On DVD, Blu-ray Disc from Anchor Bay.



"The Falling" (2014): Maisie Williams, Maxine Peake, Monica Dolan, Greta Scacchi, Florence Pugh. The sinister story of two best friends, deeply troubled Lydia (Williams) and charming Abbie (Pugh), experiencing a sexual awakening at a 1969 English girls' school. After an unexpected tragedy takes place, the female students fall victim to an outbreak of unexplainable fainting spells, causing rapture and mass hysteria that threatens the psychological and physical stability of all involved. On DVD, Blu-ray Disc from Cinedigm.



"Final Girl" (2015): Abigail Breslin, Alexander Ludwig, Wes Bentley, Francesca Eastwood, Cameron Bright, Reece Thompson. Every night, four boys trick a young, blonde girl into meeting them in the forest for a date with the intention to hunt and kill her. One night, Veronica (Abigail Breslin) is selected and when the hunt begins, the boys soon realize that they messed with the wrong girl. From Cinedigm.



"4Got10" (2015): Dolph Lundgren, Danny Trejo, Johnny Messner, Michael Pare, Vivica Fox. Brian Barns (Messner) wakes up in the desert wounded and surround by eight dead bodies, millions of dollars in cash and a van full of cocaine -- with no memory of who he is or how he got there. He soon learns that he is being hunted by a notorious drug lord (Trejo), a DEA agent (Lundgren), and a corrupt Sherriff (Pare), all of whom will stop at nothing to find him. On the run for his very life, Barns slowly finds out who he really is, but the more he remembers, the more deadly things become. On DVD, Blu-ray Disc from Status Media/Cinedigm.



"Gravy" (2015): Michael Weston, Jimmi Simpson, Sutton Foster, Lily Cole, Molly Ephraim, Paul Rodriguez, Gabriel Luna, Lothaire Bluteau, Ethan Sandler, Dule Hill, Gabourey Sidibe, Sarah Silverman. It's Halloween night. A trio of costumed misfits with very special dietary requirements seizes a Mexican cantina and forces the staff to engage in a late night of gluttony. The only caveat is what's on the menu…and who will survive 'til morning. On DVD, Blu-ray Disc from Scream Factory.



"Hidden" (2015): Alexander Skarsgard, Andrea Riseborough, Emily Alyn Lind, Heather Doerksen, William Ainscough. A family takes refuge in a fallout shelter to avoid an unknow, dangerous outbreak. The one thing they know for certain is that there is something terrifying and strange that threatens their fragile existence, and it is coming for them. From Warner.



"Insidious: Chapter 3" (2015): Dermot Mulroney, Stefanie Scott, Angus Sampson, Leigh Whannell, Hayley Kiyoko, Lin Shaye. Prequel that takes place before the unforgettable haunting of the Lambert family. Paranormal investigators Tucker and Specs team up with the psychic Elise to help Quinn, a teenage girl who believes that her late mother is trying to make contact. At first, Elise's horrific past makes her reluctant to use her ability, but when Quinn's desperate father begs for assistance, she agrees to venture into The Further. There, she finds a ruthless supernatural entity with a voracious craving for the souls of the living. On DVD, Blu-ray Disc from Sony.



"June" (2014): Kennedy Brice, Casper Van Dien, Victoria Pratt, Eddie Jemison, Lance E. Nichols. Nine-year-old June (Brice) has been shuffled in and out of foster homes for years and though she tries to be good, no matter where she goes, a trail of chaos and terror seems to follow. It's only when June is sent to live with a new couple, Lily (Pratt) and Dave (Van Dien), that it looks as if things might finally work out. Except this innocent child with the face of an angel is possessed by an ancient, malevolent entity that has hijacked her soul. From RLJ Entertainment.



"Last Shift" (2014): Juliana Harkavy, Joshua Mikel. Rookie police officer Jessica Loren has been assigned the last shift at a closing police station and must wait for a hazmat crew collecting biomedical evidence. Ordered not to leave the station under any circumstance, Jessica comes to learn that it's more than just an outdated station, it's home to the ultimate embodiment of evil: a cult leader and his followers who committed suicide there. On DVD, Blu-ray Disc from Magnolia Home Entertainment.



"Manglehorn" (2015): Al Pacino, Holly Hunter, Chris Messina, Harmony Korine. Left heartbroken by the woman he loved and lost many years ago, Manglehorn, an eccentric small-town locksmith, tries to start his life over again with the help of a new friend. On DVD, Blu-ray Disc from IFC.



"Old 37" (2015): Kane Hodder, Bill Moseley, Brandi Cyrus, Jake Robinson, Devon Spence, Maxwell Zagorski, Caitlin Harris, Kenneth Simmons. Two brothers intercept 911 calls in a beat up old ambulance to exact revenge, torture and kill careless teen drivers. On DVD, Blu-ray Disc from Epic Pictures/Anchor Bay.



"The Raid" (1991 -- Hong Kong): Jacky Cheung, Tony Leung Kai Fai, Dean Shek. A revolutionary army in 1930s China attempts to foil a plot by the dethroned Emperor Pu-Yi -- who has established the Puppet State of Manchukuo in Manchuria -- to cooperate with the Japanese in a test for a poisonous gas. From Well Go USA.



"Sharknado 3: Oh Hell No!" (2013) IIan Ziering,Tara Reid, Bo Derek, Jerry Springer, Mark Cuban, Ann Coulter. When a mass of Sharknadoes threatens America's East Coast, the chainsaw-wielding hero Fin must again risk his life to save his children on spring break. But as he fights his way south, the sharknadoes merge and grow bigger than ever before. Oh Yeah! On DVD, Blu-ray Disc. From The Asylum.



"The Target" (2014 -- South Korea): Seung-ryong Ryu, Joon-sang Yoo, Jin-wook Lee, Seong-ryeong Kim. An ER doctor saves a murder suspect from an assassination attempt and, immediately, the doctor's pregnant wife gets kidnapped. It soon becomes clear that there's a larger conspiracy at play, and the doctor and the murder suspect must team up to rescue the doctor's wife. From Lionsgate.



"The Timber" (2015): Josh Peck, James Ransone, Elisa Lasowski. In the 1898 Alaskan frontier, two brothers embark on a journey to collect a bounty in a desperate attempt to save their home: but what they find along the way is more than they bargained for: they face harsh elements, crazed men, and death at every corner in pursuit of an outlaw, a twisted man who has turned the Yukon Territory into his own personal hell. On DVD, Blu-ray Disc from Well Go USA.



"Tremors 5: Bloodlines" (2015): Michael Gross, Jamie Kennedy. A deadly threat resurfaces halfway around the world when giant, man-eating worms attack a South African wildlife park in this fourth sequel to the campy 1990 horror film. When Gummer (Gross) is hired to capture a deadly Assblaster terrorizing South Africa, he and his new sidekick, Travis Welker (Kennedy), find themselves in a battle to the death against the fiercely aggressive Assblasters and Graboids. Discovering that the monsters have evolved into even more lethal creatures, their mission takes on a whole new level of unseen terror -- far more than they bargained for. On DVD, Blu-ray Disc from Universal.



"We Are Still Here" (2015): Barbara Crampton, Andrew Sensenig, Larry Fessenden, Lisa Marie. After their teenage son Bobby is killed in a car crash, Paul and Anne Sacchetti move to an isolated 19th-century house in the New England countryside to try to start a new life. But soon the grieving couple begin to sense they are not alone in the old house. Unknowingly, the Sacchettis become the prey of a family of vengeful spirits that reside in their new home, and before long they discover that the seemingly peaceful town is hiding a terrifyingly dark secret. On DVD, Blu-ray Disc from Dark Sky Films/MPI.



"What We Did On Our Holiday" (2014): Rosamund Pike, David Tennant, Billy Connolly. When Doug and Abi take their kids on a family vacation, the youngsters -- surrounded by relatives -- innocently reveal the ins and outs of their family life and intimate details about their parents. It's soon clear that when it comes to keeping a big secret under wraps from the rest of the family, their children are their biggest liability. From Lionsgate.
FOR THE FAMILY:
"Greatest Heroes of the Bible: Complete Collection"
includes 15 of the most iconic Biblical stories brought to life with casts that include Tyne Daly, William Daniels, John Larroquette, June Lockhart, Vic Morrow, Ron Rifkin, Tanya Roberts, Dean Stockwell. Four-disc set includes: "The Ten Commandments," "Samson and Delilah," "David & Goliath," "The Story of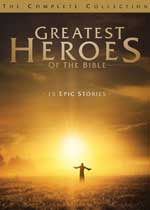 Moses, "The Story of Noah," "Joshua and the Battle of Jericho," "The Story of Esther," "Abraham's Sacrifice," "The Tower of Babel," "Sodom and Gomorrah," "Jacob's Challenge," "Joseph in Egypt," "The Judgment of Solomon," "Daniel in the Lions' Den" and "Daniel and Nebuchadnezzar." $29.99 from CBS/Paramount ...
"He's a Bully, Charlie Brown"
brings together two Peanuts specials that are paired with an episode of "The Charlie Brown & Snoopy Show," remastered in all-new 4K Ultra HD transfers to DVD. In this compilation, Charlie Brown is called upon to stand up for one of his pals, who is taken advantage of by a bully at summer camp. The title will be released in time for National Bullying Prevention Month, which takes place in October. $19.97 from Warner ... Join the whole Playhouse gang for one of the wackiest specials ever in
"Pee-wee's Playhouse: Christmas Special."
Pee-wee gets into the spirit of the season with lots of singing, dancing and other holiday fun with his Playhouse pals and more than a dozen celebrity guest stars as you've never seen them before. Everything is going great for Pee-wee ... until his Christmas wish list becomes so long that there won't be enough presents for all the other kids in the world. When Santa Clause pleads for help, Pee-wee reluctantly learns a lesson about the true meaning of Christmas. Restored, remastered and in high definition. On DVD, Blu-ray Disc Shout! Factory ...
"Teenage Mutant Ninja Turtles: The Complete First and Second Seasons"
(2014) is an eight-disc set with all 52 episodes, $42.99 from Paramount ...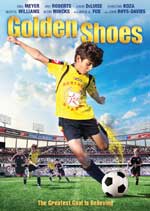 in the
"Golden Shoes"
(2015), starring Christian Koza, Eric Roberts, Dina Meyer, David DeLuise, Montel Williams, Aedin Mincks, Vivica A. Fox andJohn Rhys-Davies, 8-year-old Christian Larou (Koza) dreamed as long as he could remember of being a great soccer player like his idol, Cristiano Ronaldo. When his father is deployed to Afghanistan and his mother is hospitalized, he pours himself into the game he loves. With the help of some very special shoes, Christian tries to lead his team to the championship and bring his family together again. From Anchor Bay ... In
"20 Fairy Tales – Scholastic Storybook Treasures: The Classic Collection"
the Scholastic Classics value line continues with 20 fairy tales on a single DVD: "James Marshall's Cinderella," "Doctor De Soto", "Each Peach Pear Plum," "Extra Yarn," "Goldilocks and the Three Bears," "Hansel and Gretel," "Harold's Fairy Tale," "Lon Po Po: A Red Riding Hood Story from China," "Princess Furball," "Rapunzel," "Red Riding Hood," "Three Billy Goats Gruff," "The Boy Who Cried Wolf," "The Elves and the Shoemaker," "The Little Match Girl," "The Red Shoes," "The Three Little Pigs," "The True Story of The Three Little Pigs!", "The Ugly Duckling," and "The Emperor's New Clothes." $4.99 from Cinedigm ...
"20 Holiday Adventures – Scholastic Storybook Treasures: The Classic Collection"
is the fourth in the Scholastic Classics value line on a single DVD: "The Night Before Christmas," "Max's Christmas," "Merry Christmas, Splat," "Morris's Disappearing Bag," "Merry Christmas, Space Case," "Bear Snores On," "Noah's Ark," "Too Many Tamales," "Lemonade in Winter," "The Snowy Day," Fletcher and the Snowflake Christmas," "In the Month of Kislev," "Little Drummer Boy," "Seven Candles for Kwanzaa," "Great Joy!," "Antarctic Antics," "Giving Thanks," "Bear Has a Story to Tell," "The Clown of God," and "Brave Irene." $4.99 from Cinedigm.
SPECIAL INTEREST:
The Civil War, one of the most defining moments in American history, tore the nation apart, pitting North against South -- brother against brother. Over the course of four years, more than 750,000 military and civilian lives were sacrificed. With unprecedented access to government and private archives and using state-of-the-art technology, over 500 rare and compelling black and white photographs have been painstakingly colorized to illustrate the story of the Civil War in breathtaking detail in the four-episode History miniseries
"Blood and Glory: The Civil War in Color"
(2014). On DVD, Blu-ray Disc from Lionsgate ... On November 15, 2013, the world came together to grant one 5-year-old leukemia patient his wish to be Batman for a day.
"Batkid Begins"
(2015) looks at why and how this phenomenon took place, becoming one of the biggest "good news" stories in recent memory as the Greater Bay Area Make-A-Wish Foundation fulfill its mission to help Miles reclaim his childhood after battling disease for more than half his short life. From Warner ...
"Going Clear: Scientology and the Prison of Belief
"
(2015) is the highly anticipated and critically-acclaimed documentary is a look inside the controversial religion from Academy Award-winner Alex Gibney. The film profiles eight former members of the Church of Scientology, exploring the psychological impact of blind faith, how the church attracts new followers and keeps hold of its A-list celebrity devotees. Following the Peabody Award-winning documentary "Mea Maxima Culpa," his investigation into the Catholic Church, Gibney dives fully into one of the most controversial and secretive religions in the world, exploring what members of Scientology are willing to do in the name of religion. The film touches on a wide range of aspects of the church from its origin, to an intimate portrait of the Church's founder L. Ron Hubbard, to its recruiting practices, to present day practices by church officials. Manufactured-on-demand DVD from HBO/FilmRise ... In
"American Bear: An Adventure in the Kindness of Strangers"
(2013) playful couple Sarah and Greg -- armed with nothing but their curiosity and a camera --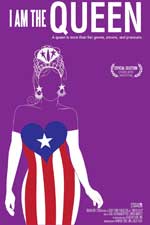 travel through America for 60 days -- relying on the kindness of strangers for a home each night. Their fate-driven blueprint takes them through the five towns in the country called Bear, exploring thirty states, meeting hundreds of fascinating people, and testing what it means to be kind in America today. From Virgil Films ... In
"I Am the Queen
"
(2015), four women preparing for a transgender beauty pageant in Chicago's Humboldt Park, a predominantly Puerto Rican community, share their unique stories in this documentary. In Chicago's Humboldt Park neighborhood, the Vida/SIDA Cacica Pageant brings together members of the Puerto Rican community to celebrate its transgender participants. "I Am the Queen" follows Bianca, Julissa and Jolizza as they prepare for the pageant under the guidance of Ginger Valdez, an experienced transgender mentor from the neighborhood. These trans women share stories of their transition, their relatives' varying reactions, and how they find support from within the community. Family dynamics, cultural heritage, and personal identity all play a part in how the contestants face the daily struggle that comes from being true to themselves. $19.98 from Cinema Libre Studio ... Matthew Stoneman dreamed of pop stardom.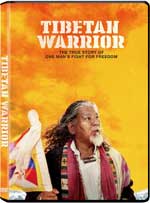 Instead, he went to jail, learned Spanish, and emerged as
"Mateo
"
(2014), America's first white mariachi singer. Mateo is on the brink of completing an album of original songs in Havana, but his estrangement from friends and family, his criminal past, and his love for Cuban women could derail him on his quest for fame in this Japan-Cuba-USA documentary. From XLrator Media ...
"Tibetan Warrior
"
(2014) is an acclaimed documentary following the journey of Loten Namling. For more than 60 years, Tibetans have been fighting Chinese oppression. But their non-violent struggle appears to be in vain. Now, as a new form of peaceful protest, Tibetans are setting themselves on fire. Namling -- an exiled Tibetan musician living in Switzerland -- is deeply disturbed by such self-destructive action, so he sets off on a two month trek from Europe to India on a one-man mission to meet top politicians, experts and young radicals. He himself becomes increasingly radical, and is on the verge of violent protest. Finally he ends up at the Office of the Dalai Lama in India, to seek the advice from the exiled Tibetan leader. Due October 9 from Garden Thieves Pictures.
FROM TV TO DVD:
"American Horror Story: The Complete Fourth Season"
(2014-15) is a four-disc DVD, three-disc Blu-ray with 13 episodes. Step inside "American Horror Story: Freak Show," the terrifyingly twisted reincarnation of one of TV's most shockingly original series. Jessica Lange leads an award-winning cast that includes Kathy Bates, Angela Bassett, Sarah Paulson and Michael Chiklis. Lange plays Elsa Mars, the proprietor of a troupe of human "curiosities" on a desperate journey of survival in the sleepy hamlet of Jupiter, Florida, in 1952. Her menagerie of performers includes a two-headed, telepathic twin (Paulson), a take-charge bearded lady (Bates), a vulnerable strongman (Chiklis) and his sultry, three-breasted wife (Bassett). But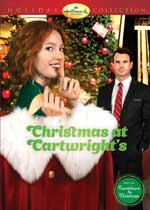 the strange emergence of a dark entity will savagely threaten the lives of townsfolk and freaks alike. From Fox ...
"Best Christmas Party Ever"
(2014), starring Steve Lund and Torrey DeVitto, is part of Hallmark's "12 Original Movies of Christmas" series. When she learns that the boss of Petra's Parties, New York's premiere event planning service, is set to retire, young party planner Jennie Stanton hopes she will be left in charge until Petra's charming and handsome nephew, Nick, arrives on the scene and Petra announces that he will take over the business. The pair battle it out for the top job ... and naturally fall for each other. From Lionsgate ...
"Christmas at Cartwright's"
(2014), starring Alicia Witt, Gabriel Hogan and Wallace Shawn, is also one of Hallmark's "12 Original Movies of Christmas." With the help of an "angel," an out-of-work single mom gets a holiday job as a department store Santa to help boost her finances -- and find some much-needed romance. From Lionsgate ...
"Duck Dynasty: Season 8"
(2015) is a two-disc set with eight episodes, $19.98 from Lionsgate ...
"Happyish Season One"
(2015) is a two-disc set with 10 episodes of the Showtime comedy series. At 44, Thom Payne finds his world in disarray. At home he suspects his erectile dysfunction pills are interfering with his antidepressants. And at work he now answers to a 25-year-old with a Digital Age vocabulary. Is he in need of "rebranding," or does he just have a "low joy ceiling"? Stars Steve Coogan, Kathryn Hahn and Bradley Whitford. From CBS/Paramount ...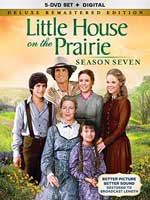 "The Leftovers: The Complete First Season"
(2014) is a three-disc DVD and two-disc Blu-ray set with all 10 episodes. Based on the 2011 bestselling novel by Tom Perrotta, "The Leftovers" is seen primarily through the eyes of police chief Kevin Garvey, played by Justin Theroux, as he experiences life post "the Departure." After what can only be explained as an instance similar to the biblical rapture, the people of Mapleton, New York, are suddenly shaken to their core as many of their loved ones disappear into thin air. With roughly 140 million people actively missing -- 2 percent of the world's population -- the world starts to question everyone and everything. Will people turn to cynicism, paranoia, and cult-like fanaticism, in order to survive? The eerie and thought-provoking series leaves viewers riveted, second-guessing theories from episode to episode. From Warner ...
"Little House on the Prairie: The Complete Series Deluxe Remastered Edition"
(1974-83): Fall in love again with the classic TV series that celebrates family, faith and the human spirit, and enjoy the nine-season saga with vividly restored picture and sound. Completely uncut and remastered, this 48-disc set features all nine seasons and is packed with eight hours of bonus material. Presented in an iconic "Little House" package, featuring a recreation of the Ingalls family home. $149.98 from Lionsgate ...
"Little House on the Prairie: Season Seven Deluxe Remastered Edition"
(1980-81) is a six-disc set with 22 episodes, $21.98 from Lionsgate ...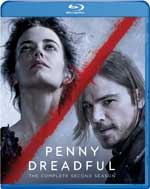 "Penny Dreadful -- The Complete Second Season"
(2014) is a three-disc set with 10 episodes of the Showtime series about supernatural threats in Victorian London. This season finds Vanessa Ives (Eva Green) and Ethan Chandler (Josh Hartnett) forming a deeper bond as the group, including Sir Malcolm (Timothy Dalton), Dr. Frankenstein (Harry Treadaway), and Sembene (Danny Sapani), unite to banish the evil forces that threaten to destroy them. Meanwhile, Dorian Gray (Reeve Carney), the Creature (Rory Kinnear) and Brona (Billie Piper) are all waging battles of their own.
Formats:
DVD: $42.99, Blu-ray Disc: $49.99. From CBS/Paramount ...
"Reign: The Complete Second Season"
(2014-15) is a five-disc set with all 22 episodes, $44.98 from Warner ...
"South Park: The Complete 18th Season"
(2014) is a two-disc set with all 10 episodes. Come on down to South Park with all-new, uncensored episodes from Season 18. Every episode of this critically-acclaimed and award-winning show is packed with unforgettable moments and hilarious absurdity -- from pissed off celebrities to talking towels and crime-fighting kids. Join Kyle, Stan, Kenny and Cartman for all their foul-mouthed adventures. On DVD, Blu-ray Disc from Paramount ...
"Tut"
(2015) is the three-part Spike TV miniseries concentrating on the youngest Pharaoh to rule Ancient Egypt. Stars Ben Kingsley, Alexander Siddig, Avan Jogia, Nonso Anozie. On three-disc DVD, two-disc Blu-ray sets. From Paramount ...
"Vikings: The Complete Third Season"
(2015) is a three-disc set with 10 episodes. The family saga of Ragnar, Rollo, Lagertha and Bjorn continues as loyalties are questioned and bonds of blood are tested. Now king of his people, Ragnar remains a restless wanderer, leading his band of Norse warriors on epic adventures from the shores of Essex to the mythical city of Paris. On DVD, Blu-ray Disc from MGM.
Check out other October 6-October 12 DVD releases and reviews at OnVideo.
Comments