New on DVD and Blu-ray Week of July 21-July 27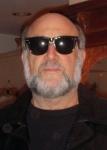 By Harley Lond - 07/21/15 at 02:56 AM CT
THIS WEEK'S THEATRICAL RELEASES:

"What We Do in the Shadows" is definitely the sleeper hit of the year, crossing over from horror cultists to mainstream moviegoers. The wacky film -- imagine, if you will, a cross between "Borat" and "The Adams Family," only much, much better -- is a New Zealand indie outing by Jemaine Clement and Taika Waititi, creators of the HBO hit series "Flight of the Conchords." It's at once a very, very funny send-up of vampire films as well as a self-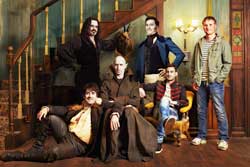 referential satire of the whole horror cult genre. The film -- a mockumentary (in which the camera crew wear garlic and crucifixes) follows an unhip quartet of vampire friends as they go about their nightly routines -- paying bills, doing the dishes, hunting for fresh blood. Though they're centuries old, none of them have kept up with the latest trends in technology or fashion, and the gags mount as the ageless vampires have difficulty maneuvering through 21st Century Wellington. And problems arise when they "turn" a young hipster, who has his own views on how a vampire should live. It's all outrageous and hilarious. The film stars Clement, Waititi, Jonathan Brugh, Cori Gonzalez-Macuer, Stu Rutherford and Ben Fransham. Extras for What We Do in the Shadows
include commentary by Clement and Waititi, a "Behind the Shadows" featurette, a dozen very funny deleted scenes, video extras, interviews, promo videos and a poster gallery. From The Orchard/Paramount Pictures.


THIS WEEK'S BEST BETS:

Ah, the summer doldrums. We can't recall the last time there's been such a paucity of DVD and Blu-ray releases entering the marketplace ... and it doesn't look much better until September. But never fear, though the quantity is low, the quality is high. Read on:

"Love Unto Death and Life is a Bed of Roses
" is a double feature with two 1980s masterworks by visionary French auteur Alain Resnais -- both starring Cesar Award Winner Fanny Ardant -- paired on double-disc Blu-ray and DVD Sets. As a leading member of the French New Wave, Resnais transformed cinema with such landmarks as "Hiroshima Mon Amour," "Last Year at Marienbad" and "Muriel." Continuing through the decades to expand the vocabulary of cinema, Resnais followed his acclaimed drama/documentary hybrid "Mon Oncle d'Amerique" with these thematically linked but tonally divergent films. In "Life Is a Bed of Roses" (1983), Resnais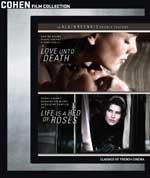 pays tribute to three influential French filmmakers: Georges Melies, Marcel L'Herbier and Eric Rohmer. The film interweaves three stories from different eras but all sharing the same location, the Ardennes Forest. In legendary times, the infant son of a murdered king grows up to slay a dragon, rescue a maiden and reclaim his kingdom. In 1914, a wealthy count announces his plan to build a magnificent castle for himself and the family he intends to have with the woman he loves, but the onset of World War I changes everything. In the 1980s, the count's dream castle has been turned into an institute dedicated to advancing educational techniques, where an array of delegates convene only to break off into ideological disputes. These stories, punctuated by episodes of song, come together in what Sight & Sound called "a delicious celebration of imaginative possibility and narrative cunning." In "Love Unto Death" (1984), Resnais again employs music (by Hans Werner Henze) in a unique way -- as a fifth character in an intense chamber piece centering on two couples. Simon, an archaeologist, and Elisabeth are deeply in love, but the sudden death and miraculous revival of Simon throws their life into turmoil. Eventually, Elisabeth turns to another couple, both ministers, to find meaning in her own deeply altered life. The films' stars include Ardant, Andre Dussollier, Sabine Azema, Pierre Arditi, Vittorio Gassman, Geraldine Chaplin, Ruggero Raimondi, Jean Daste. From Cohen Media Group.

The folks at The Criterion Collection offer up the delightfully off-center "My Beautiful Laundrette
" (1985), directed by Stephen Frears, who was at the forefront of the British cinematic revival of the mid-1980s when this delightfully transgressive triumph was released. Working from a richly layered script by writer Hanif Kureishi, soon to be internationally renowned, Frears tells an uncommon love story that takes place between a young South London Pakistani man (Gordon Warnecke), who decides to open an upscale laundromat to make his family proud, and his childhood friend, a skinhead (Daniel Day-Lewis, in a breakthrough role), who volunteers to help make his dream a reality. This culture-clash comedy is also a subversive work of social realism, which dares to address racism, homophobia, and sociopolitical marginalization in Margaret Thatcher's England. On DVD and Blu-ray.


BUZZIN' THE 'B'S:
"Kung Fu Killer
" (2014 -- Hong Kong), starring Donnie Yen, Wang Baoqiang, Louis Fan and Charlie Yeung, is a fast-paced, no-holds barred thriller with some spectacular martial arts work by Donnie Yen. When a vicious killer stalks the streets of Hong Kong, methodically executing top martial arts competitors, kung fu expert Xia (Yen), an ex-police academy instructor and convicted killer, offers to help police find the killer -- in return for his own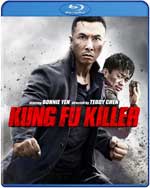 freedom. The killer eludes them again and again, taunting the cops -- and Xia, his new target -- to discover his next moves. Plenty of twists and turns and just right for modern cop-martial arts fans. On DVD and Blu-ray Disc from Well Go USA ... "Cemetery Without Crosses
" (1969 -- Italy), dedicated to director Sergio Leone, is a Gallic spin on the Spaghetti Western formula -- thanks to its star and creator, Robert Hossein (best-known to English-speaking audiences for his role in Jules Dassin's "Rififi"). After her husband is lynched by bandits, Michele Mercier (Mario Bava's "Black Sabbath") seeks revenge and turns to an old friend, played by Hossein, for help. A solitary figure who lives in a ghost town and dons a single black glove before each gunfight, Hossein is initially reluctant but soon infiltrates the widow's enemies to force a showdown. In a Blu-ray/DVD Combo from Arrow Video/MVD Entertainment ... "The Jokesters
" (2015), starring Nathan Reid, Gabriel Tigerman, Luis Jose Lopez, Dante Spencer and Jen Yeager, is a "found footage" horror film. The "Prankmasters" are an internet sensation a la Johnny Knoxville and the Jackass crew, who decide to take it to the extreme for their series finale. When the leader of the group announces that he's getting married and leaving the group and the pranks behind, the rest of the members decide to pull off one final stunt that turns into a "Cabin in the Woods" nightmare on their friend's honeymoon. What happens next is a descent into terror. From Random Media.


FOREIGN:
"Tangerines
" (2014 -- Estonia, Georgia), a story of awakening humanity in the midst of violence, is told with intimacy and elegance by writer-director Zaza Urushadze. It's the spare, yet haunting tale of an older Estonian man who cares for two wounded soldiers from opposite sides of the 1990s-era war in Georgia. The film reveals compassion to be the ultimate response to centuries of political, cultural and ethnic conflict. Academy Award and Golden Globe Award nominee for Best Foreign Language Film. In Estonian, Russian and Georgian with English subtitles. From First Run Features.


FOR THE FAMILY:

Starchild, Demon, Catman and Spaceman join everyone's favorite teen sleuths in "Scooby-Doo! and Kiss: Rock and Roll Mystery" (2015), a new, musical adventure in which the Mystery Inc. gang travels to KISS World -- an amusement park dedicated to the band -- for a special Halloween concert headlined by the legendary rock group. There they discover that the Crimson Witch has come to KISS World to summon The Destroyer, an evil being from the alternate dimension of Kissteria, to destroy the earth. On DVD, Blu-ray/DVD Combo from Warner.


SPECIAL INTEREST:

FEMEN: known around the world as the topless female activists who fight corrupt and patriarchal political systems. Their weapon of choice is their bodies -- which they place front and center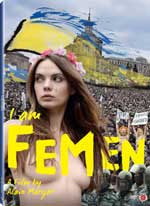 in protests around the streets of Kiev, where the group began, and all across Europe. Oksana Shachko is FEMEN's creative backbone. As a teenager, her fascination with religious painting led her to consider entering a convent, but in the end she used her many talents to create FEMEN and devoted herself to a life of activism. With "I Am FEMEN
" (2014), director Alain Margot paints a portrait of the bewitching and many-faceted Oksana, while also revealing the stories of the brave young women around her who put their bodies on the front line in the fight for justice and equality. In English and Russian with English subtitles. Packaged in certified Green Forestry eco pack. From First Run Features.


FROM TV TO DVD:

"Ancient Aliens: Season 7" (2014) continues the exploration of unexplained events and phenomena as more and more information comes to light from the Earth's darkest recesses, evoking just as many questions: "Underground Portals" explores the 10,000-year-old prehistoric artwork discovered in a cave in India while "Mysteries of the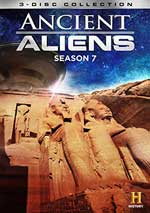 Sphinx" postulates that face of Giza's Great Sphinx may prove to be older than once thought, perhaps representing an otherworldly being. This collection offers a detailed account of the mysteries of life that continue to elude us, while traveling across 75 million years of the most credible alien evidence right here on earth. On three-disc DVD, two-disc Blu-ray. From Lionsgate ... "Seeds of Yesterday" (2015) is the fourth and final installment of Lifetime's "Flowers in the Attic" film series. The four-part Dollanganger tale -- starring Heather Graham and Jason Lewis -- comes to a dramatic conclusion as the sins of the past rise to the surface: The Dollangangers continue to coexist miserably, as their deeply troubled relationships, dark secrets and tragedies come to a head in a way that will haunt the family and its progeny forever. Based on the best-selling V.C. Andrews book series.From Lionsgate.

Check out other July 21-July 27 DVD releases and reviews at OnVideo.