By Chris Kavan - 07/16/15 at 11:44 AM CT
With Minions clearly winning the box office battle for families - who dares challenge the little, yellow hellions? That would be Marvel, who is introducing their latest superhero to the fold as well as Amy Schumer in a raunchy comedy that is looking to attract an audience that has, for the most part, eluded most other comedies this year. It should be another great weekend - for both new and returning films - and should continue Hollywood's winning streak for the year.


ANT-MAN
There's no telling exactly where Ant-Man will end up. Iron Man was a risky proposition and it went on to huge numbers. Guardians of the Galaxy was another risk - but that wound up absolutely fantastic. Now we have Paul Rudd coming in to portray the smallest Marvel hero to date. Rudd seems like an odd choice for a hero - but much like Robert Downey Jr., he has an affable yet slightly sarcastic sense of humor that translates well to the big screen (well, in comedies anyway). Rudd will be backed up by the likes of Michael Douglas, Evangeline Lilly, Corey Stoll, Bobby Cannavale and Judy Greer - so he has an excellent cast to work with. We'll see if the story can match the talent. Essentially Rudd plays a con man (Scott Lang) who is friends with Dr. Hank Pym (Douglas) who gives him an opportunity to test out a suit which shrinks him down but gives him great strength, speed and (as the name implies) the ability to control ants. It sounds somewhat ridiculous - but then, what super hero doesn't? Lilly plays Pym's kick-ass daughter while Stoll is the anti-Ant-Man - an evil guy who builds his own suit - one with lots of weapons. It sounds like a lot of fun, but I'm still not sold on if this will be able to match the other Marvel films. Granted, I felt the same way about Guardians of the Galaxy and that one blew me away. We'll just have to wait and see if critics and audiences warm up to this one like all the other Marvel films.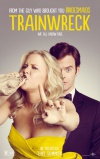 TRAINWRECK
I admit I have never seen Amy Schumer's TV series (Inside Amy Schumer) but by all accounts, she is a talented comedian and actress. She isn't afraid to speak her mind - and certainly isn't afraid to get dirty. That's why Trainwreck looks so intriguing - because she isn't afraid to go places most others might dare not go to. Also, it has LeBron James playing himself in a supporting role. I don't really like the guy - but if she can make him look good - that in its own right is a minor miracle. Supporting cast includes Bill Hader, Tilda Swinton, Dave Attell, John Cena, Vanessa Bayer, Ezra Miller, Method Man, Tim Meadows, Mike Birbiglia and even Marisa Tomei and Daniel Radcliffe (in cameos). That's quite the eclectic cast - some well-known comedians, musicians even a honest-to-goodness pro-wrestler. I'm interested to see how this one plays out. Audiences craving a good comedy may finally have their prayers answered - we'll see how this stacks up against the Paul Feig brand of comedy and whether it can break out in its own right.
It looks like another jam-packed weekend - with Ant-Man and Trainwreck providing some much needed action and comedy to the family mix, hopefully we'll see some big returns come Sunday. I'll see you back then with the full report.
Comments