By Harley Lond - 07/14/15 at 09:19 PM CT
THIS WEEK'S THEATRICAL RELEASES:

There's two breakout films this week by up-and-coming young directors:

"Ex Machina": Written and directed by Alex Garland (writer of Danny Boyle's "Sunshine" and "28 days Later" as well as the screenplay for "Never Let Me Go"), this thinking-person's sci-fi film is an oasis in a dry world of special effects laden speculative adventures. It's basically a three-person head game (Domhnall Gleeson, Alicia Vikander, Oscar Isaac in a tour-de-force performance) that explores what it means to be human (philosophically speaking, that is) coupled with a dissertation on the possibility of the god-like creation of artificial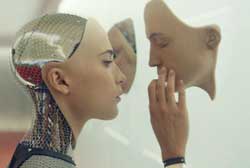 intelligence ... and the ramifications of such an act. The basic story line has computer programmer Caleb (Gleeson) winning a competition to spend a week at the mountain estate of his company's brilliant CEO (Isaac). Once he arrives, however, it becomes clear that he has actually been chosen to take part in a study of artificial intelligence with Ava (Vikander), a breathtaking android whose emotional intelligence proves more sophisticated -- and more deceptive -- than either man could have imagined. Each frame of the film is gorgeously composed, at times juxtaposing the modernly sparse interior of the retreat with the stunning natural beauty of the mountain surroundings, thanks in part to cinematographer Rob Hardy's superb camerawork. A must see. Extras for Ex Machina
include several behind-the-scenes featurettes. From Lionsgate.

"It Follows
": Written and directed by David Robert Mitchell, this waking nightmare of a film lovingly and slowly builds into a creepfest of major proportions; it follows 19-year-old Jay (Maika Monroe), a carefree college student in an unspecified suburb during an unspecified era (pre-smartphone, pre-cable TV) who -- after a seemingly innocent sexual encounter -- finds herself being followed by "it," a living apparition that can look like anyone (including loved ones) and can only be seen by those with a "curse" passed on through sex by someone previously afflicted with the curse. The curse will pursue her and, if it catches her, will kill her and then go back after the person who passed it to her. To survive, she must pass the curse on to someone else and hope they don't die. The premise, while simple, is laden with nightmarish images (and many allusions to mortality and death, including passages from T. S. Eliot's "The Love Song of J. Alfred Prufrock" and Fyodor Dostoevsky's "The Idiot") and lovingly photographed with wide-angle lenses and swooping 360-degree shots (kudos to cinematographer Mike Gioulakis). There's also an ominous score by Rich Vreeland, better known as Disasterpeace. An auspicious -- and critically acclaimed -- outing. Co-stars are Keir Gilchrist, Lili Sepe, Olivia Luccardi, Loren Bass, Bailey Spry and Daniel Zovatto. The meager extras include a critics' commentary track and an interview with Disasterpeace. From Radius-TWC/Anchor Bay.

Also due this week are two very weary -- and unoriginal -- sequels: "The Second Best Exotic Marigold Hotel
" and "Paul Blart: Mall Cop 2
."


THIS WEEK'S BEST BETS:
If you're into Japanese exploitation films from the 1970s you'll love the
"Stray Cat Rock
Limited Edition"
set from Arrow Video -- and when you add in the fact that the films all revolve around girl gangs, girl bikers, sex, drugs and rock 'n' roll -- it becomes a must buy. The "Stray Cat Rock" series stars Meiko Kaji in five tales (1970-71) of rebellious youth. In "Delinquent Girl Boss," a girl gang goes up against the Seiyu Group criminal organization. In "Wild Jumbo," Kaji and the gang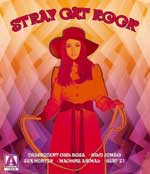 get involved in a kidnapping and the robbery of a religious organization. In "Sex Hunter," Kaji's girl gang goes up against The Eagles, a group led by Fuji where sex and violence erupt over the treatment of "half-breeds" (this one is our favorite). In "Machine Animal," gang rivalry is once again the focus with two gangs pursuing some LSD pushers looking to move a big score. The series swansong, "Beat '71," sees Kaji framed and sent to prison by her boyfriend's father. Directed by genre veterans Yasuharu Hasebe ("Massacre Gun," "Retaliation") and Toshiya Fujita ("Lady Snowblood"), the films feature a delirious mash-up of pop aesthetics including split screens, freeze frames, injections of color, frenetic editing and dizzying angles. Five-disc Blu-ray/DVD combo, $69.95. As with all Arrow releases, the extras are copious: an interview with Yasuharu Hasebe, interview with Tatsuya Fuji, interview with actor Yoshio Harada, star of "Beat '71," original trailers, and a collector's booklet featuring new writing on the films by Japanese cinema expert Jasper Sharp. Distributed by MVD Entertainment.
From The Criterion Collection this week comes
"Here is Your Life
"
(1966), the mesmerizing debut by Swedish director Jan Troell ("The Emigrants," "The New Land"), at once an epic bildungsroman and a multi-layered representation of early 20th century Sweden. Based on a series of semi-autobiographical novels by Nobel Prize winner Eyvind Johnson, "Here Is Your Life" follows a working-class boy's development, from naive teenager to intellectually curious young adult, from logger to movie projectionist to politically engaged man of the people -- all set against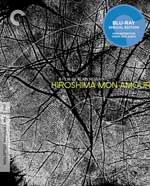 the backdrop of a slowly industrializing rural landscape. With its mix of modernist visual ingenuity and elegantly structured storytelling, this enchanting film -- presented here in its original nearly three-hour cut -- is a reminder that Troell is one of European cinema's greatest and most sensitive illuminators of the human condition. On DVD and Blu-ray Disc with a new 2K digital restoration approved by the director, with uncompressed monaural soundtrack on the Blu-ray. Also from Criterion this week are new 4K digital restorations of
"Hiroshima mon amour
"
(1959), a cornerstone of the French New Wave; this first feature from Alain Resnais is one of the most influential films of all time and tops our list as one of the greatest films of all time; and
"The Black Stallion
"
(1979), Carroll Ballard's remarkable adaptation of Walter Farley's classic children's novel. Both films are available in DVD and Blu-ray.
BUZZIN' THE 'B'S:
In
"Clouds of Sils Maria
"
(2014), starring Juliette Binoche, Kristen Stewart and Chloe Grace Moretz, renowned actress Maria Enders (Binoche) is cast opposite a young Hollywood starlet with a penchant for scandal (Moretz), and tensions rise as she must come to terms with what it means to be an actress in a youth-obsessed industry. As she prepares with her assistant (Stewart) for the most challenging role of her life, Maria must confront her own personal demons. From
Paramount ...
"Black Beauty
"
(2015), starring Luke Perry, Bruce Davison and Jennifer McKenzie, is based on the classic international best-selling novel. An overprotective father (Perry) agrees to let his teenage daughter (McKenzie) spend the summer in the country with her grandfather (Davison) rehabilitating an injured horse. Soon, they'll realize that Black Beauty has brought them closer, and taught them each enduring lessons in love and trust. From Lionsgate ... Timeless Media Group has two blasts from the past:
"Borderline
"
(1980), starring Charles Bronson, Wilford Brimley, Ed Harris and Bruno Kirby, in which Bronson stars as Jeb Maynard, a tough-as-nails U.S. Border Patrol officer stationed between San Diego and Tijuana whose best friend and partner (Brimley) is murdered by a notorious smuggler of illegal immigrants; and
"The Legend of the Lone Ranger
"
(1981), starring Klinton Spilsbury, Christopher Lloyd and Michael Horse.
ON THE INDIE FRONT:
Now digitally restored,
"Committed
"
(1984), starring Sheila McLaughlin, Victoria Boothby and Lee Breuer, is the story of movie star and leftist iconoclast Frances Farmer. In 1935, Farmer was an overnight Hollywood sensation; within 10 years she was in a state mental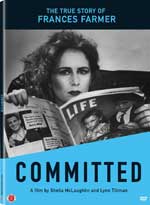 hospital. This highly stylized film offers a multi-layered look at the life of this culturally defiant woman, going beyond the personal story to explore the political and social attitudes of the time. From First Run Features ...
"Red Knot
"
(2014), starring Vincent Kartheiser, Olivia Thirlby and Billy Campbell, is a modern exploration of love, isolation and the inescapable vastness of the natural world. New York newlyweds Peter (Kartheiser) and Chloe (Thirlby) fall into marital crisis while on a research vessel en route to Antarctica. As romantic bliss sours, Chloe takes comfort in the company of the ship's captain (Campbell), a man who has good reason for setting himself adrift. As they sail towards the end of the Earth, the film passes into troubled, Polanski-indebted waters. From Icarus Films ... When his wife unexpectedly informs him that she wants a divorce, well-meaning but oblivious husband Otto Wall finds himself thrust back into bachelorhood in
"Goodbye to All That
"
(2014), starring Paul Schneider, Anna Camp, Heather Graham, Amy Sedaris, Melanie Lynskey and Ashley Hinshaw. Cue a sequence of romantic encounters -- from reconnecting with a former crush to online dating -- where he searches for the real thing amidst a string of one night stands. From IFC Films.
FOREIGN:
"Gangs of Wasseypur
"
(2012 -- India) is director-writer-producer Anurag Kashyap's ambitious and extraordinary blood-and-bullets fueled crime saga that charts 70 years in the lives -- and spectacular deaths -- of two mafia-like families fighting for control of the coal-mining town of Wasseypur, India. Inspired by the real-life exploits of local gangs and beginning with the bandit-like career of Shahid Khan (Jaideep Ahlawat) in the 1940s, the film follows the ruthless rise of his son Sardar (a brilliant Manoj Bajpayee) and his offspring, the surreally-named Danish, Perpendicular and Definitive Khans and their numerous wives and girlfriends. "Gangs of Wasseypur" mirrors the tumultuous and explosive growth of modern India with ferocious cinematic intensity. Don't expect Bollywood-style dance numbers: this is a movie that up-ends every expectation of what great Indian cinema should look (and sound) like. In Hindi with English Subtitles. On Blu-ray Disc from Cinelicious Pics.
SPECIAL INTEREST:
"The Salt of the Earth
"
(2014) is a captivating exploration of the life and work of world-renowned photographer Sebastiao Salgado, directed by Academy Award-nominee Wim Wenders and Salgado's son, Juliano Ribeiro Salgado. For the last 40 years, Salgado has been traveling through the continents in the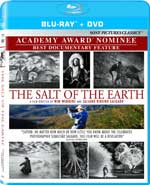 footsteps of an ever-changing humanity. He has witnessed some of the major events of our recent history: international conflicts, starvation and exodus. He is now embarking on the discovery of pristine territories, of wild fauna and flora, and of grandiose landscapes as part of a huge photographic project, which is a tribute to the planet's beauty. Salgado's life and work are revealed to us by his son, Juliano, who went with him during his last travels, and by Wenders, himself a photographer. In a Blu-ray/DVD Combo from Sony ... Step into the paranormal world with
"Poltergeists: Real-Life Hauntings"
(1996-2008), a set of six
HISTORY specials that explore the history of poltergeists, hauntings, exorcisms and other supernatural phenomena: "Poltergeist," "Hauntings," "Exorcism: Driving out the Devil," "Voodoo Secrets," "Ghosts" and "Salem Witch Trials;" a two-disc set for $14.98 from Lionsgate ...
"Can't Stand Losing You: Surviving the Police
"
(2012) is based on the acclaimed memoir "One Train Later" by rock guitarist Andy Summers, and follows Summers' journey from his early days in the psychedelic '60s music scene, when he played with The Animals, to chance encounters with drummer Stewart Copeland and bassist Sting, which led to the formation of a new wave trio, The Police. During the band's phenomenal rise and its dissolution at the height of their popularity in the mid-80s, Summers captured history with his candid photographs. Using rare archival footage and insights from the guitarist's side of the stage, "Can't Stand Losing You: Surviving the Police" brings together past and present as the band members reunite, more than two decades later, for a global reunion tour in 2007. On DVD, Blu-ray Disc from Cinema Libre Studio.
FROM TV TO DVD:
In
"All Quiet on the Western Front
"
(1979), Richard Thomas stars in a powerful and dramatic adaptation of Erich Maria Remarque's acclaimed novel. At the rise of World War I, German patriot Paul Baumer (Thomas) and his friends enlist in the Imperial German Army. In search of adventure and eager to assert the superiority of their nation, the young men endure a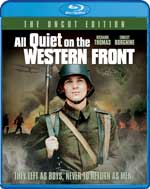 brutal training camp and soon find themselves face to face with the full horrors of war when they are sent to the front lines to fight ... and likely die. As the conflict rages, Paul grows from an eager boy to a disillusioned man who bears the scars of war on both his body and his soul. Uncut. Co-stars Ernest Borgnine, Donald Pleasence, Ian Holm and Patricia Neal. On DVD, Blu-ray Disc from Timeless Media ...
"Batman: The Second Season, Part 2"
(1966-67) is a four-disc set with the final 30 episodes from the second season of the 1966 original Batman series starring Adam West, Burt Ward, Julie Newmar, Cesar Romero and more; $39.98 from Warner ...
"Debbie Macomber's Cedar Cove Season Two"
(2014) is a three-disc set with all 12 episodes of the Hallmark Channel's first original scripted series. Andie MacDowell is back as Judge Olivia Lockhart, who finds herself in the middle of her small seaside town's drama, relationships and excitement. From Cinedigm ...
"Little House on the Prairie: Season Six Deluxe Remastered Edition"
(1979-80) is a
five-disc set with all 24 newly restored, remastered and uncut broadcast length episodes. When Almanzo Wilder and his sister Eliza Jane move to Walnut Grove in the sixth season of this series, life will never be the same for Laura Ingalls. On DVD: $21.98, Blu-ray: $24.99, from Lionsgate ...
"WKRP In Cincinnati: Season Three"
(1980-81) is a three-disc set with 21 episodes. The crew of Cincinnati's iconic radio station WKRP is back to bring you the hits you love, from rock 'n' roll to soul with Dr. Johnny Fever (Howard Hesseman) and Venus Flytrap (Tim Reid). Throw in quirky newsman Les Nessman (Richard Sanders), his ingenue Bailey (Jan Smithers), incompetent station manager Carlson (Gordon Jump), long-suffering program director Andy (Gary Sandy), slimeball ad man Herb (Frank Bonner) and bombshell receptionist Jennifer (Loni Anderson) and you have yourself a winning combination of classic tunes and laughter. From Shout! Factory.
Check out other July 14-July 20 DVD releases and reviews at OnVideo.
Comments