New on DVD and Blu-ray Week of May 19-May 25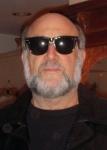 By Harley Lond - 05/18/15 at 04:13 PM CT
THIS WEEK'S THEATRICAL RELEASES:


At 84 years old (he turns 85 on May 31), Clint Eastwood is still cranking out enjoyable films and, like another elderly statesman of American film, Woody Allen (who turns 80 Dec. 1), some are hits and some are misses. "American Sniper" was a monster of a hit (a surprise one, at that, given its topic), due mostly to Eastwood's tight and excellent direction and a stand-out performance by Bradley Cooper as U.S. Navy SEAL sniper Chris Kyle, credited as the most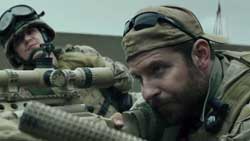 lethal sniper in U.S. military history with 160 confirmed kills. Kyle served through four harrowing tours of duty in Iraq, and the film follows him in the war zone -- as he makes hundreds of life-or-death split second decisions -- as well as his attempts to maintain a normal family life back in the States -- which he finds harder than his job in Iraq. The film is involving and fast-paced, much of it due to its crisp, minimalist directing and editing. Eastwood is kind of the Hemingway of film: He knows how to strip things down to their bare minimum to make a story simple yet powerful. Sienna Miller shines as Kyle's wife, Taya Renae, though she has to take a back seat to her husband's war feats. The American Sniper
DVD and Blu-ray come with two interesting behind-the-scenes featurettes. From Warner.

"Leviathan
" is a modern Russian take on the Book of Job, pitting a simple, honest man against -- not God or the Devil -- but the corruption of current Russian life. Kolya (Aleksey Serebryakov) lives in a small fishing town near the Barents Sea in Northern Russia. He owns an auto-repair shop that stands right next to the house where he lives with his young wife Lilya (Elena Lyadova) and his son Roma (Sergey Pokhodaev) from a previous marriage. The town's corrupt mayor Vadim Shelevyat (Roman Madyanov) is determined to take away his business, his house, as well as his land, and attacks Kolya with every corrupt means at his disposal, first trying to buy him off, then using illegal machinations, and finally resorting to violence. Kolya enlists the aide of a lawyer friend from Moscow, but that only makes matters worse. Through it all, Kolya "shakes his fist" at the mayor and the powers-that-be. Director Andrey Zvyagintsev imbues the bleak Russian countryside with a beautiful glow as he unflinchingly takes a harsh look at modern Russian life. Slow at times, the film is a rewarding work of art and social satire. Extras include deleted scenes and a making-of documentary. From Sony.

Also due this week is "Hot Tub Time Machine 2
," a lame sequel to a lame 2010 comedy about a group of guys who time travel in their hot tub. 'Nuff said. Stars Rob Corddry, Clark Duke, Craig Robinson, Adam Scott, Chevy Chase, Angela Kerecz and Gillian Jacobs. From Paramount.


THIS WEEK'S HIGHLIGHTS:

Two films about the perils of stardom arrive this week from the folks at The Criterion Collection on DVD and Blu-ray. First up is Charlie Chaplin's "Limelight
" (1952), the director's masterful drama about the twilight of a former vaudeville star, a once beloved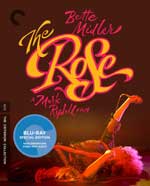 musical-comedy performer now a washed-up alcoholic living in a small London flat. A glimmer of hope arrives in the persona of a beautiful but melancholy ballerina (Claire Bloom) who lives downstairs. Made at a time when Chaplin was under attack by the American press and far right, "Limelight" was barely distributed in the United States upon its initial release, but it is now considered one of his essential and most personal works. In a New 4K digital restoration, with uncompressed monaural soundtrack on the Blu-ray ... Bette Midler exploded onto the screen with her ferocious performance in director Mark Rydell's 1979 take on fame and addiction, "The Rose
." Midler plays famous rock 'n' roll performer The Rose whose search for happiness in the present (and past) is hindered by the demands of the road and her addictions. Beautifully shot by "Blow Out's" Vilmos Zsigmond (with assistance on the dazzling concert scenes by a host of other world-class cinematographers, including Conrad L. Hall, Laszlo Kovacs, Owen Roizman, and Haskell Wexler). In a new 4K digital restoration, supervised by director of photography Vilmos Zsigmond, with 5.1 surround DTS-HD master audio soundtrack on the Blu-ray.

"Boardwalk Empire: The Complete Series" (2010-14) is a 20-disc set with all 56 episodes in a collector's box. Throughout its five-season run, the hit HBO series garnered 18 Emmy Awards and critical accolades for its superb cast and its unfaltering attention to 1920s period detail. From Academy Award nominee and Emmy Award winner Terence Winter and Academy Award-winning director Martin Scorsese, the series chronicles the life and times of Enoch "Nucky" Thompson (Golden Globe winner Steve Buscemi) as he undergoes vicious power struggles and deals with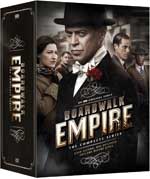 opportunistic rivals -- including Arnold Rothstein, Lucky Luciano and Al Capone -- at a time when Prohibition proved to be a major catalyst in the rise of organized crime in America. On DVD for $199.99 and Blu-ray for $239.99. In addition to the bonus features previously included on individual season releases, "Boardwalk Empire: The Complete Series" includes an exclusive bonus disc containing never-before-seen content, including: "Building The Boardwalk" in which executive producer/director Tim Van Patten and crew discuss how the Atlantic City boardwalk was brought to life; "Shooting the Series" that shows how the look of the series was developed through conversations with directors of photography Jonathan Freeman and Bill Coleman; "Designing the Series" in which production designer Bill Groom and set decorator Carol Silverman discuss their process and the challenges faced in creating the authentic look of the series; "Visual Effects" in which visual effects supervisor Lesley Robson-Foster illustrates the creation of some of the show's award-winning visual effects; "The Final Shot: A Farewell to Boardwalk Empire" look back with the cast and crew; "Anatomy of a Hit" in which creator/executive producer/writer Terence Winter, executive producer/director Tim Van Patten and executive producer/writer Howard Korder discuss the choreography for some of the series' most murderous hits. From HBO.


BUZZIN' THE 'B'S:
"Cymbeline
" (2014), starring Ethan Hawke, Ed Harris, Milla Jovovich, John Leguizamo, Penn Badgley, Dakota Johnson and Anton Yelchin, is a modernization of a Shakespeare tragedy, here becoming a gritty story of a take-no-prisoners war between dirty cops and an outlaw biker gang. On DVD, Blu-ray from Lionsgate ... In the politically incorrect, dark comedy "Bordering on Bad Behavior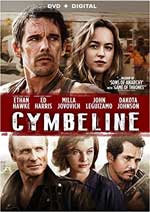 " (2014), a Lebanese soldier stumbles upon a top-secret, Israeli base where he encounters an Israeli soldier and an American CIA agent. A scuffle ensues and, in the melee, the center's emergency lock-down mechanism is triggered. Realizing they're trapped for six hours, the sworn enemies must figure out how to not kill each other. Stars Tom Sizemore, Bernard Curry and Oz Zehavi. From Inception Media Group ... "The Vatican Exorcisms
" (2013 -- Italy) is an unnerving descent into black masses, orgies and possession. Hoping to expose a shocking scandal inside the Vatican, a documentary filmmaker travels to Rome to interview several key witnesses but finds himself unearthing something far more sinister. Delving deeper, he becomes dangerously close to exposing a much darker reality of corruption and demonic forces. Stars Joe Marino, Piero Maggio. From Anchor Bay ... In "Roommate Wanted
" (2015), starring Alexa Vega, Spencer Grammer, Kathryn Morris and Richard Riehle, two polar opposite roommates -- an ambitious student and a gorgeous socialite -- become roommates from hell over the course of one crazy day. From Lionsgate ... The folks at MVD Entertainment have a slate of a half-dozen wacky films due this week: In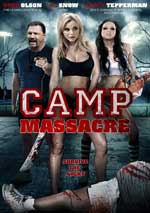 "Camp Massacre
" (2014), starring Bree Olson, Al Snow, Scott Tepperman, Jim O'Rear, Daniel Emery Taylor, Shawn C. Phillips and Dick Warlock, 10 contestants appear on a competitive summer boot camp reality show geared toward weight-loss. As the competition grows more intense, the contestants realize they are losing more than just weight; they are losing competitors. As contestants disappear in the night, it becomes apparent that a killer is on the loose, and one million dollars is at stake ... In "3 Holes and a Smoking Gun
" (2015), starring Zuher Khan, James Wilder and Joaquim de Almeida, an ex-Hollywood screenwriter now teaching an evening class in New York finds himself in a sinister battle with his devious, younger protege over the latter man's fantastic first-time screenplay ... "Captain Z & the Terror of Leviathan
" (2014) is a horror film spoof: In 1714 Captain Zachariah Zicari stops a group of possessed townsfolk from using a powerful amulet that would have released the ultimate evil, the Leviathan. Fast forward to 2014 and the amulet is again in the wrong hands. Can Captain Z save the Earth? Stars Zoltan Zilai, Steve Rudzinski, Madison Siple, Aleen Isley, Seth Gontkovic, Ian S. Livingston ...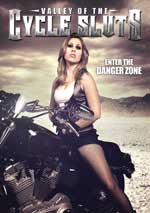 "Valley of the Cycle Sluts
" (1992) is a grindhouse gem for the title alone. Motorcycle-riding, tough guy cop Wade Olson takes his renegade brand of justice too far -- and ends up captured by the meanest gang of biker chicks ever imagined -- The Sisters of Mercy. As revenge for busting their boyfriends, they take him far into the desert, and serve up their own nude, naughty brand of justice, using their weapon of choice ... sex. Stars Jason Williams, Amerika, Mary Jo Cruse, Barne Wms Subkoski, Michael Shamus Wiles, Susan Brinkley ... Easy money and easier women lure tow-truck driver Raul into a web of crime in Miami's dazzling nightclub scene. Chopping cars and pushing stolen drugs comes easy at first ... until they get in the way of love in "#EM3 (Eenie Meenie Miney Moe)
" (2013), starring Andres Dominguez, Belkys Galvez, David Lago, Ky-Mani Marley, Oscar Torre ... And, lastly, there's the dreadful "Smokey and the Hotwire Gang
" (1979), starring James Keach, Stanley Livingston, George Barris, Tony Lorea and Randee Lynne Jensen. A group of hard living truckers make a play to rob an armored van, and get into a world of trouble. Remarkable only for a fleet of custom 1970s cars by George Barris.


ON THE INDIE FRONT:

In "Before I Disappear
" (2014), starring Shawn Christensen, Emmy Rossum, Fatima Ptacek, Ron Perlman and Paul Wesley, Richie decides to end it all as his life hits rock bottom -- only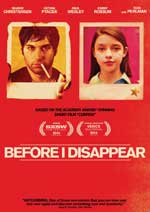 to have his half-hearted suicide attempt interrupted by an urgent request from his sister to babysit her straight-laced, precocious daughter. So begins a madcap tour of Manhattan after dark, as uncle and niece find unexpected bonds in the unlikeliest of places. Written and directed by Christensen, based on his 2013 Academy Award-winning short "Curfew." From IFC Films ... Also from IFC Films comes "The Blue Room
" (2014), in which two adulterous lovers go from pillow talk to possible murder in a sexy, brain-teasing thriller. Mathieu Amalric ("The Diving Bell and the Butterfly") directs and stars as Julien, a middle-aged salesman embroiled in a steamy love affair with a married woman who, after a round of kinky sex, makes a startling suggestion. Suddenly Julien is caught up in a police investigation -- but just what exactly happened? Based on a novel by celebrated crime writer Georges Simenon.


FOR THE FAMILY:

Based on the well-known children's novel and popular animated series in Europe, Australia and Asia, The Dove Foundation recommended "Maya the Bee Movie
" (2014) brings to life an enchanting story of a little bee named Maya and her exciting adventures. Maya is a little bee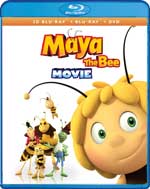 with a big heart. She dreams of an exciting life of freedom, fun and adventure – the world is simply far too interesting to stay inside a hive. Her funny attempts to fit in bring her into trouble with the Queen's narrow-minded royal advisor, Buzzlina. With her best friend Willy, Maya buzzes out into the meadow on an exhilarating adventure of self-discovery. With the voices of Coco Jack Gillies, Jacki Weaver, Miriam Margolyes, Richard Roxburgh, Noah Taylor, Kodi Smit-McPhee, Justine Clarke. On DVD, two-disc Blu-ray 3D Combo Pack from Shout! Factory Kids ... "Strange Magic
" (2015), with the voices of Alan Cumming, Evan Rachel Wood, Kristin Chenoweth, Maya Rudolph, Sam Palladio, Alfred Molina, Elijah Kelley, Bob Einstein and Peter Stormare, is a new animated film from Lucasfilm Ltd. It's a fairy tale musical inspired by "A Midsummer Night's Dream" in which popular songs from the past six decades help tell the tale of a colorful cast of goblins, elves, fairies and imps, and their hilarious misadventures sparked by the battle over a powerful potion. From Disney.


SPECIAL INTEREST:

The documentary "Gunland
" (2014) explores the issue of gun violence in Chicago, a city that has a staggeringly high homicide rate with a shooting occurring once every 6.3 seconds. The death toll in Chicago for this decade is greater than the number of American forces who have died in Afghanistan since the beginning of Operation Enduring Freedom. In 2012, Chicago averaged 42 homicides per month with nearly 70 percent of deaths caused by guns. "Gunland" begs the question, "Why Chicago?" Some people believe that hip-hop and its glorification of violence, guns and carnage is to blame for Chicago's gun-toting culture; however, this film goes beyond the headlines and stereotypes to discover that much more lies beneath the surface. The film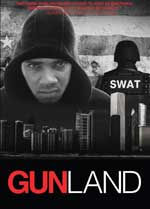 attempts to discover the real reasons behind why young men and women of color are dying at the hands of their peers. From Moguldom Studios/Cinedigm ... By wielding a powerful home run swing, a megawatt smile and an unrivaled zest for life, an incorrigible young boy from Baltimore named George Ruth transformed into a global phenomenon named "The Babe" -- a global transcendent superstar on the most famous team in all of sports, the New York Yankees. Through the use of rare and enhanced archival material, state-of-the-art production techniques and fresh historical and psychological perspectives on the Ruth legend, "American Hercules: Babe Ruth" (2014) presents a compelling case for Babe's profound impact on society and his enduring star appeal, even to this day. Narrated by Martin Sheen. From Lionsgate ... "Holocaust: Genocide & Survival" (2014) is a three-disc set with three documentaries about endurance and determination: "I'm Still Here: Real Diaries of Young People Who Lived During the Holocaust," "Out of Europe -- Escaping The Holocaust: One Lucky Family's Survival Route from Belgium to America," "Last Stop Kew Gardens: You Can Go Home Again" (The story of a post-Holocaust "immigrant village" in New York that gave birth to stars of film, TV, and comedy). $39.95 from SISU Home Entertainment ... "On Tender Hooks" (2013) is an eye-opening documentary exploring the world of human suspension which challenges the perceptions and squeamishness of even the most hardened viewer. Director Kate Shenton's film looks at the body modification and suspension community without judgement. From Jinga Films/MVD Entertainment.


FROM TV TO DVD:

"Beauty & the Beast: Season Two" (2013-14) is a six-disc set with 22 episodes, $54.99. Homicide detective Catherine "Cat" Chandler teams with the mysterious Dr. Vincent Keller -- an ex-soldier who goes into hiding from the secret government organization that turned him into a mechanically charged being -- who saved her life years earlier and who, when he is enraged, becomes a terrifying beast, unable to control his super-strength and heightened senses. In the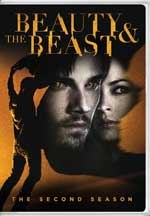 second season, Cat works to recover the parts of Vincent that have been lost, stopping at nothing to save the man she loves. From CBS/Paramount ... Previously unavailable on any format, the 70s-era sitcom "CPO Sharkey: The Complete First Season" (1976-77) was a showcase for iconic comedian Don Rickles, who played U.S. Navy Chief Petty Officer Otto Sharkey, an abrasive, sharp-tongued veteran in charge of a company of new seaman recruits on a San Diego naval base. After serving in the Navy during WWII in real life, the legendary Rickles found a perfect vehicle for his inimitable brand of comedy with "CPO Sharkey", a satirical look at Navy life that ran on NBC for two seasons and 37 episodes (1976-78). In a three-disc set with all 15 30-minute long episodes, $29.95 from Time Life ... "Duck Dynasty: Season 7" (2014-15) is a two-disc set with 10 episodes, $19.98 from Lionsgate ... "Glee -- The Final Season" (2015) is a four-disc set with all 13 episodes, $29.98 from Fox ... "Glee -- The Complete Series " (2009-15) is a 34 disc set, $99.98 from Fox ... "Orange Is the New Black – Season Two" (2014) is a four-disc DVD and three-disc Blu-ray with all 13 episodes. Based on the best-selling memoir by Piper Kerman, the hugely popular dark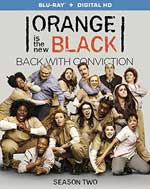 comedy from "Weeds" creator Jenji Kohanis is a fierce and funny series that follows Piper Chapman when a crime she committed in her past sends her to an all-women's prison with an unforgettable and irreverent group of fellow inmates. Shocking revelations and new arrivals shake up the lives and relationships of Litchfield's prisoners in this highly anticipated second season. From Lionsgate ... "Rogue: The Complete Second Season" (2014) is a three-disc set with 10 episodes. Undercover detective Grace Travis (Thandie Newton) crossed the line between right and wrong and her involvement with the city's most powerful and dangerous crime family caused her to pay the ultimate price -- the loss of her son. This season, she's left undercover life behind to be a better mother to her daughter. She also has a new job as a handler for an FBI task force investigating corporate espionage in San Francisco. When her undercover operative goes missing, Grace is forced back into a world of lies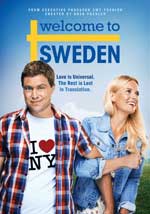 and deceit, following a trail of dirty money and investigating four soldiers at the center of the drama. $29.98 from Entertainment One ... "Welcome to Sweden: The Complete First Season" (2014) is a two-disc set with all 10 episodes, $34.98. Based on Greg Poehler's true life story, the series follows a successful New York money manager to the stars, Bruce (Poehler) who falls in love with a Swedish girl, Emma (Josephine Bornebusch), and follows her back to her native Stockholm when she returns for a job. He gives up his clients and his lucrative career and wants to find some work he loves, even if he can't earn what he did in the States, causing conflicts with Emma's parents, who see him as a slacker. There's plenty of culture-clash situations, misunderstandings, and mild satire as Bruce acclimates himself to a strange country, making for enjoyable if not laugh-out-loud viewing. It's pleasant and charming but oh so predictable in its TV sit-com world of a "bumbling" male, hot girlfriend and overbearing mother-in-law-to-be; it's kind of "Everybody Loves Raymond" transposed to Scandinavia. Still, it outshines most other network sitcoms in its honesty. Best part of the show -- the lovely and talented Lena Olin as Emma's mom. Guest stars include Amy Poehler, Will Ferrell, Aubrey Plaza and Gene Simmons. From Entertainment One.

Check out other May 19-May 25 DVD releases and reviews at OnVideo.