New on DVD and Blu-ray Week of April 28-May 4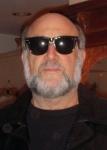 By Harley Lond - 04/28/15 at 03:26 AM CT
THIS WEEK'S THEATRICAL RELEASES:


Paul Thomas Anderson's "Inherent Vice" is the first ever film adaptation of a Thomas Pynchon novel and thus should be a cause for celebration. Unfortunately for this reviewer -- a big fan of both Pynchon and Anderson -- the adaptation leaves something to be desired. A Pynchon novel needs to be nourished and taken in like a fine wine or a great dinner -- savored, mulled over, delved into. Unlike a novel, a great film has to grab you by the eyeballs and -- to use a term I haven't used in many years --"suture" you to the screen. For some reason Anderson's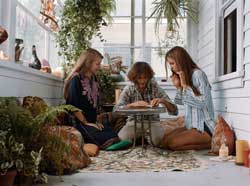 "Inherent Vice
" pushes me away. The characters lack the depth they have in the novel -- they're just there, like avatars, reciting Pynchon's words but not feeling them (surprisingly, Anderson is incredibly faithful to the novel in the film's dialogue and story line). The movie rolls along in fits and starts, with a mise-en-scene that flattens out the scope of Pynchon's novel. The scope of the novel is monumental -- it's the end of the 1960s (physically and spiritually), with the 1970s ushering in an era of corruption, conspiracies, violence, paranoia and fear. The book -- and the film -- opens when private eye Doc Sportello's (Joaquin Phoenix) ex-old lady suddenly appears out of nowhere with a story about her current billionaire land developer boyfriend and a plot by his wife and her boyfriend to kidnap him and throw him in a loony bin. She "hires" Doc to investigate the plot, setting off a black comedy -- part surf noir, part psychedelic romp, part Raymond Chandler mystery -- involving surfers, hustlers, dopers, rockers, a murderous loan shark, the FBI, LAPD Detectives on the take, a tenor sax player working undercover for an unknown agency, and a mysterious entity known as The Golden Fang, which may be a Chinese mafia organization smuggling dope, the name of a tax dodge set up by some dentists, or a schooner that travels the seven seas. Maybe I'm too close to the novel -- the craziness and absurdity of Pynchon's world doesn't seem to come through in the film for me -- but I'm going to give it another chance. Stay tuned. The film co-stars Josh Brolin, Owen Wilson, Katherine Waterston, Reese Witherspoon, Benicio Del Toro, Martin Short, Jena Malone, Joanna Newsom. From Warner.

Also due this week: "The Wedding Ringer
," a not-very-funny comedy with two snappy comedians (Kevin Hart and Josh Gad), about an entrepreneur who provides best man services for socially inept bridegrooms and the awkward groom-to-be who gives him the challenge of his career, from Sony ... "The Gambler
," a weak remake of the 1974 film written by James Toback, directed by Karel Reisz and starring James Caan, about a university professor (Mark Wahlberg) who leads a secret double life as a high-stakes gambler and puts the lives of those he loves in mortal danger when his debts to a gangster spiral out of control; co-stars John Goodman, Brie Larson, and Jessica Lange, from Paramount ... "The Boy Next Door
," a laughable stalker vehicle for Jennifer Lopez, about a high school teacher and her affair with a handsome and charismatic 19-year-old next door neighbor, from Universal ... and "Paddington
," a delightful big-screen adaptation of Michael Bond's 1958 book, "A Bear Called Paddington," about the comic misadventures of a young Peruvian bear who travels to London in search of a home. The film stars Hugh Bonneville, Sally Hawkins, Julie Walters, Jim Broadbent, Peter Capaldi, Nicole Kidman and Ben Whishaw. From TWC-Dimension/Anchor Bay.


THIS WEEK'S HIGHLIGHTS:

There's two cinematic gems arriving this week from The criterion Collection: Jean-Pierre Melville began his superb filmmaking career with "Le silence de la mer
" (1949), a powerful adaptation of an influential underground novel written during the Nazi occupation of France. An idealistic, naive German officer is assigned to the home of a middle-aged man and his grown niece; their response to his presence -- their only form of resistance -- is complete silence. Constructed with elegant minimalism and shot, by the legendary Henri Decae, with hushed eloquence, "Le silence de la mer" is a fascinating tale of moral ambiguity that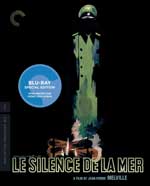 points the way toward Melville's later films about resistance and the occupation ("Leon Morin, Priest"; "Army of Shadows") yet remains a singularly eerie masterwork in its own right. On DVD and Blu-ray with a new high-definition digital restoration, with uncompressed monaural soundtrack on the Blu-ray. Extras include "24 Hours in the Life of a Clown" (1946), Melville's 17-minute first film; a new interview with film scholar Ginette Vincendeau; an interview with Melville from 1959 and an essay by critic Geoffrey O'Brien ... In one of the best performances of his legendary career, Robert Mitchum plays small-time gunrunner Eddie "Fingers" Coyle in "The Friends of Eddie Coyle
" (1973), an adaptation by Peter Yates of George V. Higgins's acclaimed novel. World-weary and living hand to mouth, Coyle works on the sidelines of the seedy Boston underworld just to make ends meet. But when he finds himself facing a second stretch of hard time, he's forced to weigh loyalty to his criminal colleagues against snitching to stay free. Directed with a sharp eye for its gritty locales and an open heart for its less-than-heroic characters, this is one of the true treasures of 1970s Hollywood filmmaking -- a suspenseful crime drama in stark, unforgiving daylight. On DVD and Blu-ray, with a new, restored high-definition digital transfer, approved by director Peter Yates, with uncompressed monaural soundtrack on the Blu-ray.


BUZZIN' THE 'B'S:

In "Bedlam
" (2013), starring Guy Edmonds, Peter McAllum and Johnny Boxer, George, a haunted man, enters Bedlam Hospital for a guaranteed recovery, but instead discovers a world darker than even his demons could conjure. From Lionsgate ...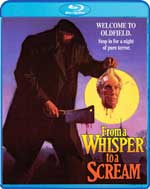 "From a Whisper to a Scream
(The Offspring) (1987), starring Vincent Price, Clu Gulager, Terry Kiser, Harry Caesar, Rosalind Cash, Cameron Mitchell and Susan Tyrrell, makes it's Blu-ray debut this week. Stop in for a night of pure terror and prepare to be shocked out of your skin with four grisly tales of terror in one small town. On the night his niece is executed for committing a string of brutal killings, historian Julian White (Price, in his last role in a horror film) reveals the sinister secrets of her hometown, Oldfield, Tennessee, a horrific hamlet that spawns evil. But as the town's murderous legacy is exposed with White's chilling accounts -- including stories of a necrophilic madman, a voodoo priest with life-prolonging powers and a legion of children with an appetite for flesh -- White doesn't realize that he is about the write the final chapter of Oldfield's morbid history ... in his own blood. From Scream Factory ...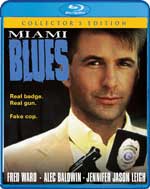 The great cult favorite "Miami Blues
(Collector's Edition)" (1990), starring Fred Ward, Alec Baldwin and Jennifer Jason Leigh, makes it's Blu-ray debut this week. Veteran criminal Frederick Frenger, Jr. (Baldwin) has moved to Miami to get a fresh start ... at robbing a whole new set of people. But when his streetwalker-gone-straight wife (Leigh) begins to suspect his criminal behavior, and an obsessed cop (Ward) begins to close in, he'll need a lot more than luck and a bogus badge to escape a crossfire hotter than the barrel of a smoking gun. From Shout! Factory ... In "The Barber
" (2014), starring Scott Glenn and Chris Coy, Eugene van Wingerdt (Glenn) is a small-town barber hiding a dark secret. Twenty years earlier he was arrested for several gruesome murders, but was released due to insufficient evidence. The detective in charge of the case killed himself in despair. Now the detective's son is in town, with a few secrets of his own. Is he seeking revenge or hoping to learn at the feet of the master? On DVD, Blu-ray Disc from ARC Entertainment.


ON THE INDIE FRONT:

One of the most popular LGBT films of the year, the coming of age film "Boy Meets Girl
" (2014), starring Michelle Hendley, Michael Welch and Alexandra Turshen, is a funny and heartwarming romantic-comedy about a young transwoman trying to navigate life and looking for romance in her small Kentucky hometown. On DVD, Blu-ray Disc from Wolfe Video ... In "Mommy
" (2014 -- Canada), starring Anne Dorval, Antoine Olivier Pilon and Suzanne Clement, award-winning writer-director Xavier Dolan weaves the brilliant story of a passionate widowed single mom (Dorval), who finds herself burdened with the full-time custody of her unpredictable 15-year-old ADHD son (Pilon). As they struggle to make ends meet, Kyla (Suzanne Clement), the peculiar new neighbor across the street, offers her help. Together, they strive for a new sense of balance. 2014 Cannes Film Festival Jury Prize winner. In French with English subtitles from Lionsgate.


FOR THE FAMILY:

"Scooby-Doo! and Scrappy-Doo!: The Complete Season 1" is a two-disc set with 16 episodes of the Saturday morning cartoon series, $19.97 from Warner ... "My Little Pony Tales: The Complete Classic TV Series" (1992) is a two-disc set with all 13 episodes of the show, originally airing on television in 1992. $14.93 from Shout! Factory.


SPECIAL INTEREST:

"Cancer: The Emperor of All Maladies" (2015) is a three-part, six-hour documentary series -- directed by award-winning filmmaker Barak Goodman and executive produced by Ken Burns -- that tells the comprehensive story of cancer, from its first description in an ancient Egyptian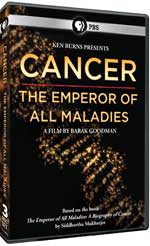 scroll to the gleaming laboratories of modern research institutions. The film interweaves a sweeping historical narrative with intimate stories about contemporary patients, and an investigation into the latest scientific breakthroughs that may have brought us, at long last, within sight of lasting cures. A collaboration of Florentine Films, Laura Ziskin Pictures and WETA Washington, DC, in association with Ark Media, the series is based on the Pulitzer Prize-winning book "The Emperor of All Maladies: A Biography of Cancer" (Simon & Schuster 2010) by Siddhartha Mukherjee, M.D. As part of the documentary project, WETA has launched CancerFilms.org, an expansive website with social and interactive media components created in conjunction with the documentary. The project website features an innovative short film series executive produced by Ken Burns and created by Redglass Pictures, featuring individual cancer patients and caregivers. On DVD, Blu-ray Disc from PBS Distribution.


FROM TV TO DVD:

In "Blood of the Vine: Season 3" (2014 -- France), an internationally renowned wine expert teams with a local police chief in France to solve wine-related murders and mysteries in the heart of the Bordeaux vineyards and in the regions of Cognac and Champagne. Two-disc set with four episodes, $39.95 from MHz Home Entertainment ...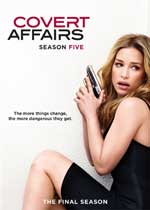 "Covert Affairs: Season Five" (2014) is a four-disc set with 16 episodes, $39.98. In the final season, change is afoot. Auggie (Christopher Gorham) is back at the DPD, Arthur (Peter Gallagher) is offered a job in the private sector working for McQuaid Security, and Joan (Kari Matchett) is returning from maternity leave to find that she's been passed over for the job of DCS in favor of Calder (Hill Harper). And after mysteriously going off the grid for months, Annie (Piper Perabo) has resurfaced, anxious to get back to work at the CIA and harboring a secret that could jeopardize everything. Sent to Chicago to investigate a purported terror plot, she soon discovers that the threat is very real, and much greater than anyone has anticipated. As a result, Annie finds herself swept into an international mission that will take her from Venezuela to Argentina to France and many points in between. Along the way, she'll continue to cross paths with Arthur's new boss, Ryan McQuaid (Nic Bishop), a charismatic Navy SEAL-turned-CEO with his own ties to the terrorist—and his own secrets. From Universal ...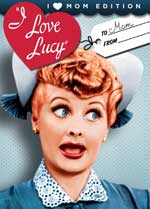 "I Love Lucy: I Heart Mom Edition" includes four unforgettable episodes featuring the special moments of Lucy's journey as a mom. beginning with the emotional episode "Lucy is Enceinte," in which Lucy first learns she is pregnant, "Lucy Goes to the Hospital," "No Children Allowed" and "Nursery School." $14.98 from CBS Home Entertainment/Paramount ... "The Jeffersons: Season Seven" (1980-81) is a three-disc set with all 20 episodes, $24.97. A groundbreaking series that mixed hilarious comedy and social commentary, "The Jeffersons" remains an all-time favorite thanks to its terrific cast (including Sherman Hemsley, Isabel Sanford, Marla Gibbs, Roxie Roker and Franklin Cover) and unforgettable theme song. Highlights of Season Seven include a multi-part Hawaiian adventure, a wild parody of soap operas, and (in keeping with the series' occasional serious side) a run-in with white supremacists. Developed by television master Norman Lear ("All in the Family,"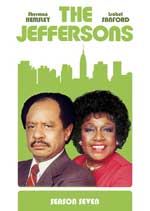 "Maude"). From Shout! Factory ... In "The Legacy" (2014 -- Denmark), the death of a matriarch brings forgotten secrets out into the open and causes a prolonged battle for the family inheritance. This Danish family melodrama series is from the makers of the blockbuster "Borgen." Four-disc set with 10 episodes, $49.95 from MHz Home Entertainment ... In "Look of a Killer " (2011 -- Finland), former KGB agent Victor Karppa is haunted by his past: He saw and did things on the job that he'd like to forget. In an attempt to create order in his life he settles in Finland, putting down roots in the country of his ancestors. He tries to make a living two ways, as a private investigator and as a business facilitator for Russian immigrants, but that doesn't sit well with his girlfriend, Marja. Try as he might not to, he keeps brushing up against the criminal elements he wanted so badly to leave behind: Russian mafia kingpins, drug dealers, KGB operatives, and regrettable lowlifes that make their way into his world. Yet he's not a killer, even if he does look like one. It all takes its toll on his relationship with Marja, who sees any association with the criminal world as a bad sign for the future of their relationship. Three-disc set with eight episodes, $39.95 from MHz Home Entertainment ... "Mama's Family: Mama's Favorites, Season Five" includes six "Mama's Family" episodes, hand-picked by star Vicki Lawrence: "The Really Loud Family," "Naomi's New Position," "Found Money," "Mama's Layaway Plan," "Mama in One" and "Dependence Day." $12.95 from Time Life/StarVista Entertainment ... "The Mentalist: The Complete Seventh and Final Season" (2014) is a three-disc set with 13 episodes, $39.98 Warner ... In "New Tricks, Season 11" (2014), beautiful DCI Sasha Miller (Tamzin Outhwaite) leads a team of detectives called out of retirement to solve cold cases. New cast members rejuvenate the show in Season 11, which still features the fascinating mysteries and easy humor that have made the series so wildly popular on both sides of the Atlantic. In Season 11, the team tackles crimes involving antinuclear protesters, battle reenactors, an amateur sleuth, illegal immigrants, and state secrets from the Cold War era. Three-disc set with 10 episodes, $39.99 from Acorn Media ...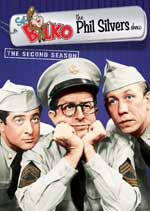 "Sgt. Bilko -- The Phil Silvers Show: Season 2" (1956-57) is a five-disc set with all 36 episodes, $34.93. This Emmy-winning sitcom was one of early television's first blockbuster hits, with snappy dialogue and brilliant visual gags performed by comic genius Phil Silvers starring as Master Sergeant Ernest G. Bilko. In this second season, the fast-talking Bilko and his platoon -- who run the motor pool at Fort Baxter -- continue to cause chaos as they look for get-rich schemes and attempt to keep themselves free of the drudgery of work, much to the chagrin of Bilko's outmatched superior, Colonel Hall. Co-starring Harvey Lembeck, Allan Melvin, and Paul Ford (and featuring guest appearances by entertainment legends including Ed Sullivan and Bing Crosby). From Shout! Factory ... "Suits: Season 4" (2014) is a four-disc set with 16 episodes, $44.98. In the high-stakes legal world, contentment doesn't last long. Though Mike (Patrick J. Adams) has officially left Pearson Specter in favor of a cutthroat investment firm, temporarily placating the pressure of covering his elaborate lie, all is not well. Harvey (Gabriel Macht) and Mike quickly find themselves on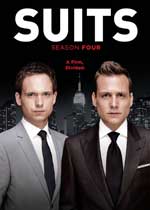 opposite sides of an intense takeover battle. And, with the SEC's fervent advances on Pearson Specter increasing in severity, Mike and Rachel's (Meghan Markle) relationship facing the ultimate test, and Jessica's (Gina Torres) impartiality being questioned, personal and professional boundaries are crossed by all. But just when all the pieces begin to fall into place, an innocent conversation between Louis (Rick Hoffman) and Mike leads to a potentially lethal revelation. From Universal ... "Wolf Hall" (2015) is a three-disc set with all six episodes of the TV miniseries that follows the complex machinations and back room dealings of the pragmatic and accomplished power broker Thomas Cromwell, the brilliant and enigmatic consigliere to King Henry VIII -- from humble beginnings and with an enigmatic past -- who must serve king and country while dealing with deadly political intrigue, Henry VIII's tempestuous relationship with Anne Boleyn and the religious upheavals of the Protestant Reformation. Adapted from Hilary Mantel's best-selling Booker Prize-winning novels "Wolf Hall" and its sequel "Bring Up the Bodies." On DVD, Blu-ray Disc from PBS Distribution.

Check out other April 28-May 4 DVD releases and reviews at OnVideo.