New in Theaters April 24: The Age of Adeline, Little Boy
By Chris Kavan - 04/23/15 at 06:44 AM CT
This entire month has pretty much been Furious 7 and... the rest. The global hit has dominated both domestically and internationally and, at least for the time being, is easily the biggest film of the year. This is the last weekend in April and, once again, it doesn't look like there is going to be much competition for Furious crew. Two drama are entering the field - one with a romance angle, the other about hope and faith set against the backdrop of WWII. Even with strong reviews, I don't think either pose a major threat.


AGE OF ADELINE For once a film about a person who never ages who isn't a vampire! Blake Lively plays Adeline, a women who suffers a car accident and instead of suffering major internal bleeding and head trauma... gets immortality instead. Sounds like a pretty sweet deal if you ask me. But after 80 years, it turns out being forever 29 isn't all it's cracked up to be. Mainly, she has issues connecting with anyone and thus leads a solitary life. That is until until she falls for philanthropist Ellis Jones (Michiel Huisman). The closer she gets to him and his family - the closer she gets to her secret being revealed - ultimately leading to the biggest decision of her life (probably something to do with love, losing immortality or giving it to someone else... probably). Anyway, this, like The Longest Ride, is going to draw a mainly female audience. The supporting cast has some heavy hitters: Harrison Ford, Ellen Burstyn, Kathy Baker and Amanda Crew among them. If this is truly a love story for the ages - it might have a slim chance to top the box office (Furious 7 is starting to run low on gas even though it's got great mileage). It all depends on whether this is better or worse than Longest Ride and if it has been long enough to give the edge to another romantic drama.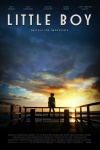 LITTLE BOY On the secondary drama front we have Little Boy. Told from the perspective of an 8-year-old boy (Jakob Salvati) - and set against the backdrop of WWII - the little man will do everything in his power to make sure his father comes home safe and sound. It explores hope, faith and love - some powerful themes, but I have a feeling it will be overly-sentimental. The cast includes Emily Watson, Michael Rapaport, Kevin James, Tom Wilkinson, David Henrie, Ted Levine and Ali Landry and Ben Chaplin. This sounds like a more family-based drama rather than a romantic one - but It also seems like a strange choice to bring in that particular crowd. Granted, it's a better choice than Paul Blart in my book and both Home and Cinderella have been out for awhile, so maybe it will draw a decent crowd. Still, if it cracks the top five, that will be a good showing in my book.


I expect the last weekend in April to go out without much fanfare. Everyone is preparing for Avengers: Age of Ultron - which should kick off May in (probably) record fashion (and will quickly overtake Furious 7 for the top spot of the year). We'll find out Sunday, but I don't expect many fireworks.