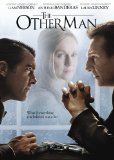 The Other Man
2 Beautiful Men, 1 Woman, How Can She Choose?
3.5/4 stars
Two Very Beautiful Men: Her Husband & The Other Man: How Can a Woman Choose?

This movie was probably not perfect, perhaps, but I can't help myself, I love it!

I mean there's Liam Neeson and Antonio Banderas as the leading men and heroes (of sorts), so what's not to love?

Even the premise of the movie - which some people may find a bit implausible or outrageous - really isn't. In fact, it's both good and plausible.

Human beings are intricately complicated creatures. And it's entirely possible for someone to actually have a deep and intimate sexual and emotional love with more than one person at a time, without it detracting or taking away from the love for each of the loved ones involved. What it does detract from, is the commitment to one other person who is the sole object of love and affection, and special above all others... and there's where the problem lies...

But the movie handles this whole subject with kindness, sensitivity and humor allowing the thoughts and emotions to be seen, including the pain, with fairness, but without any kind of harsh judgement.

And there is plenty of mystery and intrigue to be followed and enjoyed as the story plays out.

I bought the movie because of the actors involved and because it looked like it would be a kind of fun to watch - a kind of romantic farce - and it delivered on that aspect... But there was really much more substance and feeling to it than that. It was a study of the human heart and of the psychology of the people attached to those human hearts when it comes to love... something which increased its value as art and entertainment for me.

Again I loved it and would highly recommend it.

Gave it a 3.5 on the 4-point scale.