2/4

2/4

3/4

1.5/4

2.5/4

2/4

2.5/4

2/4

2.5/4

1.5/4

2/4

3/4

1.5/4

1.5/4

3/4

2.5/4

3/4

3/4

1.5/4

2.5/4

3/4

2/4

3.5/4

4/4

4/4

Next 25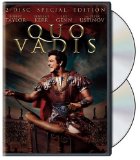 Quo Vadis? (1951)
Quo Vadis
1.5/4 stars
Quo Vadis tells the story of early Christians in Rome, and their early persuction by Nero. This is a rather misguided epic from the start. Robert Taylor as a Roman Centurion who gains a conscious is a boring lead hardly conveying any character at all. He is ineffetive in his attempts to lead the film, and his performance really is a testament to the strength of Charlton Heston in Ben-Hur.

The story really prods along due to lacking a compelling lead. The leading Romance is bland and uninspired with Kerr and Taylor lacking any chemistry. As just the story of the central struggle of the Centurion it fall right upon its head due to Taylor failing to do anything with his role. This might have succeeded in some way with a stronger leading man, but Taylor seems lost.

As a depiction of the early struggles of Christianity the story is very uninspiring There are so many biblical epics that bring out this inspirational quality in the material, but this film just seems odd in its portrayal of it particularly when it gets to the Christians being executed. The film might as well left of the spirituality since they never seem to show any passion for the subject.

The visuals of this film are particularly unimpressive, and most of it looks tacky rather than the grand spectacle it should be. This film could easily have found a way to look impressive considering the subject matter, but it fails to ever impress. The action in this film is as well weak, especially one chase sequence where the green screen could not be more obvious.

There is one redeeming factor to the film and that is Peter Ustinov as Nero. He plays Nero up as a flamboyant man child who takes great pleasure in the suffering of others. He energizes every scene he is in. He is entertaining just to watch and makes his scenes the only worthwhile ones in the entire film.

Ustinov is the only performance of distinction. Almost everyone else is just kinda there. Leo Genn received an Oscar nomination along side Ustinov. Why he did is certainly a big question since his performance is quite dull and is acted off the screen when he shares a scene with Ustinov.

Quo Vadis is a film with nothing of note other than the central villain performance. If were not for Ustinov there would not be a single redeeming feature about this film that never brings anything special to the genre. As epics go there are of course far better ones, and as biblical epics go this one lacks any real distinction. Quo Vadis means Where are you going? Well this film never seems to know where it should go.