2.5/4

2/4

1.5/4

1/4

1.5/4

1/4

2.5/4

3.5/4

3.5/4

2.5/4

4/4

2.5/4

1/4

1.5/4

2.5/4

2/4

4/4

1/4

1.5/4

4/4

1.5/4

1.5/4

3/4

3.5/4

3.5/4

Next 3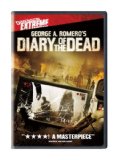 George A. Romero's Diary of the Dead
Sadly Misses the Mark
1.5/4 stars
An interesting concept for sure, but George Romero's Diary of the Dead doesn't quite gel as well as his previous zombie films. The film takes place in a timeline separate from his other 'Dead' films and starts the story anew in the present day. While Romero's initial zombie outbreak had worn thin after four films there were still more stories to be told. Theoretically though there should be even more possibilities after scrapping everything that has already been established.

The story begins when a group of college students, in the process of filming a horror film, realize there is a real life zombie outbreak. They decide it is their responsibility to document everything that is happening around them. Despite several arguments during the movie about why they are documenting everything I still can't figure out a good reason. If this is happening everywhere then people don't need to watch a video of it – they can look out their own windows and realize how fucked they are.

In addition to the fairly weak premise the actors aren't up for the challenge. The acting isn't terrible but improved performances could have helped sell this film a lot better. While the previous 'Dead' films have our characters isolated Diary has them on the move. This should allow the story to move more freely although nothing really changes from location to location. They arrive – they scope it out – they are attack by zombies – they leave.

This film also fails to create a real sense of fear. There are several well-executed scenes involving the undead but they fail to be scary at any point. We all know what's coming before it happens. The constant change of location of the film also results in a shortage of action. There certainly are several engaging sequences in the film but they are few and far between. The film's finale is a highlight and leaves several of our characters locked away in a panic room as the zombies pillage the mansion.

Diary of the Dead was an attempt by Romero to return to the grass-roots filmmaking that produced the original Night of the Living Dead. The fresh start offered more possibilities but for the most part this film follows already traveled ground. The social-commentary that usually helps make Romero's films shine is rather murky here. He presents several vague ideas regarding media regulation and the accessibility of information but ultimately fails to organize it in a coherent manner. A few good action sequences don't save the film from its inconsistent story and poor acting.