3.5/4

3/4

3.5/4

2/4

2/4

2.5/4

2.5/4

3/4

3.5/4

3/4

3/4

4/4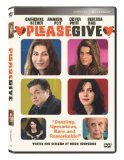 Please Give
refreshing comedy avoids being too quirky
3/4 stars
As I began watching Please Give, I though I could tell what this movie was going to be. It was going to be an overly quirky film about people with good intentions in a world that seems to be distant from them. That description right there would pull me away from this movie. Iím always amazed that movie like that (Sunshine Cleaning could be an example) are so well received by people. Donít they ever get sick of the recycled plot or annoying quirkiness of the characters.
When the movie was over, however, I was surprised but happy to learn that this was not one of those movies. In fact, this movie took everything I hate about it quirky movies and made fun them. Itís a story about people who think they can make a difference in the world and solve everyoneís problems, but are struck by the fact that some people donít want there help. Then they can come to realize that it is there own lives that need there help.
The movieís tone is still quirky, but never too much to overpower the characters, and that way everyone feels like genuine human beings. Catherine Keener deserves special recognition as she gives arguably the best female lead performance of the year. Iíll be surprised if there are five other performances that fit into the Best Actress Ė Comedy/Musical category at the Golden Globes this year.
In a year that so far has lacked good and refreshing comedies, hereís one.