3.5/4

3/4

4/4

3.5/4

3.5/4

4/4

4/4

4/4

4/4

2/4

2.5/4

1.5/4

2/4

2/4

3/4

1/4

4/4

1.5/4

0.5/4

3/4

4/4

3/4

4/4

3.5/4

3/4

Next 25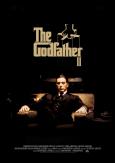 The Godfather: Part II
Keep the first one close, but this one closer : )
4/4 stars
Quite possibly one of the greatest, if not THE greatest, sequels ever made. Francis Ford Coppola's incredibly breathtaking sequel to his masterpiece "The Godfather" does an excellent job of picking up where the last one left off. But what makes this stand out from most sequels is that it manages to be the second chapter of the epic saga while simutanteously being the prequel to the first chapter.

With that being said, let's talk about the plot, shall we? The film showcases two intertwining story lines. One showing Vito Corleone's rise from living in the lower class of Little Italy, New York to heading one of the most infamous crime families in America. In the other story, we pick up after the events of the first film. Michael is carrying on the family business and finds himself betraying his own family in order to keep it striving.

The strongest element to this film is the acting. Both Pacino and De Niro are phenomenal, but I think this is truely De Niro's show. He showcases just as much brilliance as Brando did in the same role. Aside from the acting, the story is fantastic. It does an excellent job of telling the story of Vito whist showcasing Michael's true evil. Both stories go so well together and the ending to the film was so good, the series just could've ended right then and there.

Overall, "The Godfather Part II" is a sequel that equals and possibly even exceeds the first. A masterpiece in every sense of the word.