4/4

3/4

0.5/4

4/4

2/4

2/4

3/4

3/4

3.5/4

1.5/4

4/4

3/4

3/4

2/4

2/4

2.5/4

2.5/4

2/4

3/4

3/4

3/4

1.5/4

3.5/4

3/4

3/4

Next 4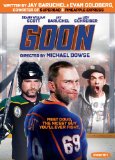 Goon
Good for the Aggression
2.5/4 stars
If you watched "Slap Shot" and your favorite scenes involved the Hanson brothers, and if you go to a hockey game only to get excited when a huge brawl breaks out, then "Goon" is the movie for you.
Seann William Scott plays Doug Glatt, a fish out of water in his intellectual family. Doug may not be the brightest star in the sky, but he can land a punch. When he attends a hockey game with his buddy Ryan, Doug gets in a confrontation with another spectator in the stands. Ryan records the incident and puts it on the internet. This catches the eye of a local minor franchise owner who offers Doug a position of a goon on the team. What? Doug can't skate? Details. Minor details to be worked out later.
People don't watch wresting or MMA fighting for the storyline, and they should not expect one here. The fights are spectacular!