3.5/4

3.5/4

3/4

3.5/4

2/4

2.5/4

3/4

3/4

3/4

1/4

3.5/4

2.5/4

2.5/4

2.5/4

2/4

3.5/4

3/4

4/4

0.5/4

3/4

4/4

3/4

3.5/4

1.5/4

3/4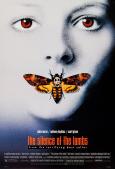 The Silence of the Lambs
Buffalo Bill & A Nice Chianti
3.5/4 stars
The Silence Of The Lambs is a 1991 thriller film starring Jodie Foster, Anthony Hopkins and Ted Levine. It is based on the novel of the same name and won Academy Awards for Best Picture, Best Director (Jonathan Demme), Best Actor (Anthony Hopkins), Best Actress (Jodie Foster) and Best Adapted Screenplay (Ted Tally).

Although the movie mainly follows Clarice Starling (Foster), like everyone says, Anthony Hopkins stole the show. His performance is chilling, eerie and well-deserving of the Academy Award he won for this movie.

Jodie Foster kinda annoys me in every movie she's in. I haven't quite figured it out yet, but she still did a good job and also deserved the Oscar she was awarded.

I do wish we could chat longer, but I'm having an old friend for dinner.