3/4

4/4

3/4

3/4

3/4

3/4

3/4

1.5/4

4/4

4/4

2.5/4

4/4

2.5/4

3.5/4

2.5/4

0.5/4

3/4

2.5/4

2/4

2.5/4

2.5/4

2/4

2.5/4

3/4

3.5/4

Next 25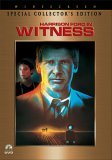 Witness (1985)
Great film, I would recommend it to anyone.
3/4 stars
I've always been a fan of Harrison Ford's work, in Witness he plays John Book. Book is a good, honest Philadelphia cop who is forced to hide out on an Amish farm while pursuing some corrupt cops. In the midst of this culture clash, he finds himself increasingly attracted to young widow Rachel (Kelly McGillis) who's the mother of a juvenile murder witness (Lukas Haas).
This movie is a genuinely affecting combination of several themes - a cop movie, a forbidden romance, and an exploration of a very "plain" culture. It is serious and thoughtfully handled, and cast to perfection. Ford gives one of his very best performances, in fact. I really enjoyed the music score, too. The script isn't infallible, I did have some questions after watching some scenes. However, I still consider it to be really good and entertaining film-making.
While you watch, keep an eye out for Viggo Mortensen, in his film debut.