0.5/4

4/4

4/4

4/4

4/4

3/4

0.5/4

2/4

0.5/4

0.5/4

4/4

1.5/4

2/4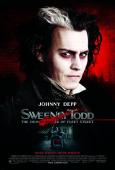 Sweeney Todd: The Demon Barber of Fleet Street (2007)
Great Musical
4/4 stars
I loved listing to "Sweeney Todd" music before the movie was first picked up. The music was wonderful and brought out by the fantastic singers that were chosen first. When I heard Tim Burton was picking up the musical and making it into a movie, I was ecstatic. This kind of musical was right down Tim Burton's alleyway.

The artistry and actors that went into "Sweeney Todd" still amazes me. Tim Burton does a really good job of picking actors that work well for the roles that they're portraying. Along with these actors, he films them well and brings to life a world that seems so real that I feel I'm there with them.

With "Sweeney Todd" the music sung was done beautifully. I loved the way the actors sounded by themselves and with the other actors. Along with the music, the actors outside the songs acted very well. Their expressions and voices made their characters seem very realistic on the screen. The lighting done with their costumes on screen made them seem very dark and eerie while bringing out the light side of some of the characters.

"Sweeney Todd" is a great, gory classic brought to life by Tim Burton, who did a very good job. I can't wait to see the movie again.