0.5/4

4/4

4/4

4/4

4/4

3/4

0.5/4

2/4

0.5/4

0.5/4

4/4

1.5/4

2/4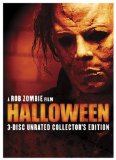 Halloween (2007)
Great Classic Brought to Life Again
3/4 stars
Although I never watched the original series, I thought Halloween was a great movie. There was enough outside story to make me relax, which made the trilling moments seem more extreme.

The acting, along with the writing of the script, seemed very realistic in my perspective. The movie brought the old clique of horror, but added just enough of everything to make the movie not seem cheesy or normal. While I try to do other things while I'm watching a movie, I just couldn't tear my eyes away from the screen.

All the nice things being said, there was only one things I really didn't like in the movie and that was the music choice. Of course, the original theme was in there, which was really nice, but the rest of the music somehow didn't fit the mood at all. When some music played, I felt it destroyed some of the mood that was meant to be there.

Other than the music, everything fit together really well and Rob Zombie did a really good job bring to life an old, classic killer. I wish there were more current horror movies that came out like this. Halloween was really enjoyable.