4/4

1/4

3/4

4/4

3/4

1/4

3/4

4/4

4/4

4/4

2.5/4

3.5/4

0.5/4

N/A

3.5/4

4/4

1.5/4

4/4

3.5/4

0.5/4

4/4

2.5/4

4/4

0.5/4

4/4

Next 3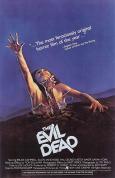 Evil Dead, The (1983)
The Evil Dead.
3/4 stars
The Evil Dead.

Having just freshly come out a home screening of The Evil Dead, I'm not too sure what to say. I mean, it wasn't a bad film, hell no, it's just not what I was expecting.
Now, I've always thought of Ash as a 110% bad-ass, į la Army of Darkness, but here he's a fairly bog-standard horror film protagonist. He has no one-liners or awesome battle scenes. But I suppose that was saved for what appears to be a remake, Evil Dead 2: Dead By Dawn. Fair enough.
Now, I was told by a friend who's opinion in films I trust, that The Evil Dead can be taken as either a horror or black comedy. To be perfectly honest, I found neither. If there was dark comedy, I didn't find it. I didn't chuckle or smile once. As for the horror, it was of the low budget gory kind, which simultaneously adds and takes away from the experience. The effects are OTT, and very fun, with anything and everything being sliced, stabbed and bashed, but at the the same time, it felt incredibly uneccesary and gross-out. I hate horror whose sole mind-set is 'gory is scary'.
But you know what? This was nothing but good, filthy fun. Sure, the acting is pretty bad, but it's fun at its heart. It feels like an experiment in filmmaking an deffects. I'd almost believe Sam Raimi set out to film a lot of special effects going off, but there were so many that he thought it best add a sort of story and get the thing distributed so people can marvel and barf at the increasingly OTT effects.

In the end, as it's seen a classic (of sorts), I would reccomend watching it just to see it.
One thing, though...just what does a Deadite demon look like? You know, the thing P.O.V shots?