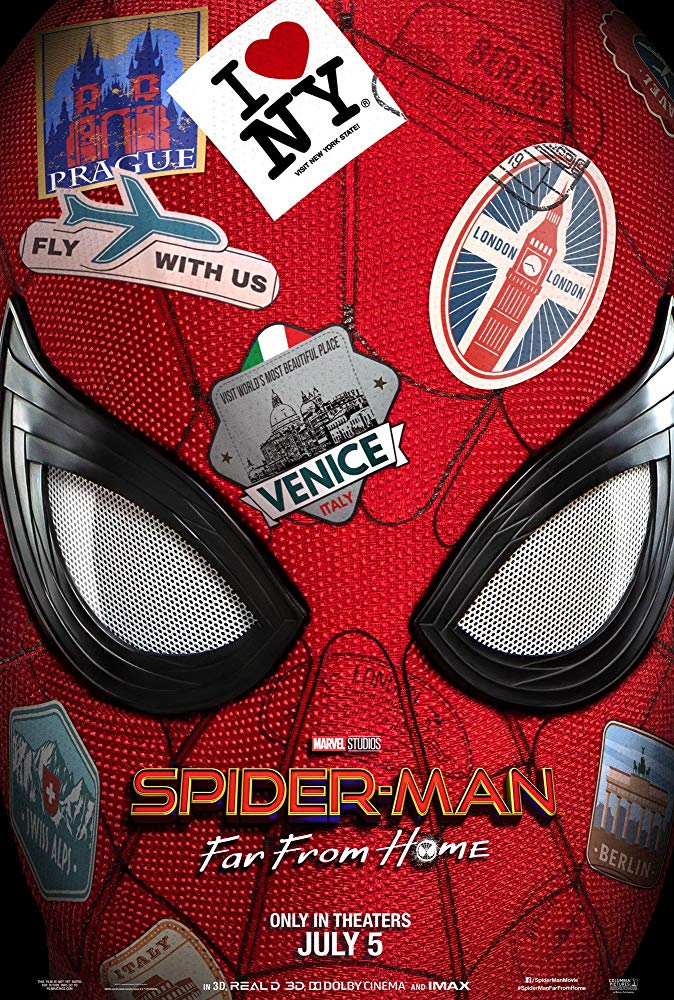 Spider-Man: Far From Home
Far From Home Delivers a Swinging Good Time
Chris Kavan - wrote on 07/14/19
Far from Home has the tough job of bridging the gap between the culmination of the entire MCU to date (namely, the huge Endgame) and what is still shrouded in much mystery as the next phase. But as the MCU has proven time and time again in the past, everyone involved in more than up for the task and Far from Home is a lot of fun while still delivering some exciting developments about where the MCU will go from here.

A lot of people were wondering how the whole Endgame let's bring everyone back who was snapped by Thanos would work out. Far from Home, in a student-video introduction, not only pays homage to the heroes that were lost but also recounts how the "blip" worked - seemingly everyone who disappeared just reappeared where they were (although the MCU bigwigs confirmed that people in dangerous situations - riding in vehicles or planes or such, would have been placed somewhere safe). Thus while the world moved on seven years, our blipped-out people stayed the same age. Luckily for Peter Parker (Tom Holland) that includes best friend Ned (Jacob Batalon) and new crush MJ (Zendaya) along with his aunt May (Marisa Tomei). Speaking of May, she's now trying to help our recovered population - fundraising efforts (with Spider-Man of course) that also shows the blip did have economic consequences as well.

The main bulk to the film is about Peter, who, more than ever, just wants to have a normal, high school life. His class is about to embark on a trip to Europe with teachers Mr. Harrington and Mr. Dell (the always fun Martin Starr and JB Smoove) along as chaperones. But as Happy Hogan (Jon Favreau) is quick to point out - Peter is an Avenger now, and Nick Fury (Samuel L. Jackson) has been trying to reach him. But as Peter ghosts him - and tries to figure out the best way to express his feelings towards MJ - he doesn't realize his trip is going to bring him right the center of the action. That would be because a series of events has been tied to elemental monsters - and wouldn't you know it, the class trip to Venice is interrupted by one such being - and a new hero, Quentin Beck aka Mysterio (Jake Gyllenhaal) shows up to combat it.

When Fury finally tracks down Peter, he introduces him, and Beck says that he if from another dimension - and Earth that has been ravaged by these elemental monsters and if they don't stop them, their Earth will fall prey as well. Those who know comic history, however, will know that Mysterio isn't always the most trustworthy of people - especially when Peter, as parting gift from Tony Stark, is given access to a highly-impressive defense system.

Thus the globe-trotting film goes from Venice to Prague to London, Ned gets a new girlfriend (Angourie Rice), Peter finds himself fuming over the MJ's closeness to class hottie Brad Davis (Remy Hii) and Fury continues to breath down his neck while the rest of The Avengers are seemingly MIA. Far from Home still has that nice balance between fun and serious - and Holland continues to be an excellent choice as Peter, strong yet vulnerable and bit naive. Zendaya holds her own while Gyllenhaal makes for an impressive counterpoint. There is even a fun subplot involving the relationship between Happy and May that is enjoyable.

As for how this ties in to where the MCU is going - make sure to stick around for the end credits both for a hilarious cameo from an old Spider-Man friend (along with a huge bombshell) and also to find out what's been happening outside Earth - it doesn't exactly spell out the next phase, but it offer a tantalizing glimpse of the future. The vast majority of MCU films find that balance between action, humor and heart and Far from Home follows in that tradition. It's a welcome addition to the fold and it will be most interesting to see how things evolve from here.