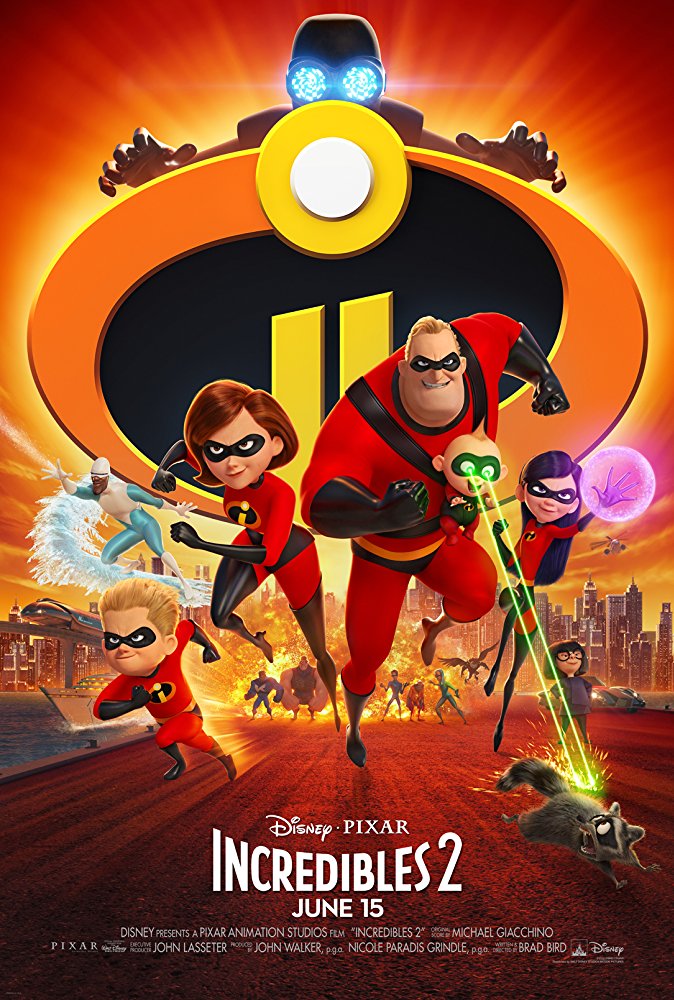 Incredibles 2
Incredibles 2 Is Simply Super
Chris Kavan - wrote on 11/04/18
It's not always the case, but often the longer the wait between sequels, the more likely it is the second film will disappoint. I'm happy to say that The Incredibles 2 not only bucks this trend, it gives me hope for the future of all long-awaited sequels. Brad Bird's original animated take on the super-hero genre was fresh, fun and had as much heart as it did action - combining memorable characters, solid story and humor. Incredibles 2 picks up right where the first film left off - and Bird doesn't miss a beat in this outstanding sequel.

And when I say it picks up where the first film left off, I mean immediately, with The Underminer (voiced by Pixar mainstay John Ratzenberger) announcing himself (and robbing the city) with our super-heroic family - Bob Parr/Mr. Incredible (Craig T. Nelson), Helen Parr/Elastigirl (Holly Hunter), Violet Parr (Sarah Vowell) and speedy Dashiell "Dash" Parr (Huck Milner) springing into action with baby Jack-Jack (Eli Fucile) along for the ride. Despite their best efforts, however, and even with the help of Lucius Best/Frozone (Samuel L. Jackson) The Underminer manages to get away while a good chunk of the city undergoes serious damage.

This is bad, as the supers are already on edge with the city politicians and even long-time ally Rick Dicker (Jonathan Banks) is ready to pack up. But things take a turn for the better when super "super" fan Winston Deavor (Bob Odenkirk) hatches a plan using the sizable resources of his company Devtech, along with his tech-savvy inventor sister Evelyn Deavor (Catherine Keener). Deavor wants supers to be restored to their former glory - and not just locally, but worldwide, and he finds the perfect spokesperson in Elastagirl. Of course this means Bob much swallow his pride - and also watch the kids - while she is out saving the world. It's not long before a menacing villain known as Screenslaver - who uses screens of all sizes to hypnotize people - is targeting Elastigirl.

Much like the first film, Incredibles 2 does a great job of balancing the action with the humor and heart. From Violet dealing with the fact her first date had his memory erased (including her entire existence) to Jack-Jack's emerging powers - to simply Dash's "new math" homework - Bob's adventures at home are just as fun to watch as Elastigirl stopping a runaway train and battling Screenslaver. The film also introduces some fun new supers including Voyd (Sophia Bush - apparently channeling Kristen Stewart), Krushauer and Helectrix (both voiced by Phil LaMarr) and the lava-spewing Reflux (Paul Eiding). And the film is just a lot of fun too - Jack-Jack fighting a squirrel, the return of super designer Edna Mode (Brad Bird, just having a ball I'm sure) and all those powers - it's all there and it's amazing.

The music is spot on with Michael Giacchino providing another excellent score (also, make sure to enjoy the super theme songs in the end credits) and there are just loads of great features (including the short films Bao and Auntie Edna) for those who like to go into the details. All in all, Incredibles 2 is not just a worthy follow-up, it is the rare sequel that matches the original - not bad at all when the original was about as good as you can get.