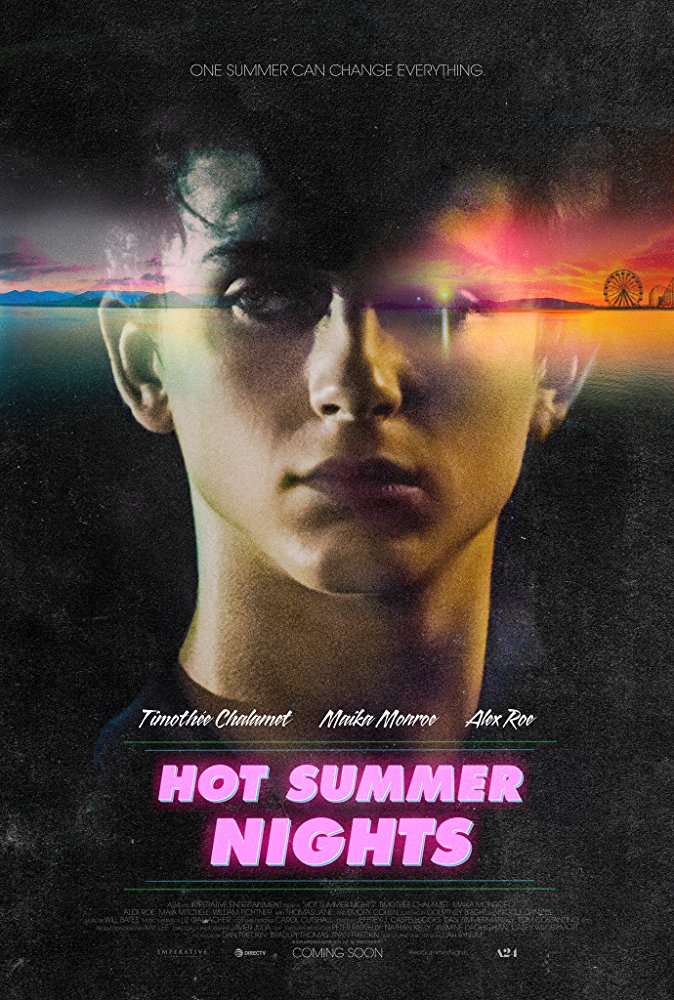 Hot Summer Nights (2018)
Tries Hard but Needs a Bit More Heat
Chris Kavan - wrote on 09/19/18
Hot Summer Nights greatest attribute is its absolutely killer young cast. Timothée Chalamet was a multiple award nominee (including the Oscar and Golden Globe) for his performance in Call Me By Your Name while Maika Monroe impressed me in the fantastic horror film It Follows. She co-starred with Alex Roe in The 5th Wave and I also recognized Emory Cohen from his role in The OA. Throw in some killer cameos from William Fichtner and Thomas Jane, and you have your deck stacked.

The film follows a somewhat awkward loner Daniel (Chalamet) who is having trouble dealing with the death of his father and is sent to live with his aunt on the East Coast for the summer in Cape Cod. We are told there are two types of people to found her during the summer: the summer birds - the rich and privileged who hand out and do a lot of drugs - and the townies, the locals who put up with them, maybe hang with them, maybe even supply drugs to them - but are never quite "with" them. Hunter (Roe) is one such person and Daniel is drawn to him - and even moreso to his untouchable sister, McKayla (Monroe). It is not long before Daniel is part of Hunter's little drug business - one he is more than happy to help expand, until he inevitably gets in over his head.

The plot is solid mix of coming-of-age and crime, with a dose of relationship drama thrown in. The biggest thing holding the film back, however, is that while the actors are certainly well-cast, the characters never seem that fleshed out with an unreliable narrator (voiced by Shane Epstein Petrullo) giving us bits and pieces of lore and back-story related to our core group. The characters just never get deep enough to get a sense of who they really are beyond straight-up cliche - bad boy, hot chick, odd duck. I wanted more - a deeper plot, more than stock characters and just... more. Sure, what is there is fine, but I just felt it all could have gone better.

Hot Summer Nights is great to watch for the actors involved, but if you're looking for a deep, life-changing film, this isn't it. It's a step above most teen-centric films, and it does take more chances, but it just feels like it's missing just a few key pieces to make it more than anything but just good, as opposed to great.