3/4

2.5/4

4/4

3/4

2.5/4

2.5/4

3/4

3.5/4

2.5/4

3/4

2.5/4

3/4

3.5/4

3/4

3/4

2.5/4

3/4

3.5/4

2.5/4

3/4

2.5/4

2/4

2/4

3/4

3.5/4

Next 25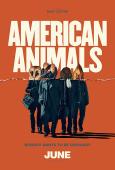 American Animals (2018)
A Caper of Moronic Proportions, Real Consequences
3/4 stars
Part documentary, mostly re-enactment, American Animals gives us the true story of the wild Warren Lipka (Evan Peters) and more down-to-Earth pal Spencer Reinhard (Barry Keoghan) who realize the local Transylvania University in Lexington, Kentucky is home to some extremely valuable rare books, including John James Audubon's Birds of America. Whether on a whim or while high or just because they are bored with their lots in life, the two plan a heist based on nothing more than the collective pop culture they have acquired.

Of course they can't do it alone and recruit the sharp-minded Eric Borsuk (Jared Abrahamson) and getaway driver (aka the rich boy with a fast car) Chas Allen (Blake Jenner) for the job as well. It seems all that stands in their way is the elderly librarian who holds the keys to the kingdom, Betty Jean Gooch (Ann Dowd). But the boys have a plan and nothing is going to stop them - nothing but themselves, that is.

American Animals is one of those movies that Hollywood could never come up with on their own because, as has been proven time after time, truth is always stranger (and often more entertaining) than fiction. Essentially the root of the issue is that Warren and Spencer want to do something with their lives - they don't want to be another face in the crowd. Sure, you can chalk it up to bored (and privileged) white boys doing stupid things - and if Youtube is any indication, there are a lot of them out there - but it's also about finding identity in a world where most people are treated like a number at the DMV.

Bart Layton doesn't just present us with these fictional characters, however, he interweaves the Hollywood production with interviews from the real Lipka, Reinhard, Borsuk, Allen, parent, teachers and even a brief appearance by Betty Jean Gooch. It adds a nice flavor to the story, especially when two people give conflicting accounts of the same moment - so you're not entirely sure what you can believe and what blanks you have to fill in.

Some people may complain the story applauds and sensationalizes what amounts to bored teens (young adults?) making bad decisions. But the meat of the story is that it all falls apart and that being bored is not an excuse for doing something that will have a major impact on the rest of your life. The sad fact of the matter is that this story, while bigger and bolder than most, is going on daily and with the ready availability of social media, seems only to get worse. Thus I see this more as a cautionary tale than something to be celebrated and a plan, no matter how many movies you watch, isn't just going to come together because you want it to.