3/4

2.5/4

4/4

3/4

2.5/4

2.5/4

3/4

3.5/4

2.5/4

3/4

2.5/4

3/4

3.5/4

3/4

3/4

2.5/4

3/4

3.5/4

2.5/4

3/4

2.5/4

2/4

2/4

3/4

3.5/4

Next 25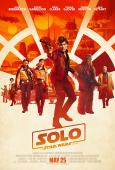 Solo: A Star Wars Story
I've Got a Good Feeling About This
3/4 stars
I can think of many reasons why Solo didn't do well at the box office (well - compared to other Star Wars and Marvel films) but I, for one, thoroughly enjoyed this second spin-off story. It may be a slight notch down compared to the main films, but it's not a dud by a long shot.

Solo gives us a look at our favorite scoundrel before he become mixed up in the whole rebellion. Alden Ehrenreich (who, despite fan backlash, does an admirable job in the lead role) plays our young anti-hero, who we find on the mean streets of Corellia, working for the water-dwelling Lady Proxima (voiced by Linda Hunt) and after a botched job he finally figures it's time to get off the planet. He's not leaving without the love of his life, Qi'ra (Game of Thrones vet Emilia Clarke). But, of course, things don't go at all as planned. After being separated, he gets really desperate and joins the Empire - hoping to land a position as a pilot.

Flash forward a bit and Han has failed to become a pilot and is instead just another faceless grunt on the front lines. As luck would have it, he manages to become entangled with a group of smugglers and scoundrels led by Beckett (Woody Harrelson) who has his own team including Val (Thandie Newton) and the four-armed Rio (voiced by Jon Favreau). Joining the group, however, isn't easy - but his chances get a little better when he is thrown into a "monster" pit to be eaten and finds his soul mate (well, his "other" soul mate) in the wookie Chewbacca (Joonas Suotamo, taking over from Peter Mayhew). This extra muscle convinces the group to pick them up.

Now, this is where things get interesting - a train heist, a pirate attack, death and sacrifice - all leading to a meeting aboard a fancy yacht run by a high-ranking member of the Crimson Dawn cartel, Dryden Vos (Paul Bettany) but the fancy-scarred, eloquent crime boss isn't alone as Han finds out his long-lost love Qi'ra has also found her way into the group (not quite willingly it seems, but she's adapted). You see, the entire galaxy is after Hyperfuel - that powers star ships and is worth a lot. And dropping a trainload of that, well, will usually get you killed. But Han and Beckett have a plan - the spice mines of Kessel have plenty of unrefined fuel. But in order to pull off this job they will need a fast ship - very fast, and that's where Lando Calrission (a superb casting choice in Donald Glover) and his outspoken droid L3-37 (again, fantastic casting with Phoebe Waller-Bridge) come in and fill out our team.

Solo has been panned as being too generic for a Star Wars film, but, hell, I found it just as engrossing as any of the others. You have plenty of action - both in space and on the ground. Big reveals, a bunch of nice Star Wars references (paying tribute to everything from the OG trilogy to the Clone Wars animated television series to a friggin' terrible Playstation fighting game) and even a damn fine score (the Imperial March used as a recruiting theme was an especially nice touch). Sure, I admit, I saw some of the twists coming, but not all of them. The casting is strong - especially Glover and Waller-Bridge, but the entire cast is very well done. While I can't say what the film would have been like with Chris Miller and Phil Lord at the helm, Ron Howard (whom I was worried about) does a fine job with the material.

In the end, Solo fits just find in the Star Wars saga. I admit, maybe they could have waited longer to release it, but it doesn't change the fact that this rip-roaring adventure is a fine addition to the Star Wars franchise.