2.5/4

3.5/4

2.5/4

2.5/4

3/4

2.5/4

4/4

3/4

2.5/4

2.5/4

3/4

3.5/4

2.5/4

3/4

2.5/4

3/4

3.5/4

3/4

3/4

2.5/4

3/4

3.5/4

2.5/4

3/4

2.5/4

Next 25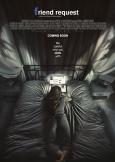 Friend Request
Friends Don't Let Friends Friend Unfriendly Fiends
2.5/4 stars
While there isn't a lot about Friend Request you haven't seen before, at least the film does a good job of mixing in suitably creepy imagery with your standard jump scares to give horror fans a reason to check it out.

Much like Unfriended, social media is the main focus of attention as we follow the popular college student Laura (Fear the Walking Dead standout Alycia Debnam-Carey) as she looks forward to an upcoming birthday with friends, but takes pity on a fellow student who seemingly has no other friends on social media, Marina (Liesl Ahlers). Her page is filled with dark animated imagery and pictures, but Laura seems to like it well enough. But it doesn't take long before Marina becomes obsessed with Laura, and, taking some advice, eventually kicks her off her friends list. Marina doesn't take this well - taking her own life while cursing Laura at the same time.

Soon Laura is plagued by a technical poltergeist, and her friends also become targets, taken out one by one as videos of their grisly deaths are shared by Laura, who finds her own friend list dwindling. She seeks out the help of hacker Kobe (Connor Paolo) to get to the bottom of things, but even he is unable to unravel the dark evil behind these attacks.

Friend Request does a good job of mixing in supernatural with modern-day technology. Marina's page reminded me very much of the creepy videocassette tape in The Ring - full of twisted images and horrifying deaths that only come together when the characters begin to piece together her own dark past. All in all the casting is good. While most characters adhere to typical stereotypes (strong boyfriend, prone to jealousy, snarky blonde, the fun guy), at least they do their best to flesh them out as much as possible. The death scenes are mostly jump-scare induced, but still fit in that creepy imagery along the way. They also manage to throw in a decent twist in the end.

Friend Request might not break any new ground, but it's an enjoyable enough horror that makes the most out of its premise.