2.5/4

2.5/4

3/4

3.5/4

2.5/4

3/4

2.5/4

3/4

3.5/4

3/4

3/4

2.5/4

3/4

3.5/4

2.5/4

3/4

2.5/4

2/4

2/4

3/4

3.5/4

3/4

3/4

3.5/4

2.5/4

Next 25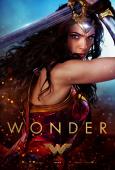 Wonder Woman (2017)
Wonder Woman Really Does Save the Day and DC
3.5/4 stars
I guess it does take a woman to do a man's job. No doubt that Zack Snyder, David Ayer, Henry Cavill, Ben Affleck and the rest of the DC universe but, man, were Man of Steel, Batman v Superman and even Suicide Squad were some depressing affairs. Too dark and mean-spirited for their own goods - DC's initial efforts to emulate the success of the MCU fell woefully short. However, Patty Jenkins and Gal Gadot have come along and righted the ship (at least for one movie) as Wonder Woman not only has action, but heart and while there are plenty of darker themes, it manages to strike a much better balance and add in some much-needed levity to the series.

As this is kind of an origin story, of course we have to begin with Diana (aka Wonder Woman) growing up on the all-female island of Themyscira, home of the Amazons where her mother, Queen Hippolyta (Connie Nielsen) does her best to raiser her daughter (apparently the only child on the island) but Diana would rather join the warriors led by Antiope (Robin Wright). Eventually Hippolyta agrees, and Diana is raised to be the greatest warrior, to one day take on Ares, who we learn was responsible for the death of most of the old gods as well as corrupting mankind, making them spiteful and, well, warlike.

After unleashing her true power and almost killing Antiope in the process, she witnesses a plane crash just off the coast. She dives in to rescue the pilot, Steve Trevor (Chris Pine), the first male to set foot on the island. But this act also attracts the attention of several Germans who are chasing after Trevor. A brief battle follows, leading to several deaths and, more importantly, Diana's destiny. She learns that most of the outside world is embroiled in a fierce war - the "war to end all wars" and she believes that none other than Ares is behind it. Though her mother forbids it, she takes the most powerful weapons and leads Trevor to a boat that will take them off the island. Of course her mother finds out but relents - telling her daughter that leaving the island means she can never come back.

Thus we follow Diana to our world - one that relegates women to subservient roles and won't even let them vote or serve in the military. Diana is aghast at how the leaders run things and vows to track down the German General Ludendorff (Danny Huston), the man she believes is the embodiment of Ares. He is colluding with a woman known as Doctor Poison (Elena Anaya), who is developing horrific chemical weapons that will not only turn the tide of war, but likely wipe out millions more. With the help (and money) of the sympathetic Sir Patrick (David Thewlis). Trevor hires on some help: the actor-turned-con man Sameer (Saïd Taghmaoui), the haunted marksman Charlie (Ewen Bremner) and smuggler extraordinaire The Chief (Eugene Brave Rock) in order to launch a mission to The Front in Belgium, ultimately finding out where Ludendorff is hiding his chemical weapons lab and putting a stop to it before they can finish their new formula.

Wonder Woman does not lack for action. From the early battle on the Amazon beaches to a one-woman assault on the trenches and saving a small town - Gadot shines, looking every bit the part of a super heroine. But she's not only good in the action role, when she is arguing about the cost of war and the brutality of man, she is just as convincing. This is an actress who can hold her own among a genre that is dominated by men. Don't get me wrong, Pine makes a fine companion - equal parts swagger, charm and just being a regular guy. The villains could have used a bit more development, but, overall, the characters worked for the most part.

Wonder Woman makes me have hope that the DC universe can still be saved. I wasn't disappointed like Suicide Squad. If anything, I was even more impressed than I thought I would be. We won't have to wait too long, as November is going to bring us Justice League and we'll see if bringing the whole gang together works as well.