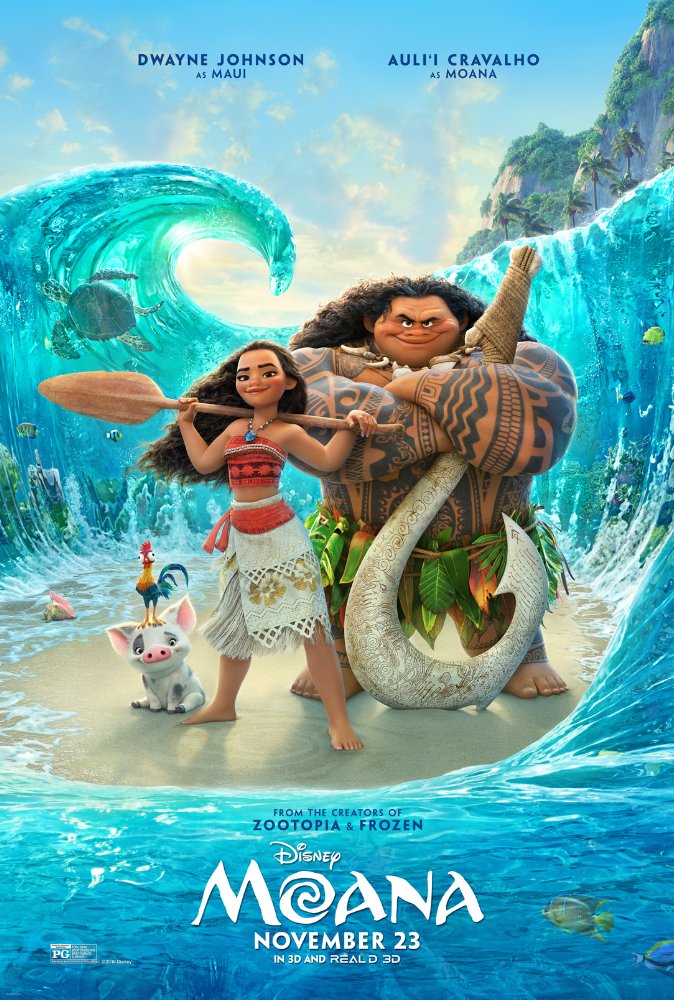 Moana (2016)
Strength of the Sea, Beauty of the Islands
Chris Kavan - wrote on 03/08/17
Disney has had no trouble in the past providing plenty of princesses on the big screen but it's often the lead characters who need saving. In the past few years, however, it has been the princesses turn to do the saving - with films like Tangled, Brave and Frozen giving the lead females a chance to shine. Moana is a continuation of this trend and may be one of the strongest roles yet.

Unlike many previous Disney films, Moana is not based on any previous source material. It does gather much of its story from Polynesian tradition and legends, but its very much its own story. In this case, Moana grows up on an isolated island community where everyone is happy but everyone also has their place. As the daughter of the chieftain, Moana is expected to lead her people one day, despite the fact she is drawn to the ocean and wants to explore what is beyond the reef, even though this is expressly forbidden. Her free-spirited grandmother seems to be the only person encouraging her to follow her own path - and when she shows Moana a long-hidden secret, it gives her the courage to finally break out and explore.

Her story is much deeper than a need for exploration, however. When she was just a child the ocean chose her to be the one to return the precious heart of the goddess Te Whiti, stolen long ago by the demigod Maui, to its rightful place and stop the blight that has now spread to her island. In order to do so, she will have to find the trickster demigod, convince him to accompany her on the journey and face the fire demon Te Ka.

The film benefit greatly from casting as the young, talented Hawaiian native Auli'i Cravalho brings both attitude and emotion to the role of Moana. Likewise, Dwayne Johnson does a great job of presenting Maui as both a boasting braggart but also a character trying to face a rather dark past. Thanks, in part, to the talent of Lin-Manuel Miranda (before Hamilton made him a monster star), the music is also a treat - and who knew Johnson had such a good singing voice? In any case, Rachel House, Temuera Morrison and Nicole Scherzinger make the main cast one of all Polynesian-descent, an impressive score on its own. Jemaine Clement is also on hand as a swarthy, loot-encrusted crab (apparently partly inspired by David Bowie) while the oft-included Alan Tudyk voices a mentally-challenged chicken (voiced is a strong word - this isn't a magical talking chicken, just a regular one, with a death wish and possible brain damage).

The talent is there and the animation is great - from the water to creature design to characters - Disney even used traditional hand-drawn animation for Maui's tattoos. It's a very good use of both the old and new animation styles. The film also does a good job of making things light and fun but still giving it an emotional weight. That is also something that they have gotten good at and only seems to be getting better as each film comes along.

Moana is truly a fantastic family film, a great inspiration (especially to young girls) and highly entertaining. If Disney continues to provide quality content like this, I don't see why they won't continue being the top studio around for a long time to come.