2.5/4

3/4

2.5/4

3.5/4

2.5/4

2.5/4

3/4

2.5/4

4/4

3/4

2.5/4

2.5/4

3/4

3.5/4

2.5/4

3/4

2.5/4

3/4

3.5/4

3/4

3/4

2.5/4

3/4

3.5/4

2.5/4

Next 25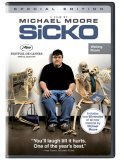 Sicko
Sickening in the Right Way
3.5/4 stars
You should know by now what to expect when going into a Michael Moore documentary. He is completely one-sided, but despite his leanings, he has a remarkable way of presenting his argument that is both humorous and yet tragic.

Now, being objective, I'm sure there are horror stories from Canada, England and France regarding their health systems, but Moore makes it clear that America would greatly benefit from some form of universal health care. It's like comparing the slums of New York to some Hollywood mansion. Heck, even Cuba is shown to have a better system.

Our entire systems is bass-ackwards. I don't care how big or rich a drug company or any other organization is - just because you throw a bunch of money around shouldn't mean you get what you want, but because we're so focused on money (and getting more of it) that's just how things are and, unfortunately, I don't think it's going to change anytime soon. Democrat or Republican, it really doesn't matter what your views are. As long as Washington allows itself to be bought, there isn't going to be any real change.

On a personal note, I can totally equate to this documentary, albeit on a much smaller scale. I woke up a few months ago in the middle of the night with a sharp pain in my side. It didn't go away so I went to the hospital where I was diagnosed with a kidney stone. Serious? Not really. Painful? Totally. I was given some morphine, got a scan to make sure there wasn't a bunch more, got sent home.

I do have insurance. Stil, what I would consider a relatively simple procedure added up to over $3700 - and even with insure I still paid nearly $1500, and even more for a visit to the local clinic for a much-overdue physical.

After watching this, I have to wonder - what would have happened if I hadn't had insurance. Would they have even treated me? Something as painful, yet non-threatening as kidney stone can cost nearly $4000 - what if I, or someone in my family gets cancer or diabetes or Parkinson's or any number of serious illnesses. How many hoops will they have to go through - will they even be covered?

No system is perfect, but I have to think that Moore is on the right track - America needs to change it's system. It doesn't have to be a revolution, but there has to be something better than this.