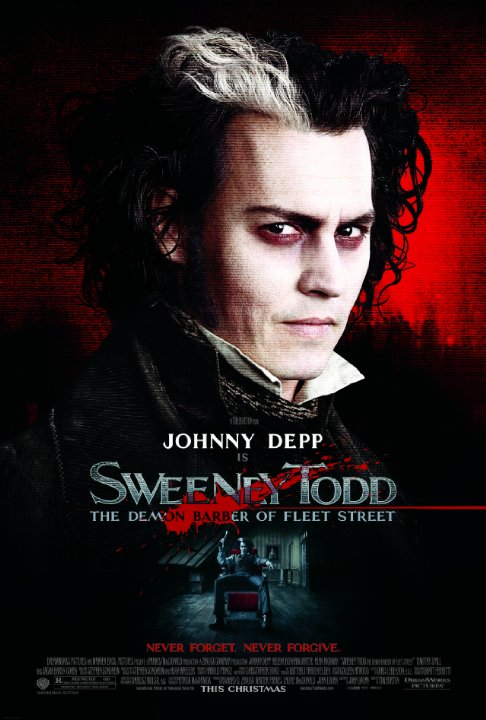 Sweeney Todd: The Demon Barber of Fleet Street (2007)
This film is a absolute masterpiece
filmfan09 - wrote on 02/25/09
It has everything that I look for in a film. It made me feel absolutely fantsatic. It is a film that isn't just gruesome and emotional but it is a real kick-ass style that not very many Tim Burton films have. It is very emotional because of how Barker was sent away and what happened to his wife and daughter. Also, it is why he has changed his name and why he is obsessed with killing Turpin for revenge. I find it a real kick-ass film too because all of the characters are so powerful. The awesome dark colors used and the great dialogue is well written.

Johnny Depp delivers in my opinion his greatest on-screen performance he has ever done because it was a very powerful character. It was the first time that Johnny has portrayed a villain but after watching this film, I realised how good he can be as a villain as well as a hero. I loved his character. Johnny's singing was absolutely superb for his first time at it. My favourite songs are: No Place Like London, My Friends, Pretty Woman, Epiphany, A Little Priest and Johanna. I think this has to be Helena Bonham Carter's best performance as well because Helena was the exact perfect choice for Mrs. Lovett. Mrs. Lovett is a serious character but is a very mysterious, odd, random and unusual woman to come across which is literally what fits perfectly for Helena because she has portrayed odd and bizzare characters in the past. Helena's singing was absolutely brilliant too. Alan Rickman was awesome too because Alan has always had that slithery, slimey personality in all of the characters he has portrayed.

I LOVED Tim Burton's direction. I was fascinated by Tim's communication with Steven Sondheim who wrote the lyrics for the songs of the play which were used in the film. I think that this is Tim's best filmed motion picture because he makes his darkest creation yet and has been creating new designs and different camera angles from high views and zooming in and out views too which is very new of Tim. I loved the written screenplay but it wasn't adapted. It was the same writing from the play. The songs are all very dark. There have been a lot of sunny, warm-hearting musicals in the past but this film showed that there can be dark musicals from now on but has to be well made, well written, well directed and have descent actors. Comparing to other Tim Burton films, this film is mostly similar to Sleepy Hollow because they both are very dark stories with dark sceneries, make-up and art direction. Also there both very bloody.

Recent Comments