4/4

4/4

0.5/4

0.5/4

4/4

0.5/4

3/4

1/4

1.5/4

3/4

2/4

4/4

4/4

3.5/4

4/4

4/4

4/4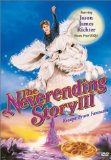 The Neverending Story III: Escape from Fantasia
TORTURE
0.5/4 stars
OH HELP ME!!! I WATCHED THIS TORTURE! I AM HAVING A SEVERE HEART ATTACK! THE ONLY CURE IS FOR ME TO DESTROY THIS!
Yep, that's what happened with me.
The Neverending Story III: Escape from/Return to Fantasia (stupid titles) is one of the worst films of all time and is PURE GARBAGE!!!
Reasons to strongly hate this movie:
1. Crappy story.
2. Messed up characters.
3. TORTURE TO YOUR EYES!!!
4. No Atreyu.
5. Very bad acting.
6. Crap development.
7. Stupid dialogue.
8. A big disaster is what this is.
9. AN INSULT TO THE ORIGINAL!!!!!
10. MAKES THE SECOND FILM LOOK GREAT!!!
11. Sickening scenes.
12. SO MANY PROBLEMS THAT SO MANY PROBLEMS IS A PROBLEM WITH THIS FILM!!!
When I saw that Jack Black and Jason James Richter were in it, I actually thought that this would be a good film. BUT NO!!!
If you watch this film, you might have nightmares.