4/4

4/4

0.5/4

0.5/4

4/4

0.5/4

3/4

1/4

1.5/4

3/4

2/4

4/4

4/4

3.5/4

4/4

4/4

4/4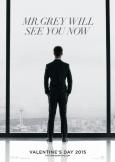 Fifty Shades of Grey
Bad Romance
1.5/4 stars
Sigh. Ugh. I have to review this idiotic film! WHY?!
Fifty Shades of Grey (more like Fifty Shades of Bullcrap "romance") is a horrific movie that's an adaptation of a novel with the same name. Wow! There was already a book about this dumb love, but they had to make a movie about it, didn't they?!!
Watching this almost made me throw up on the screen, even though I was sitting in the far back row of the theater. Yeah, I know, right?
Anastasia Steele makes the stupidest choice of her life: falls in love with Christian Grey who she only interviewed him!!! SHE FALLS IN LOVE WITH A MAN SHE HAS NEVER SEEN BEFORE AND WASTES HER LIFE ON HIM?!!! AND GUESS WHAT: THEY BOTH WANT A WILD RELATIONSHIP WITH EACH OTHER!! OH GOD!!!!!
Honestly, do we really need to see strangers making so much "love" with each other? NO!