3/4

2.5/4

2.5/4

2/4

4/4

3/4

3/4

2.5/4

3/4

2/4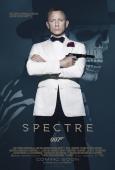 Spectre (2015)
All Build Up to a Snoozer Climax
2/4 stars
I'm all about Daniel Craig and would love to be a Bond girl - either the badass version or just the eye candy haha I don't care, sign me up! But wtf this movie bored me to tears! I wanted to like it, especially after the really amazing opening scene, but so much of this movie just draaaaaggs. A lot of the story is Bond trying to figure out who's behind some secret organization. It's kind of fun following along with him, but it doesn't lead to anything exciting. The payoff is SO WEAK. Plus, they try to force this whole weird backstory between Bond and the bad guy that just feels like it's from another movie/franchise.

Craig was good though imo. I know he got a lot of hate for it after saying the "I'd rather slash my wrist than do another Bond," but I thought he was still good. He seemed to be having fun with it, while still being a badass and well...hot as shit haha #crush. But yeah, the movie itself just never really amounts to anything. Beautiful locations though, but the action sequences in them are kinda lame.

I wanted to like it so much more than I did. Sad face!