1/4

0.5/4

0.5/4

2.5/4

3/4

2.5/4

2/4

1/4

3/4

0.5/4

0.5/4

2/4

3/4

1.5/4

1.5/4

3/4

1.5/4

3/4

3.5/4

3/4

4/4

1/4

1.5/4

2.5/4

3/4

Next 25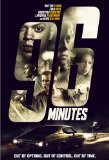 96 Minutes

2/4 stars


A realistic look at the sometimes hopeless life for some in the U.S. It's typically again a story of a boy out of the slums who WANTS to do it in another way, but through circumstances ends up on the wrong path again.
The camera work didn't bother me. It's now standard that images have a twitch. It seems as if the cameraman constantly works with a hangover. It annoyed me lots of times in the past and eventually I have reconciled myself to it.
The acting usually wasn't that bad nor excellent. The various story lines with flashbacks interwoven throughout made it sometimes difficult to follow, but eventually all the pieces of the puzzle fitted.

Not bad, but not top.