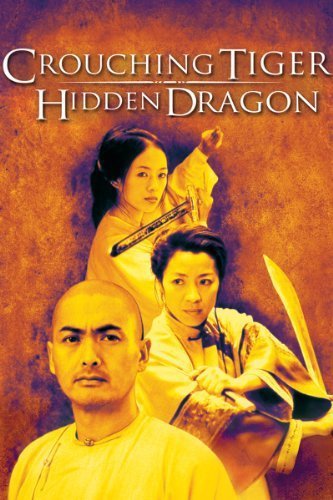 Crouching Tiger, Hidden Dragon ( Wo hu cang long )
A good story, but bad special effects
The M.O.W. - wrote on 08/02/08
A Mudan warrior (Chow Yun-Fat) gives his sacred, yet blood-tainted sword to his love (Michelle Yeoh) in an attempt to ease his mind after experiencing a vision. He tells her to take it to a friend of his.

She, however, decides to keep it for him, and it gets stolen by a ninja. The warrior sets off to get it back, fearing it was stolen by the one who murdered his master. So he sets off to find his sword, and to avenge the death of his master.

The movie is beautifully shot, with fast-paced fight scenes. The fight scenes are simply amazing, despite it is quite obvious that the ones doing these gravity-defying stunts are in a harness and propelled by wires. If you ask me, the harness makes much of the movements very awkward and limited.

The wardrobes look very authentic, as does the sets. There are mostly earth-tones, and not many bright colors in the sets or clothing.

I saw the movie dubbed into English earlier this morning on Starz. If you ask me, the English actors did a good job in conveying the lines nearly perfect. None of the voice-overs were over the top like the 1960's "Godzilla" movies. Also, the voice-overs appear to be in perfect sync with the movement of the lips of the on-screen actors. I didn't see any on-screen actors stop talking and the English translation of what they said continue as the camera angle changed.

From what I could tell, the on-screen cast were real good in their roles. They made the characters believable. From the looks of it, for the most part, none of the main cast used a stunt double. For those who had to do the high-speed fights, which did not look as if they were sped up, they must have been in amazing shape to not look like they were wearing out too quickly.

A nod has to go to the director and editor. Both did a good job at putting together this movie. The editor has to get a bigger nod due to having to put together the fast-paced fights with the multiple camera angles he had to pick from to get it the way the director wanted.

The movie moves fairly slow many times, and many scenes drag too long. The fight scenes, though impressive, seemed a little too short at times.

I wouldn't put this on a "Must See" list, but I would say this would be a pretty good second choice the next time you go to your local rental place.