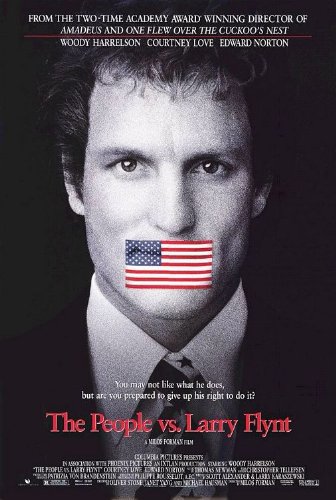 The People vs. Larry Flynt
A bit weak,, but okay
The M.O.W. - wrote on 08/01/08
"The People vs. Larry Flynt" is the story of adult magazine publisher, the controversial Larry Flynt and his fight to publish what he wants under the rights of the US Constitution.

The movie moves very slowly, and does not catch the viewer. However, the performances are pretty good.

It takes it's time to go through the early life of Flynt, and plods through key parts of his story. This has to be one of the slowest movies I have ever sat through.

Character development is pretty weak, but because of the fact that many of the people depicted are public figures, you are suppose to know these people. There are, however, many people you don't know anything about, and the movie doesn't explain how these people came together.

It is the performances that carries this film. Woody Harrelson is very good as Flynt, and Courtney Love does a very good job as Flynt's wife. In my opinion, Edward Norton shines as Flynt's lawyer -- especially in the pivitol scene in the "US Supreme Court".

Two performances that should have been seen more are those of Richard Paul and James Cromwell. Both give two of the best performances in this movie and could have stolen many scenes.

When it comes to visuals, this movie isn't one of the most memorable movies. It is a trip to see the 1960s fashions, as well as the visual decline of Love's character.

In my opinion, this movie is nothing more than a pretty good rental.