2/4

1.5/4

1.5/4

2.5/4

2.5/4

3.5/4

2.5/4

3/4

1.5/4

4/4

2.5/4

3/4

3/4

3/4

3/4

2.5/4

0.5/4

1.5/4

1.5/4

2.5/4

2/4

2.5/4

2.5/4

2/4

3.5/4

Next 4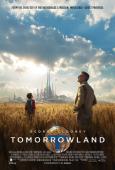 Tomorrowland
A nice turn to a What IF
2.5/4 stars
Imagine a world where the brightest, smartest, most ingenious individuals were allowed to create and invent without the fetter of oppression or finances or other limitations. What do you suppose that world would look like? Would it be a utopia? A scientific and cultural haven of wonder and amazement? Tomorrowland starts off with this premise being not only feasible but the place exists in a secretly accessed subdimension. The question the movie poses is, with world wide catastrophes becoming more and more probably as mankind ignores the warning signs and does nothing to fix it (global warming, food shortages, water shortages, mass new diseases, nuclear war etc etc.) Is there still cause for hope and dreams?
Frank Walker (George Clooney) is the jaded adult that used to believe, who eventually runs into Casey (Britt Robertson) the optimistic teen and the two endeavor to save their futures with the help of Athena (Raffey Cassidy). All three portray their characters well enough to make you want to believe in them. Which is good because sometimes movie writers tend to make the teen too 'teen angst' ridden and cliche'd. This too applies to the younger version of Frank (Thomas Robinson) in that he easily could have overdone the exuberance the character exudes. I appreciate the subtle difference and thank the director for giving the audience some credit for having a brain of our own.
Speaking of the director, Brad Bird, has shown to have a deft hand with this type of expression. Able to give minor commentaries and bring up thoughts and issues in family adventure films. While at the same time allowing them to stand on their own without making those thoughts and issues the main drive of the movies. He also directed two of my other favorite family films (animated) "The Incredibles" and "Ratatouille".
Although the basic behind the story line philosophy is a bit hit over the head, taken as a light adventure with a very good representation of a what if future turns this movie into a mildly enjoyable viewing for the whole family.