3.5/4

2.5/4

3/4

1.5/4

3/4

0.5/4

3/4

3/4

4/4

3.5/4

3/4

3/4

3.5/4

3/4

3.5/4

1.5/4

1/4

3/4

2.5/4

1/4

0.5/4

1.5/4

1.5/4

3/4

3.5/4

Next 25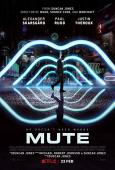 Mute

2/4 stars
'Mute' is a beautiful disjointed mess, especially in tone. Netflix movies are like airplane food when it come to cinema. I'm disappointed.

I know it's been rough for Duncan Jones in the last couple of years with his wife (Rodene Ronquillo) diagnosed with cancer and the passing of his father (David Bowie), and now this. It's incredibly sad that Duncan passion project couldn't live up to his vision. The ideas were there, but nothing panned out. I still look forward for what he makes in the future and hoping things work out for him.

Needs more Sam Rockwell thou.