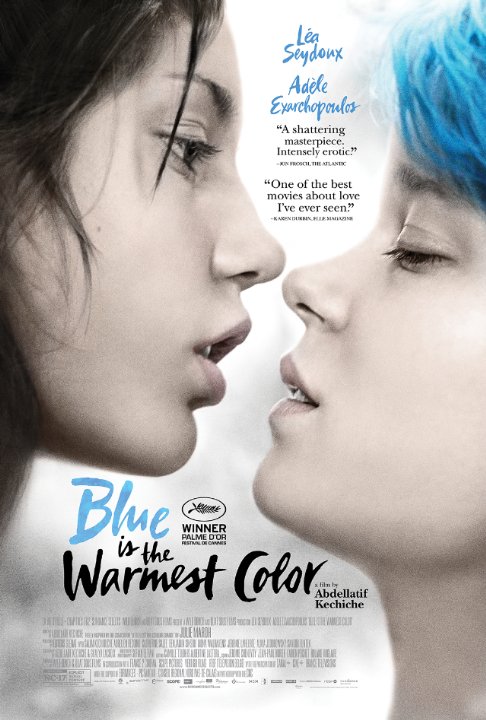 Blue is the Warmest Color ( vie d'Adèle, La )
A great movie that's worth checking out
Matthew Brady - wrote on 05/03/15
This is one of those movies you should never watch with your parents because it will be awkward and you don't want them to question you about it.

The story to Blue is the warmest Color is about a young lesbian couple from inception all the way through to one possible end.

Wow this took me a while to get around to watch this movie I mean originally I was going to watch this back in 2013 but at the time I was busy and after a while I forgot about the movie, until this year I finally watched it and wow let my just tell you that this movie is brilliant and I'm not just saying that because of the sex scenes, I really do think this is a real and honest look at young age sexuality.

Adèle Exarchopoulos and Léa Seydoux both give Oscar worthy performance in this movie that's how good they were. Now one of the actress Adèle Exarchopoulos that I never seen before in anything until this and I got to say that she is a actress I would like to see in more roles showing off her talent. I have seen Léa Seydoux before in movies like Mission Impossible: Ghost Protocol, Midnight in Paris, The Grand Budapest Hotel and Inglorious Bastards, and just like I said about Adèle Exarchopoulos I would like to see Léa Seydoux in more movie and well she is going to be in Spectre so there's that.

The director of the movie Abdellatif Kechiche directs this movie so incredibly well and so magnificent that he understood teenagers today how they really act. It wasn't like Hollywood movies that normally get it totally wrong and have no clue on what teenagers are like today because Hollywood are just a studio with their heads up their own ass and have no clue on reality, then comes this movie that's not from a big Hollywood studio but from a different country and a different director who actually have touch of reality on it's characters and how young people discovering their sexuality, and that's why Abdellatif Kechiche pretty much made this movie work.

Now I hear a lot of people saying that this movie is basically porn with the two lesbian and them having...you know what I'm talking about. Now here's the thing porn is basically not real and what I mean is that the actors are getting paid to do they business and the whole meaning of porn is to watch these people who probably don't know each other or don't really like each that much but they have sex anyway and after the video is done they get paid and off they go. Blue is the Warmest Color dose have sex scenes that you would find on PornHub if I have to be honest but it's more than just, the movie brilliantly shows a relationship, a break up, how much they love each other or do they love each other. It's things like this that isn't rocket science to work out and some people are making false arguments over pointless things in movies, some people are so stupid sometimes.

The writing was realistic and brilliant, the movie is 3 hours long and it flew by me just like that.

Now for problems: I haven't got that much to say when it comes to problems but if I have to really think of the things that I didn't like is that there are some scenes that I felt didn't really belong there and felt a bit fill, and that's it for problems, you see how small my problem was.

Blue is the Warmest Color may not be a easy watch for some people but it shows a realistic look on sexuality and young people today that I think is what makes this movie great from start till the very end.