3/4

2/4

3.5/4

2.5/4

3/4

1.5/4

3/4

0.5/4

3/4

3/4

4/4

3.5/4

3/4

3/4

3.5/4

3/4

3.5/4

1.5/4

1/4

3/4

2.5/4

1/4

0.5/4

1.5/4

1.5/4

Next 25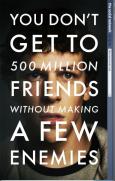 The Social Network

3.5/4 stars
Tyler Winklevoss: "Woops. Broke your 350 year old doorknob".

The social Network follows Mark Zuckenberg, Sean Parker and Eduardo Saverin as they create Facebook, which has since become the web's most popular social network.

David Fincher directed this movie in a way that the movie could have been boring or uninteresting, but Mr. Fincher and the writers to this movie made it worked. The acting in this film is spellbinding and the story is top notch. The movie does slows down at times but that didn't stop me liking the film.