4/4

3/4

3.5/4

3.5/4

3.5/4

3.5/4

4/4

3.5/4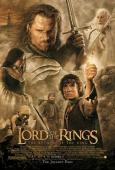 Lord of the Rings: The Return of the King
Best in trilogy
4/4 stars
I have to say. I was kinda worried about this film. The first film was a 90% for me and I expected the second to be at least a 95-98%. This movie ended up being one of the most beautifully done cinematic works of art that I have experienced with my own eyes. Where can start. How bout with Viggo Mortenson. He was phenomenal and that is not an exaggeration in his final performance of the Trilogy. His

"Hold your ground, hold your ground! Sons of Gondor, of Rohan, my brothers! I see in your eyes the same fear that would take the heart of me. A day may come when the courage of men fails, when we forsake our friends and break all bonds of fellowship, but it is not this day. An hour of woes and shattered shields, when the age of men comes crashing down! But it is not this day! This day we fight! By all that you hold dear on this good Earth, I bid you stand, Men of the West!" was probably one of my favorite monologues ever done in a movie and is perhaps as good if not better then the "Freedom" Speech from Braveheart. He made it extremely believable that his character was the true king of Gondor.

John Rhys-Davies and Orlando Bloom conclude their roles of Gimli and Legolas the dwarve and elf orc killing dream team in an amazing fashion. Legolas's stair boarding orc killing spree in the Two Towers was probably my favorite seen in that movie and was only equaled by his taking down of the Elephunt by climbing arrows lodged in its hide killing its controller and then sliding down its tusk. Gimli of course was the short comic relief of the Man,Elf and Dwarve trio.

Dominic Monaghan plays the most important role yet in a lord of the rings movie when his character Merry is forced to save Eowyn(Miranda Otto) from the Nazgul king. When he stabs him and writhes back in pain you can get a sense of realistic agony from him. Billy Boyd plays his trouble making friend Merry who in the third movie starts off doing an idiotic thing by messing with the palantir. He then has to go to Minas Tirith with Gandalf for Sauron thinks he has the ring.

Now to Ian Mckellan. Little is appreciated of how big of a player Gandalf really is. If Sauron was controlled one side of a giant chess set Gandalf would be controlling the other. Whether it was indirectly leading to the death of Denethor or urging on Aragorn to his destiny Gandalf was an influential player and I believe if fantasy films actually got Oscar Nominations for Acting Ian Mckellan would be the one to get one.

Now to the other small roles before getting to Frodo and Sam. Bernard Hill(Captain Smith, Titanic) was very good in this film and gave the second two kick ass Braveheart speeches in the movie. His acting in his death scene was very emotionally binding and made it easy to invest emotion in. Also his moral dilemma of helping Gondor was a daunting element of the film. David Wenham(Dilios,300)was also phenomenal in his second appearance in the three movies as the under-appreciated son of Denethor and leader of the defense forces guarding Osgiliath. His acting made it easy to take his side over his father and I loved him for it. Karl Urban has less of a role but finishes his job as the nephew of Theoden in an awesome fashion.

Finally Elijah Wood does an amazing job showing us how as Frodo how both the great burden of the long journey and the power the ring are effecting him. He is so good in this role and it is almost like his acting has grown through the trilogy. Sean's acting talent seems to have grown as much as the bravery of his Character Sam over the trilogy. This evidenced with the killing of Shelob the spider queen, the killing of the Orcs in Cirith Ungol, and the rescuing of Frodo. His final act of bravery was carrying Frodo into the inlet of mount doom where the ring was to be destroyed.

Finally Andy Serkis finishes out this cast with his role as Gollum the jealous, emotionally comprised and multiple personality stricken former river men. He finally shows his true colors and in my own opinion gets what is coming to him.

The storyline is plausible and effective. The transition from book to movie is flawless and things like the CGI with the army of the dead and the beauty of the New Zealand landscape all add amazing elements to this movie that make it so good. I give it a 100%.