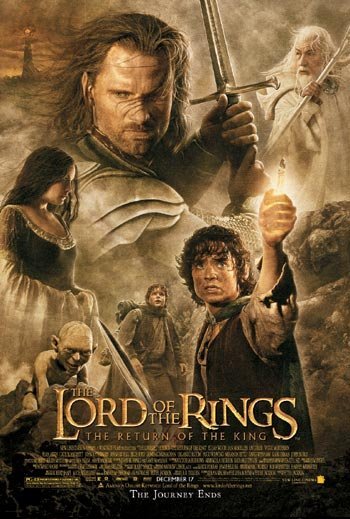 Lord of the Rings: The Return of the King
Makes the other two look modest.
memento_mori - wrote on 08/09/13
Spoilers

The Lord of the Rings: The Return of the King is considered the best of the trilogy, and for good reason.
It has all the good stuff of the last two movies blended together in this conclusion. It has the great characters again, the better developed journey, a better filled runtime and was one of the greatest endings to a trilogy ever. Plus, this time bigger is better.

But with a lot of greats also come some problems.
A lot of people have brought up the flaws, the main one being the trillion endings. And I agree.
The way the film concluded left me irritated. Whenever it looked like it was going to end, the black would fade into another scene again. And honestly, they could have left it at the first fade to black. The ring was destroyed, Frodo and Sam had found peace and it looked like they were dramatically destined to die in the newly erupt Mount Doom, but then the eagles cut in and carried them away. That completely broke the feeling for me. The way those last ten minutes were filmed and acted had me on the brink of crying. And then it was interrupted by the actual five other endings.
Maybe the makers were afraid to end it?

Well, putting that aside, I have to say this movie was a huge improvement over the second. It had the battles, it had the drama, it had the 'YES!' moments and it had the general adventurous feeling of Lord of the Rings, topped with an incredible score to help them finally achieve their much awaited goal.
It was the first one, but multiplied by three.
I was afraid that they wouldn't have been able to pull off the ending of the adventure, because so much had been built up to it. But this trilogy has solidified itself as one of the best in its own right.
Peter Jackson just knew what he was doing and expressed his vision of the books wonderfully.

This one was worth the wait of two movies.