2/4

3.5/4

3.5/4

4/4

2.5/4

2/4

2/4

1.5/4

1.5/4

4/4

2/4

2/4

2.5/4

3/4

0.5/4

1/4

3.5/4

3.5/4

4/4

2/4

3/4

3/4

4/4

3/4

4/4

Next 25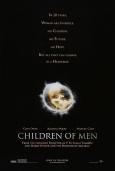 Children of Men
Unexpected masterpiece.
4/4 stars
This is not only (possibly) the best dystopian future movie I've ever seen, but it's also one of the most underrated I've ever seen.

Considering this movie landed tons of Top 10 lists of critics in 2006, I should not call it underrated. More overlooked over time.
Alfonso Cuarón is a very dark-toned director with a simple style that I really like. I loved his take on Harry Potter.
The camerawork in this movie is amazing, often are many of them just one shot. That is exactly what I like. No jump-cuts and quick edits. Just letting it roll solidly. A shot in this movie lasts a whole 4 minutes.
This is Clive Owen's best performance (at least his best that I've seen). His character is not only fleshed out well, he is given purpose. He is given emotions and sacrifice.
Julianne Moore and Michael Caine play good side-characters. Great performances from both of them as well.
The script is brilliant. Even just the premise. A dystopian world where women can't have babies anymore. There is so much to explore, and finally, thankfully, a movie with such a wide range of opportunities doesn't keep a low key. It gets dirty and has a blasting climax and ending. That is what I want out of a good sci-fi flick.

I wasn't expecting much when I watched this. I was just looking for something to pass the time, and that might be part of why I like it so much, because it exceeded expectations. I love it when a movie that has barely been advertised or popularized does that. Hit you in all the right spots when you least expect it.

When I least expected it, I got a near-perfect movie. This movie is as rewatchable as it is dramatic, well-scripted and I applaud it for not being afraid to explore the various challenges a movie of this genre offers.