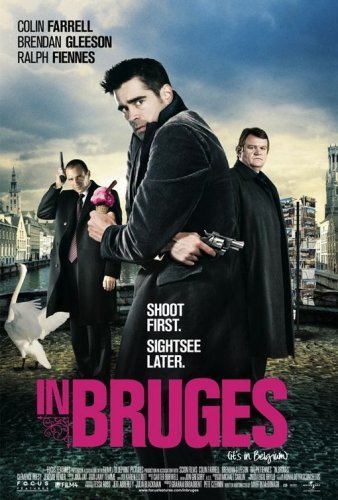 In Bruges
Why is this not more popular?
memento_mori - wrote on 07/04/13
Just like Pulp Fiction, this is a film that contains everything I love: Beautiful pacing, authentic acting, dark comedy, witty dialogue and characters you can care for.
Colin Farrell is literally on fire in this movie (but not literally). He is funny, he is heart-warming, he is dramatic, he is a great actor. I just wish he would pick a few more scripts like this one.
His character is burdened with guilt for an act he committed (which I will never spoil to anyone), and he really knows how to show this guilt. The scene at the park almost made me cry.
Equally awesome in the role of Ken is Brendan Gleeson.
Who knew simple piano compositions could work so powerfully? The music is so little and understated, but it has a dark undertone and a hint of cunning and what I like to call 'tip-toe music', as seen in some Spielberg films as well such as Catch Me If You Can and The Terminal.
Bruges is shot absolutely beautifully by director Martin McDonagh, who won the Oscar for Best Short Film in 2006, also starring Gleeson. There are so many great shots in this film. The lighting, the atmosphere, the use of focus, even something as simple as a person exhaling into sub-zero degree air was visually stunning.
What this movie does perfectly is mesh silly British humor with drama. I've never seen it done this well, and when it could have gone wrong in every way, it did it better than ever.
What it also does perfectly is the question it asks: How can guilt be overcome? How can punishment and banishment into purgatory be of help?
As for the much-discussed ending shot, I will say this much: It couldn't have been done more perfectly. Think about the last line of the movie.
I keep using the word 'perfect', but I struggle to search for adjectives to describe this film's sheer depth and the things it has to say.
It's an analysis of life, death, right and wrong, guilt, principles and Karma.

It's a movie that will make you laugh your a** off and still contains a scene that can make you cry. That's one of many reasons to see In Bruges.