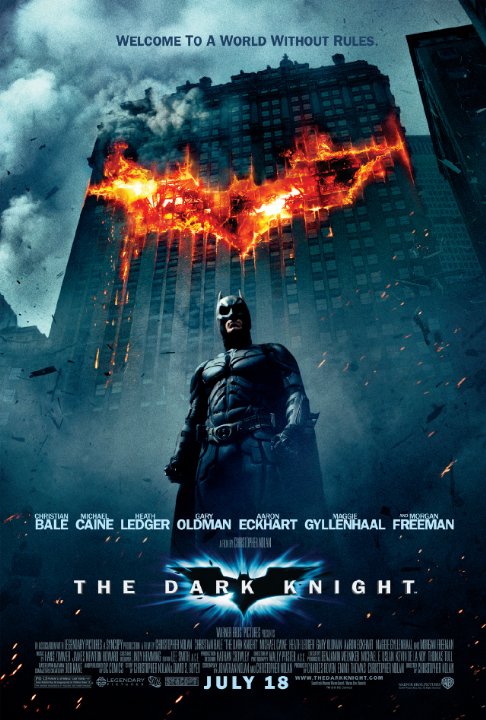 The Dark Knight
No witty title required.
memento_mori - wrote on 07/03/13
After Batman flew off the rooftop after witnessing the Joker card in Batman Begins, a sequel was awaited. The hype was higher than Snoop Dogg (*Badum Tss*).
But the wait payed off… Big time.
Back in Gotham, Batman is in full effect. He is an organized person of justice, going on missions nightly, as we see in the first few scenes.
The movie is structured so well. The prologue puts us right into our new villain's work and from there, we get one of the best stories put to screen, with some of the most menacing character relationships and threatening plot points. The Dark Knight exceeded the expectations of a normal Batman film. This had crime, gangsters, an actual city, a hero and a villain.
There was always something around every corner, with so much going for it and it worked.
So many characters and plot points are introduced, and yet all the pieces go together solidly.
Heath Ledger deservedly won the Oscar for Best Supporting Actor posthumously (RIP), because that is what a villain should be in a movie. Creepy, threatening, calculating, crazy.
Although it at times has pacing issues, as well as many different endings or places where they could have ended the film, it succeeds in telling you every underlying message.
Christian Bale, as always, is incredible as Bruce Wayne in his ongoing quest for good.
It's difficult to sum up this movie, because there's so much to mention.
Everything just works so well. The chemistry between the characters, the cinematography and direction and the whole tone of the film baffle you all the while throughout this film.

Ripe with some of the best action put to screen, baffling acting and direction, awesome quotes and dialogue and something to look forward around every corner, The Dark Knight is definitely one of the best sequels of all time with one of the best villains of all time.