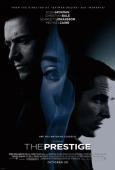 Prestige, The (2006)
'You want to be - fooled.' - The Prestige
4/4 stars
A true masterwork. The Prestige is dark, atmospheric and expertly crafted. Hugh Jackman and Christian Bale give some of the best, most nuanced and shifting performances of their careers. It is - by my mind at least - for all intents and purposes Christopher Nolan's best film and greatest achievement.

Yes the Batman films and Inception as well as Momento are all wonderful pictures and they are crafted expertly. However I firmly believe that none of Nolan's films gel as well as this - the one about rivalling magicians, towering ambitions, lost loves and damning obsessions.

Also some wonderful supporting performances from Michael Caine, Scarlett Johansson, Andy Serkis and David Bowie. Oh and also Christian Bale and Hugh Jackman for their supporting roles... or fifty. ;)

The direction, acting, cinematography, writing, score, set design, costuming... everything about it, could not possibly be any better than it already is. This is a film at the very pinnacle of the art-form. A stunning work. A classic.