3/4

2.5/4

2/4

1.5/4

2/4

3/4

2.5/4

2.5/4

4/4

3/4

3/4

2.5/4

3.5/4

3/4

2/4

2.5/4

3/4

3/4

2/4

2.5/4

1.5/4

2.5/4

2.5/4

4/4

2/4

Next 25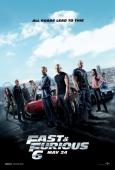 Fast & Furious 6
Awesome Action
3/4 stars
The "Fast" franchise is seriously going to miss Justin Lin. He, in the span of four movies, has transformed a lame little series of movies about cars into a series of giant event blockbusters. Apparently "Fast 6" is Lin's last entry; maybe next he'll save the Pirates of the Caribbean franchise or salvage The Transformers movies. Michael Bay certainly could use a few tips from this guy.

Fast 6 works in much the same way that that Fast 5 did. The movie never takes itself too seriously, but still does a good job making its characters likable and establishing they're motivations and personalities. It knows how to stage an Acton sequence, and most importantly, when to end it. Sure the physics defy all logic, but that's exactly what makes it so much fun.

Luke Evans role as the villains stands out especially. He has a lot of fun in the role, and it's incredibly enjoyable to watch what he does with his character. At the end of the movie (spoilers) Evans character dies; I was very disappointed by this; mostly because I wanted to see hi again in Fast 7.

Fast and Furious 6 is the best F&F movie yet. As long as you don't mind a little bit of stupid mixed with your action, you should enjoy Fast 6 fine. It may not be particularly intelligent, but to make a Fast and Furious movie that's serious is to completely miss the appeal of the franchise, namely, awesomeness.