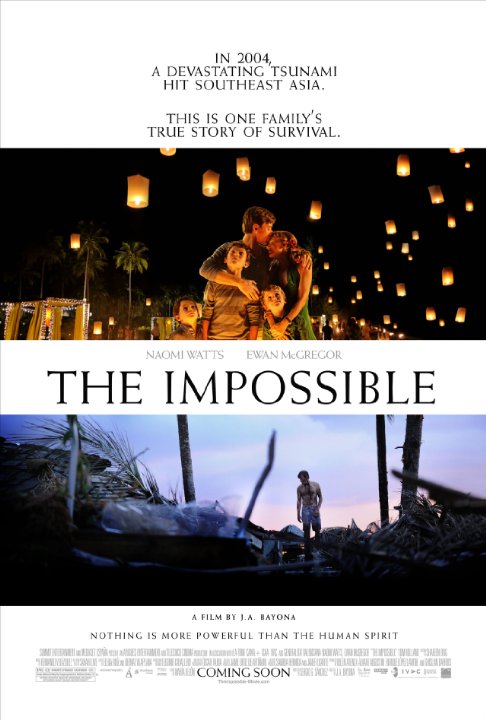 The Impossible
Great feel good movie
Lee - wrote on 02/06/13
I want to start this review by saying that if you are in a time in your life where you think everything is bad have a look at this film as it will make you feel that things aren't really that bad. Definatly the feel good movie of 2012.

When i originally heard via Cnn in 2004 that on Boxing day of all days, that a 30ft Tsunami had hit the asian islands i could not believe my eyes as to the catastrophe that ensumed the eastern peninsula also the death toll was nothing short of astronomical with the huge wave leaving 230,000- 280,000 dead in it's wake. The worst mother nature disaster in history.

The Impossible is based on the true life story of Maria Belon, a spanish physician (Although she was portrayed by english actress Naomi Watts who is nominared for best actress for it) who whilst on a family vacation with her husband and 3 boys in Thailand actually was in the middle of the Tsunami when it first hit the beaches of Khao Lak on December 26th 2004. Yes they all survived but the story here is nothing less than heart breaking as the seperated parents in some scenes of great anguish attempt to reunite their family. Both Ewan McGregor and Naomi Watts make believers out of us all with awesome performances as the parents in despair expecially Naomi who for at least half of this film makes us actually think she herself survived the tsunami as times in this film you actually believe she is sick.

Spanish director Juan Antonio Bayona and his film crew, with the use of some cgi and actual shots of storm/water surges makes the actual Tsunami hitting shore scenes nothing short of horrifying at times making us the viewers feel like our seats in the theatre are actually seats right smack dab in the middle of the 04' disaster.

I was very impressed with this film and it does like formentioned earlier, make you appreciate things in your life a little more. Great film!