4/4

3.5/4

3.5/4

3/4

4/4

4/4

4/4

3/4

3/4

2.5/4

3/4

1.5/4

3/4

4/4

3.5/4

4/4

3.5/4

4/4

4/4

3.5/4

4/4

4/4

2.5/4

4/4

3.5/4

Next 25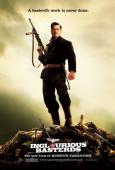 Inglourious Basterds (2009)
"I'll be chewed out. I've been chewed out before."
3.5/4 stars
It's interesting, the way we treat history. Films set in the future do as they please, predicting tomorrow in a way it is unlikely to unfold, and no one bats an eye. But for films set in the past, we ask that certain markers be adhered to, whether the film is a documentary or openly fictional. We will allow certain elisions and anachronisms, but we know how the story ended before and, damn it, it had better end that way again. Thus, a curious dynamic is created in which happenstance is often paid undue reverence and movies are drained of much of their life by having to trot out stories whose finales are foreknown. All of this goes unsaid, accepted as if handed down on Mt. Sinai. But upon consideration, it is unnecessary. If a fictional story is told, why not one in which the major (not just minor) signposts are repainted? Why not create the ending we'd like, instead of the one our forebears and fate handed us?

Tarantino does just that with Inglourious Basterds. In disregarding convention, he creates something uniquely engaging and exciting, rather than the ubiquitous austere middlebrow WWII pic. Surely the film has its share of problems. It plays largely like a series of vignettes that never fully coalesce. While the film is engaging throughout, it does feel strangely trifling (though that may reflect Tarantino's outsized ambitions as much as anything inhering in the movie). The supporting characters (particularly the Basterds themselves) are mostly underdeveloped. And I can understand the viewpoint of those who are made slightly queasy at the portrayal of Jews turning as savage as Nazis (although I would respond that sometimes savagery necessitates savagery in kind; faced with the unspeakable, defense of others through brute force is not exactly uncommendable). I pay no attention to those who think that the film makes light of the plight of the Jewish people under the Third Reich. Indeed, the film shows its Jews (not just the Basterds, but even more so Melanie Laurent's young cinema owner) as strong-willed and brave. To suggest that this is somehow insufficiently reverent when held up against typical WWII fare depicting the Jewish people as weak-kneed, quivering milquetoasts in need of an Anglo-Saxon messiah is utter nonsense.

The main flaw, as noted, is the sense that the movie is a series of disconnected setpieces. While this may hold the film shy of being Tarantino's masterpiece (as he proclaims it to be via Brad Pitt), when the setpieces are this fine, that's not much of a complaint. The opening scene set on a farm in Nazi-occupied France is especially astonishing, playing simply as a 25-minute conversation from which one can scarcely unglue oneself and succinctly capturing the horror of the Nazi machine, thus justifying what is to come. It also masterfully introduces the central character, Col. Hans Landa (Christoph Waltz), who is charming, elegant, brilliant, and utterly depraved. Waltz gives a remarkably nuanced and controlled performance, and in the introductory scene Tarantino manages to tell us all we need to know about this masterful creation without ever resorting to clunky exposition or extraneous material.

Equally good is Brad Pitt as Lt. Aldo Raine, the Tennesseean leader of the Basterds. Pitt provides an excellent counterpoint to Waltz's cool, controlled Landa, turning Raine into a brash, larger-than-life character. Pitt overacts in precisely the right way, delivering a hilarious performance and demonstrating once again why he is always disappointing as a leading man but always welcome as a supporting character. Melanie Laurent and Diane Kruger are also sublime as, respectively, a resourceful Jewish woman running a cinema under an assumed identity and a famous German actress working for the British (and perhaps others).

Tarantino's increasing prowess as a visual stylist is fully on display, with many beautiful compositions put on screen (particularly in the opening on the French dairy farm and the finale in the Paris theater). Kill Bill and Inglourious Basterds put Pulp Fiction to shame in this regard. And how fitting that a shoe should figure so prominently in the work of the cinema's fetishistic heir to Bunuel.

More impressive is his use of dialogue here. (I offer as but one example a bit involving King Kong, about which I will not comment except to say that it brilliantly sums up that film's underlying philosophy with a post-modern eye.) While Tarantino has long been praised for his writing, I have always found it to be wildly uneven. One can hear the lines delivered in Kill Bill, Vol. 2 and Death Proof, for example, and instantly know that they are the work of the same author, and instantly be entranced by one and repelled by the other. Certainly his words are always arch and written, wholly unnatural creations (I say this as observation, not condemnation), and the same is true here. But there is a measure of restraint, of care in this film that serves it well. Perhaps it is the historical setting which curtails the director's beloved spiels on Madonna songs or other pop culture minutiae. Whatever it is, it's refreshing and delightful. Not since Hitchcock have so many conversations unfolded so elegantly, so wittily, with such apparent civility and such latent dread.