2/4

2/4

2.5/4

2/4

3.5/4

2.5/4

2/4

2.5/4

2/4

2/4

2/4

3/4

3/4

3/4

2.5/4

2.5/4

2.5/4

2.5/4

2/4

2.5/4

2/4

2.5/4

3/4

3/4

2.5/4

Next 25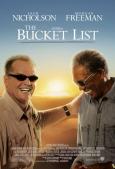 The Bucket List
Talk about male-bonding!
3/4 stars
"You measure yourself by the people who measure themselves by you!"

This film traces the adventures of the two unlikely friends, who meet in a hospital cancer ward.Jack Nicholson plays Edward Cole, a billionaire hospital owner who loves being single and partying; and Morgan Freeman plays Carter Chambers, a quiet man who works as a mechanic but reads a lot and knows every "Jeopardy!" question existent, and loves his wife and children. The two have nothing in common except for their terminal illnesses; each given six months to live. At first they do not get along. Cole's crummy attitude does not mend well with Chambers' wise remarks. However, after spending more time together, they learn to get along and become friends.

The "bucket list" of the title refers to a lifelong list of goals that a teacher of Chambers once advised him to compile--and achieve--"before you kick the bucket." Soon the two are off on what may be the last grand adventure of their life, vowing to tick off as many goals (skydiving, race-car driving, seeing the wonders of the world) as they can in the little time they have left.

The story is well paced, without dragging too much or feeling too rushed, and is often very heartfelt. There is an excellent scene where Freeman tells Nicholson about a theory of the afterlife and two questions that must be answered, have you had joy in your life? And have you brought joy to others? Granted this film is somewhat depressing because you know these two guys are doomed from the start, but you feel joy for them when they find that you are never more alive than on the edge of death.